It's here. Finally. Microsoft is now offering Office Mobile for iPhone. This is huge news for Microsoft Office, huge news for the iPhone, and a game changer for productivity on the go.
Starting today, Office Mobile for iPhone is available in the Apple App Store, and it's free for Office 365 subscribers. (Office 365 Home Premium subscribers pay $10 per month or $100 per year for five installations, and Office 365 small-business users pay per seat.) With this one move, Microsoft expands its reach from a mere 1.2 percent of mobile users who use Windows Phone, to the nearly 60 percent who rely on iOS.
Using Office as a carrot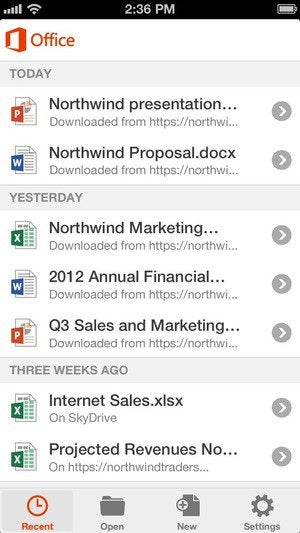 I've been screaming from the mountaintop for years that Microsoft should make Office available on other platforms and devices. Until now, Microsoft's apparent strategy has been to use Microsoft Office as bait to lure customers to its Windows Phones and Windows tablets, but that tactic has failed.
Instead of driving demand for Microsoft's mobile devices, it just forced users to find compatible alternatives—Documents to Go, QuickOffice, and Apple's iWork apps— for the devices they do want to use.
Even in a best-case scenario—that is, in a currently non-existent world where mobile Windows devices are phenomenally successful—Microsoft can reasonably expect to capture only a quarter to a third of the overall market. So, if Microsoft continued to hold Office hostage to its hardware, the company would cede a majority of the market and Office would lose its dominant position.
A win for Office 365
Microsoft has been crowing about the speed at which Office 365 reached the one-million-subscriber mark, hitting that milestone faster than Facebook, Dropbox, and a few other household names. The service clearly looks to be a success.
One of the primary benefits of Office 365 Home Premium is that it allows up to five users to install Microsoft Office on their PCs or Macs. Adding Office Mobile for the iPhone drives that value proposition even higher. Millions of iPhone users who haven't yet subscribed to Office 365 have another very good reason to sign up.
iWork who?
Remember a few days ago, when Apple announced at its annual developer conference that its iWork apps (Pages, Numbers, and Keynote) will now work on Windows systems in the browser? It seemed like pretty big news at the time, because iPhone users will finally have productivity tools that can be used cross-platform between iOS, Mac OS X, and Windows. Now that development seems almost irrelevant.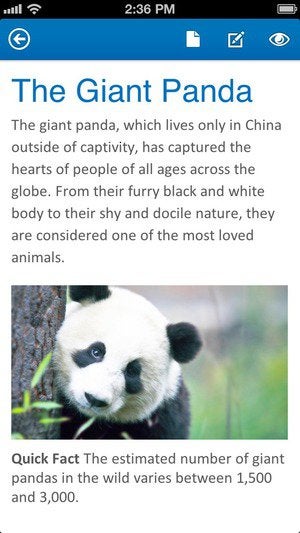 Microsoft has successfully moved the battlefront back onto Apple's turf. Microsoft Office is the de facto standard for productivity tools, the one that all other productivity suites are measured against. The competition is taken seriously only if it can go toe to toe with Microsoft Office in terms of features, and if it can handle Microsoft Office file formats without jacking things up.
Pages, Numbers, and Keynote are all very nice applications capable of getting the job done, but they're not in the same league as Microsoft Office. What's more, the iWork apps cost money. Office Mobile for iPhone apps are free for Office 365 subscribers.
So what about the iPad?
Office Mobile is designed to be used on the iPhone, and Microsoft is not offering a version optimized for the larger screens on the iPad series. When I asked my Microsoft contact if the company planned to optimize Office Mobile for the iPad in the future, the response mimicked Microsoft CEO Steve Ballmer's recent assertion that there is no need: The iPad has a full browser, and users can simply use the Office Web Apps through SkyDrive.
I disagreed with Ballmer when he made that statement, and I still disagree with Microsoft's stance. Office Web Apps are great in a pinch, but they're no match for native iOS apps. The OneNote app on the iPad, for instance, is significantly easier to use than its Web equivalent. Microsoft should recognize this, drop the Office Web Apps pretense, and develop native iOS versions of the rest of the Office suite.
Businesses rely on Microsoft Office. Consumers rely on Microsoft Office. By offering Office Mobile for iPhone, Microsoft is pulling the rug out from under its rivals. It's also adding more value to Office 365, and it's ensuring that Office remains the de facto standard productivity suite—whether businesses and consumers choose Windows or not.