If, like many, you use Evernote as a sophisticated to-do list, the latest update to the essential software and service is about to dramatically increase its usefulness. Reminders give Evernote a full suite of alarm and notification features, ideal for turning static notes into dynamic action items.
The company calls Reminders its "most requested feature of all time."
Evernote hasn't exactly reinvented the wheel when it comes to its implementation of Reminders. You simply add an optional Reminder to any note by tapping the alarm clock icon that now appears on screen when you're creating or viewing a note.
Reminders do not necessarily have to come with a time and date attached (otherwise they simply appear in the new Reminders area, which I'll discuss in more detail below), but you'll probably want to assign specific deadlines to most of your Reminders. Tap or click the calendar icon to give your Reminder a deadline or other specific timing. This will also give it a pop-up alert when the Reminder comes due.
For organizational purposes, Reminders are tied to the notebook in which they were created, and you'll find all your Reminders for that notebook in a special section at the top of the list of notes. When using Reminders, you'll find that this is the easiest way to mark a Reminder as a completed item. You do that by clicking the checkbox or radio button (depending on the OS you're using) to the left of each Reminder. This crosses the Reminder off your virtual to-do list. If you want to see all your Reminders across all your notebooks, you'll find them available in the All Notes view.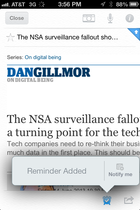 Evernote points out in its blog post announcing the new feature that for business users, tying Reminders to notebooks gives you added functionality. Since notebooks can be shared with other users, Reminders within those notebooks get shared as well. This gives you a quick way to not only share the notes and materials related to a specific project, but also creates a simple, ad hoc way to prioritize tasks and ensure everyone working on a project is on the same page when it comes to next steps. All subscribers to a notebook receive alerts when a Reminder comes due, so if one user creates a reminder, everyone should receive it. By adding a team member's name to the Reminder, you can create a simplified multi-user task manager.
Before you drop Outlook altogether, remember that there's no way to set recurring reminders, no snooze alarm feature, and no way to create appointments, but Evernote says new features are in the works.
And one more caveat about the new Reminders feature: At present, they're only available for Evernote Web, Evernote for iOS, and Evernote for Mac. The Windows Evernote client does not yet feature Reminders, nor does the Android client. Evernote has announced that Reminders are coming to other platforms, but hasn't released any specifics except to say that it'll be ready "very, very soon."