AMD plans to sample its first ARM-based processors for servers early next year, alongside paired CPUs and integrated graphics cores in an attempt to oust Intel's Xeon from its dominance in the server market.
Specifically, AMD's ARM core will be code-named "Seattle," and will ship in volume during the second half of 2014, AMD executives said. In 2014, AMD will also ship "Berlin," a core available in both a CPU form factor as well as an APU, which integrates the processor with an integrated graphics coprocessor. Finally, there's the "Warsaw," which will compete with in high-performance computing (HPC) applications with the Xeon.
Seattle is of interest to both AMD and to other industry watchers because it represents one of the more interesting opportunities for AMD to regain share in the server market. Last year, AMD said last year that it had agreed to license ARM 64-bit technology, and would combine it with its Freedom Fabric, the name given to its high-speed networking technology it acquired via SeaMicro.
Intel sells more than 80 percent of all microprocessors by unit volume, but in servers it's a virtual dictatorship; during the fourth quarter of 2012, Mercury Research estimated that Intel sold about 95.7 percent of all server microprocessors sold. To compete, AMD needs something different, and it's hoping ARM represents that edge.
The hope for ARM
ARM is the processor architecture that powers the vast majority of the world's smartphones, where low power is a priority. That hasn't been the case inside the server space until the last few years, when system administrators realized that the majority of cost in operating a server comes from the power it takes to operate it. The problem, however, is that the low-power ARM architecture still runs using a 32-bit instruction set, rather than the 64-bit instructions demanded by server makers.
ARM announced its ARMv8 64-bit architecture in 2011, and has worked to build an ecosystem of software and hardware since then. Eventually, hardware licensees like Applied Micro and others, including AMD, will manufacture ARM-based CPUs. Then server makers will build out their own products, putting ARM-based servers on the market possibly late next year. Those "microservers" will be used for hosting, static workloads like serving Web pages, cloud gaming, and other functions.
"This isn't someone questioning if ARM is really a viable technology," said Michael Detwiler, a product marketing manager with AMD. "ARM is going to be a player in the server market."
Detwiler said that AMD admits that other companies have more experience building phones and other clients around the ARM architecture. With its SeaMicro technology, however, which can work with a variety of processor architectures including ARM and X86, Detwiler said he expects no other provider will be able to surround the ARM Cortex-A57 core, the heart of "Seattle," with the type of enterprise logic that AMD will provide.
AMD promises that the Seattle chip will run at greater than 2GHz, and have between two and four times the performance for the Opteron X-series, also known as the "Kyoto" cores, which AMD will also ship in the same timeframe for the microserver market. Each Seattle chip will contain 8 cores with 128MB of DRAM support, followed by a 16-core version. Dedicated encryption and compression blocks will also be included, Detwiler said, along with 10-Gbit Ethernet for networking.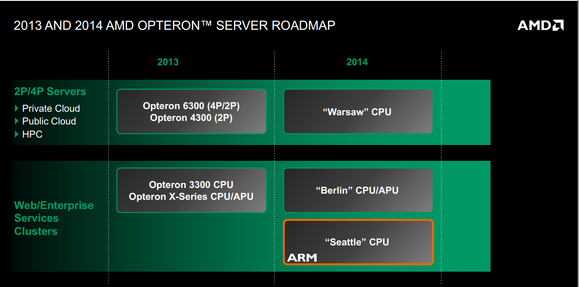 AMD sees its "Berlin" core, which will integrate four next-generation of AMD's "Steamroller" CPUs, playing in the same general space as the Seattle CPUs, but with significantly higher performance. Versions of the chip will contain AMD's "Graphics Core Next" GPU, forming an Accelerated Processor Unit that combines CPUs and GPUs, AMD said. The company says Berlin will have about twice the performance of Kyoto.
It will also be AMD's first APU to run AMD's Heterogenous System Architecture. While some HPC servers have begun adding repurposed graphics coprocessors as computational accelerators, programming them is a pain. AMD's HSA helps to alleviate that by using a single programming model, which AMD hopes will accelerate their adoption. Berlin will be available early in 2014, AMD said.
Finally, there's Warsaw, which AMD hopes will be purchased by customers designing private and public clouds. Warsaw will succeed the existing Opteron 6300 chip, maintaining socket compatibility but offering either 12 or 16 Piledriver cores, Detwiler said. Warsaw will form the heart of AMD's Open Compute 3.0 server initiative, based upon the Open Compute Project that Facebook and others have developed for their own datacenters.