At a Glance
Expert's Rating
Pros
Accesses the Debenu PDF Tools menu when you right-click a file in Explorer
Wide variety of options available at the click of a mouse
Cons
Many of the really interesting features are only available in the paid Pro version
Our Verdict
Access a selection of useful PDF tools via the Windows Explorer right-click menu.
Often, the file you want to work on (whether it's a PDF file, a Word file, or an image file) will be in your Windows/File Explorer. It's extremely useful and productive when a PDF product integrates right into your Explorer right-click menu. Just right-click the file and there it is, ready to carry out your PDF plans.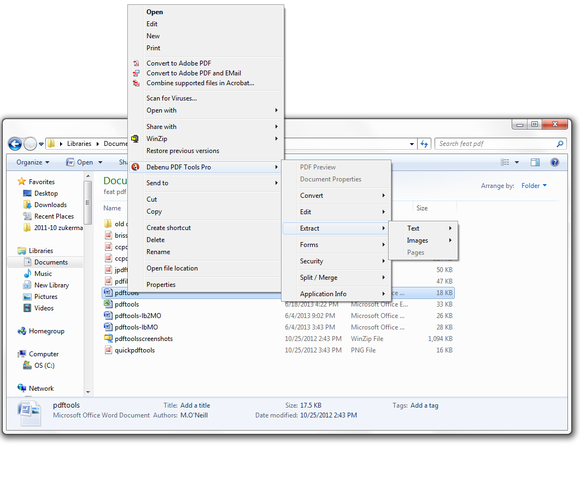 The Debenu PDF Tools menu has a variety of features even in the free edition, although many more are available in the $59 Pro edition. Right-clicking and scrolling down to the Debenu menu reveals features such as converting a PDF to an image (and vice versa), combining multiple images into one PDF file instantly, converting a PDF to text, adding and removing passwords, removing all bookmarks or extracting them to a text file, adding or editing metadata, and much more. Debenu PDF doesn't have a reader per se, but its preview function lets you get a sneak peek at your changes.
Pro includes many more editing features such as adding, editing, extracting, splitting, and removing text and images; removing annotations; and applying digital signatures.
Note: The Download button takes you to the vendor's site, where you must register to download the latest version of the software.