Google acquiring Waze almost seems redundant. Google is already a recognized leader in mapping services, so why does it need to buy a mapping company? The answer is that maps aren't just maps anymore, and Waze will help Google move from mapping to social mapping.
It might look at first glance like the Waze purchase is a predatory move. Google has deep pockets and it can afford to spend money to buy Waze simply to prevent rivals from doing so. It may not actually use or incorporate Waze, because the goal of buying Waze is purely a strategic move to keep competitors in the rearview mirror.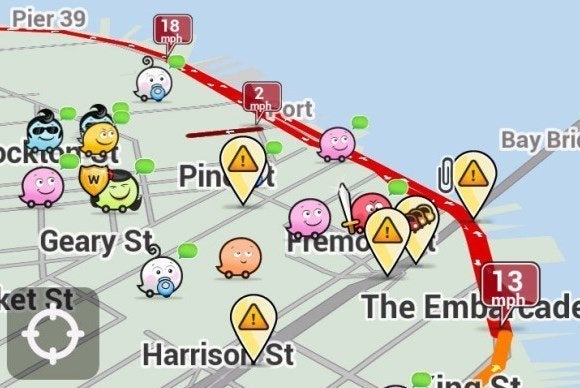 That's not the case, though. Maps aren't just maps any more. Maps are a search engine in and of themselves—a trove of information that helps people get from Point A to Point B as efficiently as possible, and that helps them make smart choices about where to go and what to do once they arrive.
I'm dating myself, but once upon a time we relied on printed maps from AAA called TripTiks to navigate road trips. Then Mapquest came along, and we could just research our own routes and print our own maps. The advent of smartphones, and the rapid advances in mapping, and location-tracking services, however, combined with relevant, real-world information from social networks, has brought the concept of mapping to a whole new level.
Why Google wants Waze
Google has already mapped every minute detail of just about every highway, street, lane, boulevard, and country road in the world. Google Maps is a leader when it comes to simple navigation from one location to another. But if traffic is unusually slow on your normal route, or an overturned truck has shut down the highway, you might find yourself stuck. That's where Waze comes in.
Waze brings in a social aspect that incorporates crowdsourced information in real time. Waze tracks the speed and location of its users to aggregate information about current road conditions. Users can also submit information, ranging from accidents to police speed traps. Waze adds details about actual conditions that currently exist—a crucial element that will make Google Maps smarter.
Waze is just one example of newer, smarter mapping apps. Google Maps, Apple Maps, Bing Maps, and others give access not just to cities and roads, but also to the various businesses and points of interest alongside those roads. When you zoom in on an intersection, you can tap on labeled locations to dig deeper and get more information, such as the actual address, phone number, hours of operation, or a link to a website where you can get even more details.
Windows Phone smartphones from Nokia have HERE City Lens app that overlays location information over the view in front of you to provide a sort of x-ray vision. You can hold the phone up and look around, and HERE City Lens will help you find food, lodging, shopping, transportation, entertainment, and more in the immediate area. As businesses and sites pop up, you can get turn-by-turn directions with a simple tap.
Social adds relevance to maps
Overlaying search engine information on maps makes them more useful by providing general information about specific businesses or points of interest. But, incorporating social aspects is where the real value comes in—and why the Waze acquisition is a smart move by Google.
It's nice to know that there's a Chinese restaurant on the corner, or a hotel a few blocks away—but what if they suck? Nobody enjoys wasting their money to find out the hard way that the food comes with a side of botulism, or that the hotel is infested with bedbugs. Social networks like Yelp, Foursquare, and others give users a way to share information about their experiences, and incorporating that information with the map data allows you to benefit from those comments and reviews to make smarter choices.