At a Glance
Expert's Rating
Pros
Slick and quick to use
Downloads any YouTube video with one click
Unique "find parts" feature quickly brings together segmented videos
Cons
Hidden buttons and features take some getting used to
Slight playback and download bugs
Our Verdict
If you love watching YouTube videos, Minitube is worth every penny.
A good YouTube app makes it impossible to stop watching videos when what you should be doing is writing that program's review. And this is exactly what happened to me as I attempted to sit down and write about Minitube, a YouTube desktop app that's going to change the way you consume your dose of daily videos. At €9 ($12 on 6/19/13), it's not cheap…but if you spend much time on YouTube, Minitube is well worth the price.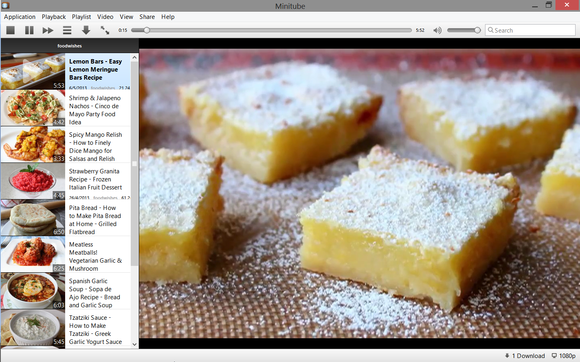 In addition to being beautiful and surprisingly lightweight (for a video app), Minitube makes it even easier to find YouTube videos you want to watch, and start watching them. Minitube is not a YouTube playlist creator, which means you can't use it to create your own flexible playlists. Rather, it's a means of getting a quick YouTube fix on any subject, and from any channel. Just pick a topic or a channel, and your playlist is already waiting. Minitube is also capable of downloading videos to your computer with one click for easy offline entertainment.
Minitube's simple interface starts with a search box, where you can search for videos by keyword or channel. All your recent searches are automatically saved, and are an easy click away every time you launch the program. Once you enter a search term, Minitube immediately loads a playlist that matches your query and starts playing the first video automatically. If you'd rather browse videos by category, a somewhat hidden tab on top lets you switch to the "browse" section, where you can load playlists of popular or featured videos, and videos about selected topics. To get a more local choice, choose one of the 47 available countries via the bottom right "Worldwide" button.
Once a playlist is loaded, you can enjoy it as is, or refine your search by clicking the magnifying glass icon or using the Ctrl+E keyboard shortcut. This lets you sort your results by relevance, date, view count, or rating, and specify how old a result can be, and its preferred duration and quality. When viewing a playlist, it's easy to reorder videos by dragging and dropping, or by using keyboard shortcuts. Other options include looking for related videos to the one playing, opening a video on YouTube, and a special option called "find video parts", which can help you locate the different parts of videos that come split into different sections.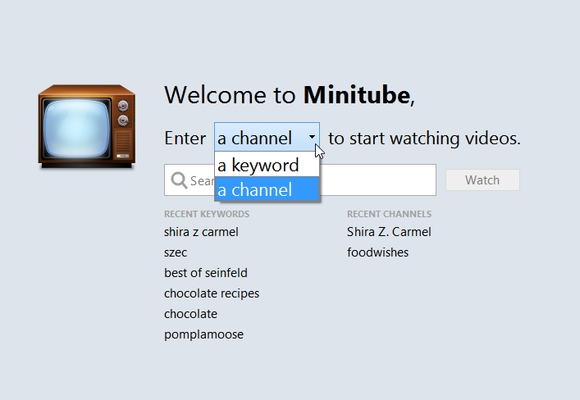 Playback on Minitube is smooth and instant, without a noticeable buffering time, at least on my setup. I did encounter issues that are presumably due to bandwidth limitations, where videos inexplicably stopped playing when I tried seeking to a later part of the video, and the next video in the playlist started playing in its stead. For each video, a quality toggle on the bottom right switches between 360p, 720p, and 1080p, and this is regardless of what quality options the video actually offers. Don't be surprised if you switch a video to 1080p and don't get the shiny result you expected: It's probably not available in that quality.
Unlike most video players, Minitube's full-screen player includes no controls whatsoever. Pausing and playing is possible using the space key on your keyboard, but anything else requires that you exit full-screen mode. A "compact mode" is also available, which provides the ability to watch videos in a resizable window, but without the playlist, controls and menu marring the experience. Enjoyed a video more than you can bear? Minitube includes built-in sharing options to Facebook and Twitter, as well as Buffer integration, an email option, and a quick way to get the video's link.
As mentioned above, downloading videos through Minitube is as easy as clicking the download button, and although it may seem like nothing is happening, you can rest assured that it truly is downloading. To view your downloads, switch to the downloads screen using the "Downloads" button on the bottom right. Videos are downloaded in MP4 format and in the same quality you're currently watching them. A slight bug makes it impossible to download the same video again in a different quality without restarting Minitube.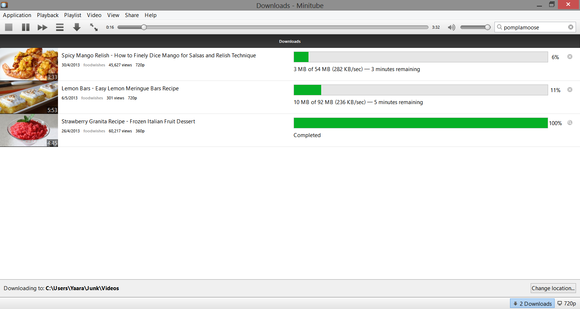 Minitube takes an already addictive video service, and makes it even more so with its instant access to videos and its fetching interface. While beautiful, Minitube's interface may be a little confusing at first, with buttons and options hiding in places you simply don't notice at first. In general, though, it's a definite step up from YouTube in your browser, and while it doesn't offer all of YouTube's features, it's an excellent, quick, and fun way to get a YouTube fix, with the download option being the sweet icing on the cake. A free, feature-limited version of Minitube is available for a 20-day trial.
Note: The Download button takes you to the vendor's site, where you can download the latest version of the software.