Microsoft quietly readied, then killed, plans to launch an online marketplace in the model of Amazon.com, a report in The Wall Street Journal claimed Thursday.
According to the WSJ, Microsoft pitched retailers "about a marketplace, proposing to equip it with an array of merchants, as well as a unified shopping cart and broad shipping options." The project was code-named "Brazil," according to the Journal.
But the report didn't specify the scope of the project, a key metric in its possible success. And Microsoft said that any comparisons to a retailer of the scope of Amazon were overblown.
"It is inaccurate to characterize Project Brazil as conceived to compete with Amazon or eBay," the company said in a statement. "The project was a small-scale incubation effort to enable a more direct commerce model between customers and brands and merchants. The project was recently cancelled, but we remain committed to finding new and differentiated ways to enable a richer, more task-oriented approach to e-commerce and online advertising."
Instead, a source close to the company said that the project was more akin to Bing Shopping, a small, dusty corner of the Bing search engine. Microsoft itself doesn't promote anymore within the United States, and it seems to be wholly geared toward Canadians. Within the United States, Bing.com/shopping redirects to Bing.com, the generic search engine.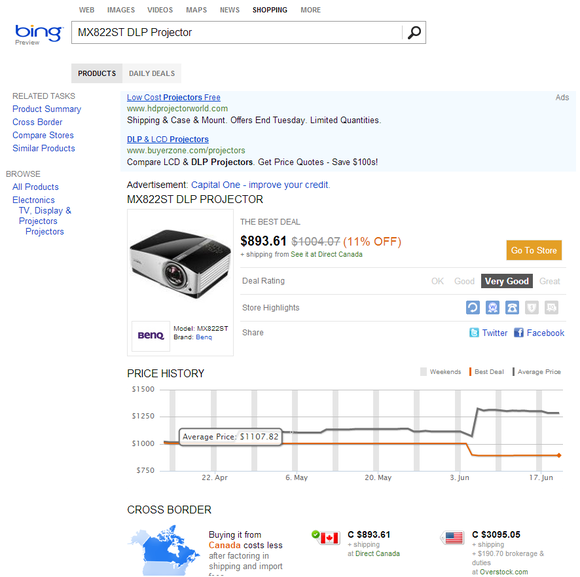 Historically, Bing Shopping has gone through several names: MSN Shopping, Live Search Products, and Windows Live Product Search. In all of them, the site has served as a search engine, allowing users to comparison-shop across a variety of products.
In addition to simply showing users the best price, the site also provides a handy price graphic that shows how the average price, as well as the "best deal," has increased or decreased over time.
The most prominent feature of Microsoft's online-shopping comparison engine, however, was Bing Cashback, essentially a pay-to-search program that offered users discounts or money back for using the search engine. But Microsoft killed the Cashback program in 2010, citing lack of interest.
To date, price comparisons are a hotly contested market, with one analysis putting BizRate, NexTag, and ShopLocal at the top of the heap—and Bing Shopping nowhere on the list. According to comScore, $186.2 billion in online commerce transactions were performed in 2012. That was a 15 percent increase over 2011, the company said.
What does Microsoft's decision not to push comparison shopping mean? Possibly it means that the company felt that the market was too heavily contested to be worth the investment.
Bing itself is the second-largest search provider, with 17.3 percent of all U.S. searches in April, according to comScore. It's likely that the company is sticking to what it does best: general search queries.