At a Glance
Expert's Rating
Pros
Simple and friendly for both end-users and supporters
Competitive rates
Our Verdict
Soluto offers a good way to support multiple users, whether they're all in the same office or all over the country.
Back in 2010, Soluto's first product was a modest affair: All it aimed to do was cut your PC's boot time by removing clutter from your startup. It was well-received, too. Since then, Soluto has grown considerably, and today offers a pro-level service allowing IT pros to support multiple machines. "Machines," by the way, now includes iPhones and iPads: Soluto recently started supporting iOS devices.
Soluto comes in price tiers ranging from $10/month for up to 10 computers, all the way to $450/month for up to 300 machines (14-day free trial). I evaluated the lowest paid tier, $10/month. The smaller, personal version continues as Soluto Desktop.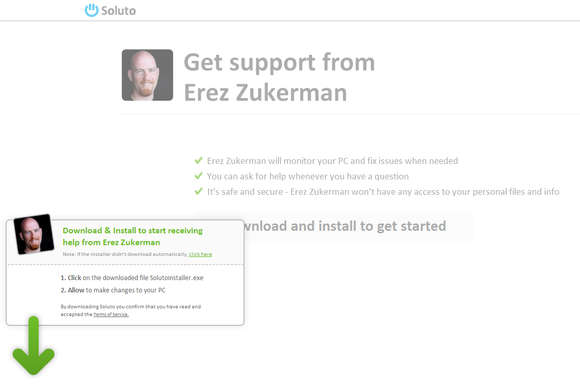 Soluto works by installing an agent application on each supported computer. The agent relays information about that machine's performance to Soluto's servers, where you can watch all of the computers you're supporting using a unified, handsome dashboard. The dashboard reports aggregate statistics for all of the machines under your care, such as their total monthly power cost, amount of free storage available (combined), and more.
It also tells you when machines are due for an update ("2 PCs with app updates available"), but doesn't let you know which two machines those are, or what particular updates are due: You can only click the button and trust Soluto to do the right thing.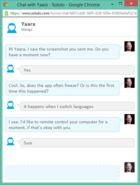 Drilling down to a specific machine, Soluto shows information about the machine's applications, "frustrations" (crashes and slow-downs), hardware, Internet settings, and anti-virus and firewall protection. You can also initiate a chat session with a user, or request to remote-control their machine.
Soluto's remote-control offering is relatively new, and while it is significantly cheaper than the competition (when it comes to commercial use), it feels like a beta product at times. When I first tried using it to control another computer on my LAN, I encountered severe lag that made control impossible, even though the other computer was right there next to me. This was due to an operational issue Soluto had in Eastern Europe and the Middle East. The company fixed it, but it took a day.
Even once the lag was lower, remote control was still noticeably slower than with TeamViewer. Some keys were not forwarded to the controlled computer: I tried hitting Ctrl+N to open up a new Firefox window on the other side, and ended up popping up a new Chrome window on my own machine (Soluto's remote control system runs in Chrome). The same thing happened when I hit the Win-key trying to access the other computer's Start screen: I got my own Start menu.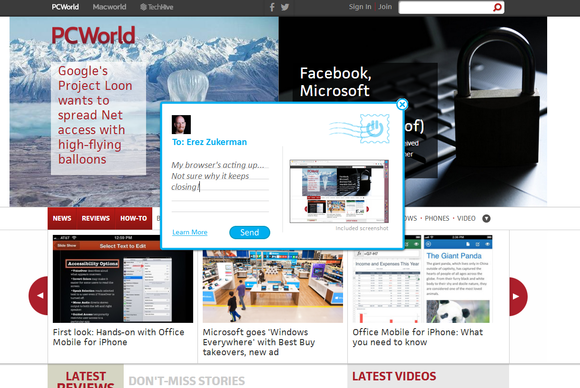 However, Soluto does offer other ways to help users. When a user encounters a problem, all they have to do is tap F8 on their machine. A friendly little window comes up, pre-populated with a screenshot, asking the user to explain what's the matter. The user types in a few words, clicks a button, and you get an email. This is simple to use, but is not perfect: The screenshot shows one full screen. There is no way for the user to capture only a portion of their screen, nor can they send you an image of more than one screen (for dual-monitor systems). Even so, this is a useful feature because it streamlines an action many users find difficult, and many supporters find essential: It is much easier to help someone when you have a screenshot.
Soluto's product feels slick, with a consistent design language that feels both distinct and friendly. While it may not offer the best remote control experience on the market, its commercial-use rates are very competitive, and its features make it easy to use both for supported users and the IT pros giving them a helping hand.
Note: The Download button takes you to the vendor's site, where you can use the latest version of this Web-based software.