Businesses that rely on Facebook to get the word out to customers likely have a love/hate relationship with its integrated analytics system. On one hand, the "Insights" system seems to offer a vast amount of information. On the other hand, it's not easy to make sense of al lthat information, and the system doen't always tell the whole story.
In response, this week Facebook announced that it is upgrading its Insights tool to make it "more actionable." Per Facebook's announcement, "It should be clearer to businesses how to use this information to drive the results they care about."
The upgrades cover a number of key components in the Insights system. These include three main changes:
Post-Specific Score Cards With the current generation of Insights, you can gather up information about how well a specific Post performed on Facebook, but it isn't easy. The biggest change to the new Insights tool aggregates all this into a single place for each post, creating what Facebook calls a "score card" where you can evaluate how popular an individual post was. You'll also find information here about so-called negative interactions with the post, such as how many people hid the post, marked it as spam, or unliked your page while viewing it, giving you a much clearer and bigger picture of the post's overall impact. (An example of the new score card can be seen below.)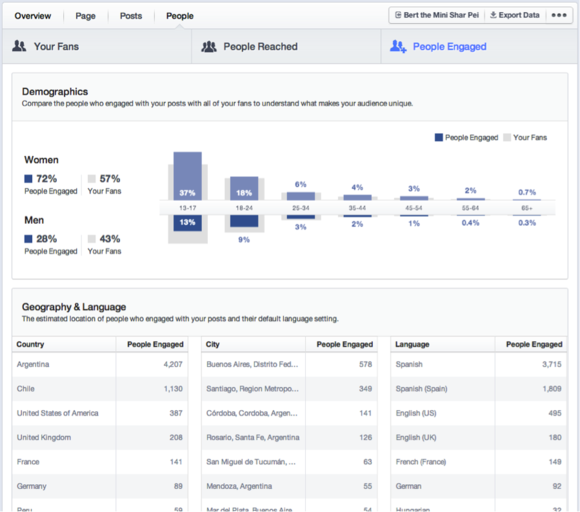 Enhanced Demographics The current demographics tool built into Insights offers good information, but the new tool expands that. Currently you are provided with data only on Facebook users that you've reached (i.e. your Page's Fans). Now you'll be able to also see the same demographics, side by side, for those Facebook users whom you have engaged—through liking, commenting, clicking on, or sharing your Posts or Page. For some businesses, these breakdowns may paint very different pictures. In the sample graphic provided by Facebook (above), you'll see that younger men and women both tend to be Fans of this post, but it's the women who are far more likely to engage with content on the Page by interacting with it in some way. This can be useful in determining how to approach future Posts and marketing efforts—if, say, you want to attempt to encourage more interaction among males.
General Clarity and Terminology Changes One of the key metrics used by Facebook Insights is "People Talking About This," which is a vague term that few really understand. Facebook will be breaking People Talking About This (PTAT) into separate elements and retiring that term entirely. It will now by reported as five (or more) separate, clearer metrics, including Page Likes, People Engaged (as discussed above), Page Check-Ins, and so on. The Virality metric built into Insights is also getting an upgrade. It will now include a Post's clicks in its measurement and will be renamed Engagement Rate.
Upgrades to the Insights system have already begun to be released to a small number of users, who will be notified of their selection via the Insights tool itself. Later this summer the system will be rolled out to the rest of us.