At a Glance
Expert's Rating
Pros
Gorgeous and straightforward interface
Easy to understand and use, with practically no learning curve
Comes with built-in RSS reader
Cons
Pricey, especially if you have several users
Our Verdict
SproutSocial is a beautiful and simple dream-come-true for social managers.
Managing your social presence is important whether you're a big business, a small one, or an individual trying to promote your own brand. Yet it's still hard to find a social dashboard that's useful, efficient, and easy to use and understand. Fighting the typical clutter and confusion of social management tools is SproutSocial ($39/user/month for Standard account), a clean and simple online dashboard that nonetheless answers most social-management needs.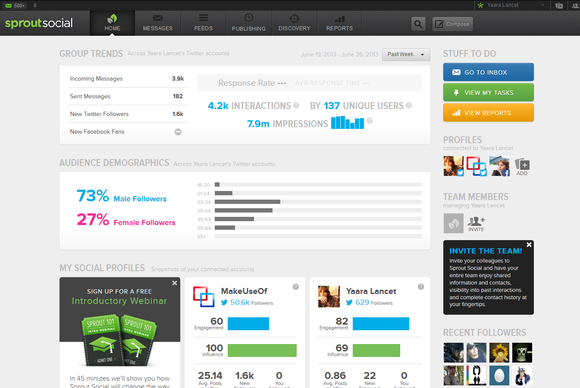 The thing that makes SproutSocial stand out is the clarity of its interface and its general simplicity. Feature-wise, it's just as useful as Nimble, and even better than MultiMi or HootSuite, but unlike these well-known services, SproutSocial has almost no learning curve, and is a joy to use from the second you open an account to the minute you finish working for the day.
SproutSocial is a one-stop shop for your Facebook, Google+ (Pages only), LinkedIn, and Twitter accounts, with a strong emphasis on Twitter. A Twitter account is also the only mandatory one during the sign-up process. In my hands-on, I looked at the browser-based version, but apps for Android, iPad, and iPhone are available as well.
In addition, SproutSocial can connect to Feedly for quick sharing of any article off your RSS feeds. It provides some useful usage reports about your social accounts, helps you discover new people to follow or unfollow, and offers several ways to schedule updates in advance.
The SproutSocial dashboard is built around six tabs: Home, Messages, Feeds, Publishing, Discovery, and Reports—all very self-explanatory. The Home tab gives you a quick summary of some trends and numbers, your audience's demographics, and account stats, as well as provides quick links to your inbox, tasks list, profiles, and team members. The Messages tab is where you can keep track of comments, mentions, and other notifications from your social profiles, but also with your sent updates, including click counts for bit.ly links, and with your internal SproutSocial tasks.
The Messages tab is one of SproutSocial's strongest suits, solving a common problem elegantly and without unnecessary clutter. Using toggles, you can specify what items you'd like to see in the inbox, so there are no confusing columns or tabs. Simply check the items you'd like to review and skim through them to make sure you're not missing mentions, retweets, new comments or posts. Aside from the usual actions such as reply, retweet, and email, you can also translate or archive messages, and turn them into tasks (for instance, assigning your customer service rep to follow up on a question).
At the Publishing tab, you can send out updates. You can also schedule them according to your own wishes, an RSS feed such as your blog, or the Sprout Queue. The Sprout Queue is a list of optimal times you need to set up in advance, and to which you can then add posts with one click. SproutSocial's Premium plan ($99/user/month) also includes an Optimal Sending Time algorithm which devises your Sprout Queue for you according to activity on your social channels.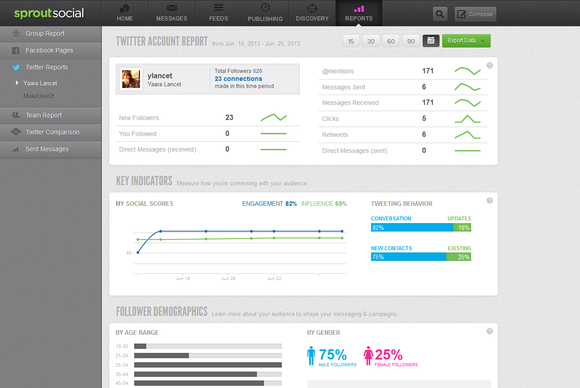 Although very nearly perfect, SproutSocial does have its little problems. The most serious of these was an unexplained disappearance of every scheduled update containing an image. After being scheduled regularly, these updates consistently vanished without getting published, with no trace of them in the sent messages tab or anywhere else. After presenting the issue to SproutSocial's support, the company determined the cause to be a connectivity problem with popular image-hosting service yFrog. It was easy to work around by switching to Twitter's image hosting service through the settings.
SproutSocial is not a cheap option, starting at $39/user/month for the Standard plan, which gives you ten profiles to manage. However, it is easily the best social dashboard I've used in the past couple of years. Creating a social-management system that's both useful and feature-packed and yet is intuitive and easy to use is quite a task, and SproutSocial passes this test with flying colors. It's a gem in a world of chaos, and for that, it's worth at least the 30-day chance of its free trial. See if you can go back to your old ways after that.
Note: The Download button takes you to the vendor's site, where you can use the latest version of this Web-based software.