Manufacturing giant Foxconn Technology Group is on track with its goal to a create a "million robot army", and already has 20,000 robotic machines in its factories, said the company's CEO Terry Gou on Wednesday.
Workers' wages in China are rising, and so the company's research in robots and automation has to catch up, Gou said, while speaking at the company's annual shareholder's meeting in Taipei. "We have over 1 million workers. In the future we will add 1 million robotic workers," he said. "Our [human] workers will then become technicians and engineers."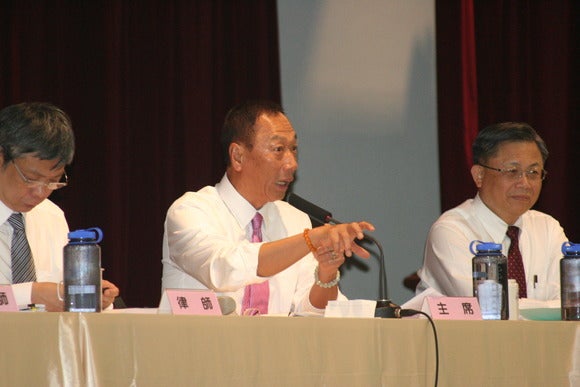 Foxconn is the world's largest contract electronics maker and counts Apple, Microsoft and Sony as some of its clients. Many of its largest factories are in China, where the company employs 1.2 million people, but rising worker salaries are threatening to reduce company profits.
To offset labor costs and improve its manufacturing, Foxconn has already spent three years on developing robots, Gou said. These machines are specifically developed to assemble electronics such as mobile phones, but it will take some time for Foxconn to fully develop the technology, he added.
"It's a middle to long-term goal," Gou said. But already 20,000 robot arms and robotic tools are in use at the company's factories.
Robotics have long been used to manufacture cars and large electronics. But currently, human workers are still the best choice to put together small consumer gadgets, many of which contain complicated wiring and small sockets that are best handled with human hands, according to experts.
In addition, Foxconn's CEO said the company is prepared to expand its manufacturing in the U.S., but the move will depend on "economic factors." The company already has factories in Indianapolis and Houston, and employs thousands of workers in the country, according to Gou.
Last December, Foxconn customer Apple said it would manufacture one of its Mac lines in the U.S. by the end of next year. Soon after, Foxconn said it was considering growing its existing manufacturing base in the country.
The Taiwanese company is also exploring building factories in Indonesia, a country with significantly lower labor costs than the U.S. or China. One possible plan is for Foxconn to build electronics for the local market, which is home to 240 million people.
"Indonesia has great potential and its a great market for my company," Gou said. "Definitely we will put a lot of investment in Indonesia."
The company, however, is waiting for the nation's government to improve the regulations for its tech sector. Standards over electronics safety are so low that anyone can get away with selling shoddy mobile phones, said a Foxconn official in December.
"The direction is right, but we need to take time," Gou added. "We think in one or two years this will happen."