Microsoft formally unveiled Windows 8.1 to developers on Wednesday, with executives promising a "rapid release" schedule to keep the pace of new innovations coming.
For those who have read PCWorld's hands-on of the Windows 8.1 preview, Microsoft's announcements were nothing new. Executives confirmed the reworking of the Start menu, new boot-to-Desktop options, as well as a slew of updated apps that take advantage of Windows 8.1, which can be downloaded in preview form from preview.windows.com.
For Microsoft, the Build 2013 developer conference represents a chance to connect or reconnect with developers, luring them back to the Windows platform. Although Microsoft is nearing 100,000 Windows 8 apps, that still falls well short of the millions of apps that have been written for the Apple iOS and Google Android platforms.
For Steve Ballmer, the chief executive of Microsoft, the company is undergoing a transformation to a business that develops devices and services, and not just software. "And the only way that can happen is by a company undergoing a rapid-release schedule," he said.
Although Ballmer and other Microsoft executives focused on Windows 8, they took a few moments to make a few announcements regarding Windows Phone, which provides an interface consistent with that of the other Windows platforms. "It's beautiful, and it looks like the same software that we have on Windows tablets, Windows PCs, and our Xbox systems," Ballmer said.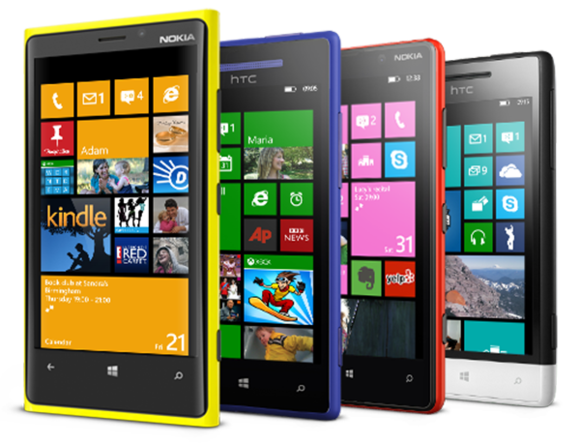 The big news for Windows Phone is that Sprint will add the HTC 8XT as well as the Samsung ATIV S Neo, meaning that Windows Phones will appear on all U.S. wireless carriers.
But whether it's a phone or a tablet, smaller screens will become increasingly important, Ballmer said.
Redoing the hardware
"The PC of today doesn't look a lot like the PC of …five or seven years ago," Ballmer said, referring to an "explosion of new devices," including small-form-factor tablets. Acer's eight-inch ATIV tablet is "flying off the shelves," Ballmer said, enabling kids to do homework and do a little bit of entertainment, too.
"This small form factor is very important," Ballmer said. "I wouldn't call them PCs, but this small form factor is very important."
Ballmer also promised that hardware makers would deliver Windows 8 devices with touchscreens, a capability that was neglected within early Windows 8 offerings. Consumers will see an "outpouring" of new devices that are notebook computers in every respect, and touch-enabled, Ballmer promised, Customers that have touch systems are much happier than non-touch-enabled customers, or Windows 7 customers, he said.
Ballmer showed off the Helix notebook from Lenovo, a Core i7 device with a full day's worth of battery enabled with a keyboard dock.. "It literally makes it the most powerful PC, and the most powerful lightweight tablet… should we call it a PC? Should we call it a tablet? I'd call it all Windows, all the time," Ballmer said.
"Refine the blend"
Finally, Ballmer moved to the meat of the presentation, the changes that it had made to make Windows 8.1 a bit more consumer friendly—or in Ballmer's words, to "refine the blend" between the Start page and the Desktop, among other changes.
Ballmer said that the way in which the Desktop and the Start page will be integrated will represent a better blend of both, with boot to Desktop, common backgrounds between the Desktop and the Start page, and other features bringing both together.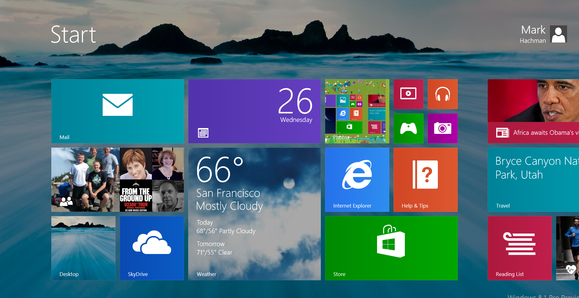 Julie Larson-Green, who runs the Windows division at Microsoft, said she was proud of how responsive Microsoft's engineering team had become. The company had over 800 updates to the products since Microsoft launched Windows 8 last October, and Windows 8.1 is the biggest.
In portrait mode, the new Start screen works well on the new small-form-factor devices, Larson-Green said. The Twitter app has been designed for the new, smaller form factor. With Windows 8.1, she said that Microsoft had added gestures to the on-screen keyboard, where users can slide their fingers across, tap, and then the word appears. Users can also press and hold to access.
Apps are the key
Microsoft's message at Build 2013 is that apps rule—both its own, and the ones created by third-party developers.
Larson-Green showed off the new Mail app, due in the fall. Users will be able to banish or Sweep emails from a certain sender, and then segregate automated emails, such as those from Facebook and Twitter, or subscribed newsletters, into their own folder.
Free music streaming from from Xbox Music will comes with Windows 8, Larson-Green said, together with the ability to create a playlist from music it finds on the Web, she said.
Larson-Green also showed off personalization features, such as the ability to show photos via the lock screen, the ability to take a Skype call from the lock screen, and Windows 8.1's ability to add personalized backgrounds. She also briefly explained integrated photo editing, plus new apps including Food & Drink, which can be manipulated via hands-free mode. Basically, all the apps "in Windows 8.1 have either been written for Windows 8.1 or updated for it," she said. Those apps can be snapped together, with four per widescreen monitor.
Larson-Green also showed off a preview of alpha code for PowerPoint, designed for the Modern experience on both Windows RT and Windows 8. Microsoft did not say when the full release for Office, within the Modern environment, would be released.
Antoine Leblond took the stage to unveil the improvements in Windows 8.1 for developers, which will be described in 100 sessions or so across the conference.
Visual Studio 2013 is also operating at a faster release cadence, Leblond explained. Devs can download the preview version of VIsual Studio 2013 today, he said, including new features that measure power, assist in asynchronous debugging of code, and send notifications via Windows Azure.
Ballmer also emphasized that new apps for Windows 8 were on the way. "It's gratifying to me that developers are doing really great work for Windows 8," he said, including Flipboard for WIndows 8, NFL Fantasy Football. Most importantly, Facebook will bring an app to the Windows 8 platform, he said, eliminating the need to pin a shortcut to the Start menu.
Leblond also unveiled tiled resources, using a model of Mars made up of actual data from NASA. Normally, the graphics card would load all of the data, and downsample the data, he said. As the user would zoom in, the detail would become fuzzy. If put inside a game context, the result is an incredibly detailed game experience, Leblond said.
Leblond also showed off a Windows tablet working with a unreleased version of LEGO MindStorms, and showed off the capability of WIndows 8.1 to manage 3D printing.
Leblond also highlighted a new Samsung ATIV with the highest-resolution 13-inch display on the market, with an 8-hour battery life, and the Acer Aspire P3, about 0.25 inches thick, with a wireless keyboard that doubles as a touch cover. The Acer Aspire v5 offers high-quality touch for under $400, he said. Leblond also highlighted a Dell Windows RT tablet with a Qualcomm Snapdragon 400 chip inside, and a whopping 18 hours of battery life, with the keyboard. Finally, there's the Dell XPS ET, an all-in-one that weighs less than five pounds and promises seven hours of battery life.
Bing bringing knowledge of the Web to apps
Ballmer said that the company continually wins blind "taste tests" between its Bing search engine and Google's search engine, with the "shell experience" of search within Windows 8.1 powered by Bing. But search has increasingly become an enabling technology, rather than just a destination.
"Search is not just a list of links, it's things you can do," Larson-Green said.
Gurdeep Singh Pall, a corporate vice president for Bing, said that the search engine's share continues to climb, currently up to 17.4-percent market share. Developers know that Bing is an incredible product, but they want more, Pall said.
"For a long time we've had this vision that we can enable all these new experiences," Pall said.
For developers, the "unbounded knowledge of the Web" is now available, Pall said, connecting the real world and the Web via Bing APIs and controls. Pall showed off technology that allowed users to take a virtual tour of Valencia, Spain, using Bing and the power of Bing Maps. Windows 8.1 Maps will come with 3D capability, Pall said, via a 3D control that can be added inside applications.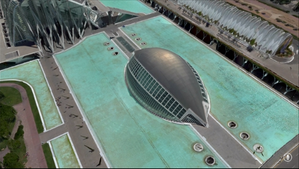 Pall didn't brag about it, but the 3D maps puts Bing back on pace with Apple and Google in 3D mapping applications, instead of just using its traditional "bird's eye" view. Pall also showed off integration with Bing to search out more information on a famous Valencia architect, as well as Bing's translation capabilities, all designed to add the information to a sample travel app Microsoft developers.
"I believe that apps will have eyes, they have ears, they will have mouths," Pall said, all with the idea that apps should be enhanced with additional capabilities.
Microsoft executives ended the keynote by showing off Project Spark, both a game and a development environment through which gamers can create their own virtual worlds for the Xbox One game console and PCs.