All eyes in the technology world turned towards Microsoft's Build 2013 conference in San Francisco Wednesday, where the company's biggest guns gathered to convince a vast horde of developers (and journalists) that yes, Windows 8.1 is the key to finally fulfilling the company's vision for its new-look operating system.
The keynote speeches at Build 2013 were Microsoft's chance to sway people into buying what the company was selling—if its pitch was keen enough.
Was it?
No—but the problem wasn't the message as much as the medium.
Touch me, thrill me
Steve Ballmer came out swinging, and he actually made a pretty convincing case for Microsoft's overarching vision. Hearing him excitedly talk about it, the company's sudden shift to rapid releases and multiple form factors becomes far more intriguing, especially since Windows 8.1 itself fixes many of the most glaring flaws plaguing the vanilla Windows 8 operating system.
Windows 8.1 was built for a world where Windows devices aren't necessarily all PCs, Ballmer said. At one point, he snatched an Intel Core i7-powered Lenovo Helix hybrid from a stand onstage and espoused its all-day battery life.
"It's touch, it's pen, but it also has a keyboard with a built-in battery that literally makes it the most powerful PC and the most powerful, capable, lightweight tablet you can carry," he said. "Should you call that a PC? Should we call it a tablet? What I call it is all Windows, all the time."
Put it that way, and hybrids start to sound pretty gosh-darned good.
But at the same time, Ballmer stressed that Windows 8.1 was designed to more elegantly integrate the desktop experience into Microsoft's modern-style vision.
"Suffice to say, we pushed boldly in Windows 8, and yet what we found was that we got feedback from users of those millions of desktop applications that said—if I were to put it in coffee terms—'Why don't you go refine the blend here?'" Ballmer said. "…So what we will show you today is a refined blend of our desktop experience and our modern interface and application experience."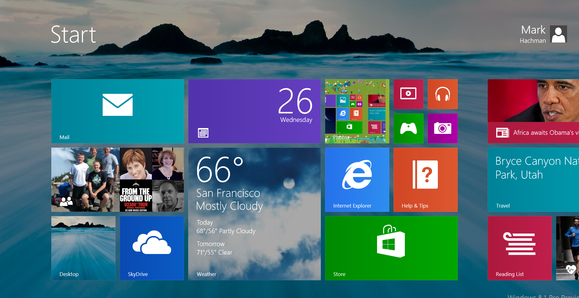 And then he did. The ability to boot directly to the desktop and the return of the (repurposed) Start button truly enhance the base desktop experience on Windows 8.
Ballmer killed. Everything was going wonderfully, and I was falling under his spell. With Windows 8.1, maybe you can spend most of your time on the desktop, and if you decide to wade in the modern-style waters, you'll find superb synergies and a refined interface waiting to greet you and make your life more seamless, more connected. Sounds nifty!
Ballmer said people with touchscreens love Windows 8 more than Windows 7 users enjoy that OS—and I found myself believing him.
Yes, despite my best attempts at journalistic objectivity, Ballmer's smooth pitch had me on right the cusp of being sold… but then the rest of the show happened.
Developers, developers, developers!
After Ballmer, the show collapsed. The message, or at least as the consumer message, became drowned out in a sea of in-the-weeds details showing off the most arcane aspects of the new operating system, from 3D-printing support to seriously nuts-and-bolts talk about the more under-the-hood aspects of the OS.
Momentum quickly faded away, replaced by grinding boredom.
The most extreme example: At one point, Windows co-chief showed off an alpha build of the new modern-style Office apps. Less than two minutes later, SVP Antoine Leblond discussed how to write native Windows 8 apps in XML and the 5,000 new APIs available in Windows 8.1.
Don't get me wrong. Build 2013 is a developer conference, and the highly technical crowd appeared to lap it up. But should Microsoft really have launched Windows 8.1—a crucial ploy in the company's bid to reignite the passion of consumers—at a dev conference?
Nope.
Not just Microsoft
Microsoft needs Windows 8.1 to catch on. It needs to sell that vision. And while Ballmer strode boldly down the right path, the rest of the Build 2013 keynote severely diluted the Windows 8.1 message—which is far more compelling than what Windows 8 has offered up to this point.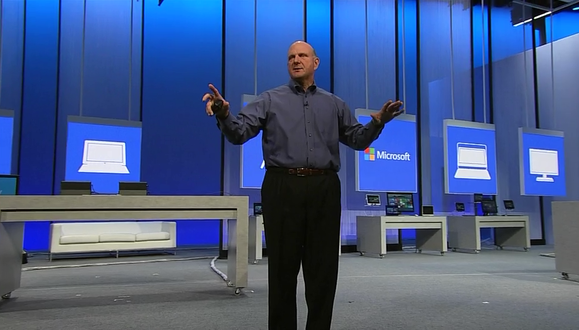 Microsoft listened to the pleas of desktop diehards while simultaneously cleaning up niggling issues in the modern interface and pushing forward its cloud-connected vision of a web of Windows devices, all in a scant eight months. That's seriously impressive! But alas, the focus on developers at Build took much of the steam away from Ballmer's short, sweet knockout punch.
Unfortunately, the message made abundantly clear at the Build 2013 keynote today had nothing to do with Windows 8.1. Instead, the key takeaway is that companies like Google and Microsoft need to stop muddling their pitches by announcing their big products while talking directly to developers.
Sell the consumers, and sell the developers—but don't sell the consumers AND the developers at the same time. KISS—Keep it simple, stupid. By killing two birds with one stone, Microsoft lost a valuable opportunity to crystallize the core Windows 8.1 experience in the eyes of users.
Updated at 4:08 p.m. PT with a video report from PCWorld.