In its ongoing challenge to attract more users to Windows 8, Microsoft is offering bits of its Bing Internet search service to boost the functionality of third-party Windows Store applications.
"We're opening up Bing as an application development platform so you can use all this investment we've put into crawling the Web and understanding entities [to] build that richness into your own applications running on top of Windows," Microsoft CEO Steve Ballmer said Wednesday before a crowd of developers at the company's Build conference in San Francisco.
Get more on what Microsoft said about Windows 8.1 at Build
To this end, the company has launched a developer portal that details a collection of APIs (application programming interfaces) Bing offers. These services can be embedded in Windows Store apps, providing functionality such as optical character recognition (OCR), language translation and displaying geographically situated, three-dimensional maps and aerial photographs.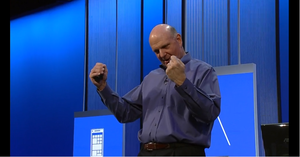 The Bing services are a "great new addition to the broader Microsoft platform and likely to enable new styles of applications," wrote Al Hilwa, an IDC program director covering application development tools, by email from the Build conference.
Bing's bigger role
Microsoft has been increasingly embedding Bing functionality into its own products, such as Windows 8, Windows Phone and the Xbox. Windows 8.1, for instance, provides a unified search function that can execute a single search across the device's directories, the user's files on Microsoft's SkyDrive service, and the Internet. Microsoft has also prepared two Bing-powered apps for its Windows 8.1 update: a food and drink app and a health and fitness app, both of which draw from Bing's searching and mapping capabilities to offer personalized recommendations and situational awareness.
The new APIs will offer some of this functionality for third-party apps.
The Bing Optical Character Recognition (OCR) Control, available as a customer technical preview, provides OCR capability, an interface with a device's camera, and even a basic user interface. The user snaps a photo that is sent to Bing, which returns the extracted text. During the keynote at Build, which was available via a spotty webcast, Microsoft Vice President of Online Services Gurdeep Singh Pall demonstrated how this service could be used to harvest data from a business card.
Pall also demonstrated how the OCR service can be linked with the new Translator Control, which can translate the text among 40 different languages. He showed off the new text-to-speech control, which provides a way for users to issue commands to their apps vocally, as well as have the apps respond vocally.
"In the coming decade, apps will have eyes, ears and will have a mouth," Pall said.
The company also unveiled some new services that could be used to build immersive or augmented reality interfaces showing users what is around them.
The Bing Entity API, which will be available to developers within the next few months, identifies nearby landmarks and types of businesses that apps can use to offer location-specific information to their users. Microsoft has also released a SDK (software development kit) that shows developers how to embed Bing maps and 3D aerial views of places into their apps. Bing can also provide mapping, routing, and traffic information for these maps as well.
The site also offers APIs for executing Bing searches, for finding synonyms, for tracking website usage and for populating an app or website with ads.
According to Microsoft, Bing executes about 17.4 percent of all searches conducted in the U.S.