While many of Windows 8.1's major changes focus on the user interface, ultimately it all comes down to the apps.
After all, the modern-style side of Windows 8 is supposed to be all about getting out of the way and letting you enjoy those big-screen, touch-friendly applications. In Windows 8.1 Preview, Microsoft has done a lot of work on its existing applications, and it's also come up with some new apps to help fill the gaps in the Windows Store catalog.
We've already provided an overview of these apps in our hands on with Windows 8.1, but now let's take a closer look at what's new and what's different:
Alarm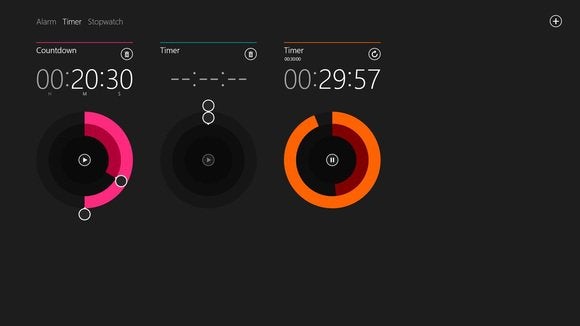 The new Alarm app is a helpful addition if you want to keep a Windows 8 tablet by your bedside, but in its current state it seems a bit sparse, not unlike the first generation of Windows 8 apps.
All the basic things you'd expect from an alarm app are intact, including a timer and a stopwatch, and the ability to set an alarm to repeat any given day of the week. The interface is slick, and the circular dial for setting times is cute. It'd be nice to see some more advanced functions, such as volume fade-in, wake to music, and a dimmer for using the app as a nighttime clock.
Calculator
In Windows 8.1, Microsoft has gone above and beyond the basic desktop calculator with this new modern-style app. The basic math functions are still there, but users can also switch to a scientific calculator. With the unit converter, users can calculate volume, length, weight, temperature, energy, area, speed, time, power, and data.
Although it isn't the most exotic app around, this might be the one modern-style function that desktop users might fall in love with. It's especially useful when snapped side-by-side with the desktop, allowing you to calculate without messing around with individual window sizes.
Sound Recorder
Just like the desktop Sound Recorder app, the new modern-style version is dead-simple. Just hit the microphone button and start recording. You can trim down an audio file, rename it, and delete it, but that's it.
Camera
If you enjoy taking photos with tablets, you'll find lots of useful new features in the Windows 8.1 camera app. The interface is now a little less confusing, with quick-camera and video-capture buttons on the right side of the screen. The app menu includes a "camera roll" button, exposure settings, and the timer. Camera options, including video stabilization and aspect ratio, have been moved to the Settings section on the charm bar.
Once you've taken a photo, the app provides some new editing options. In addition to cropping a photo, you can now rotate it or go into a full-blown editing mode, where you'll find options for red-eye, lighting, color, and focus. You can also set a photo as your lock screen, open it in another app, or start a slideshow. This app doesn't offer drawing, cut-and-paste, or the precise cropping and resizing options you get from MS Paint, but it looks like a fine option for basic photo editing on touch-based PCs.
Food & Drink
Although plenty of food-related Windows apps exist already, Microsoft has gone ahead and made one of its own. It's impressive, offering recipes, tips, and articles about food, wine, and cocktails, all gathered by Bing. Users can select from the app's list of recipes or create their own—either by typing it in or taking a picture of a paper recipe—and then add those recipes to a collection. The app also lets you create shopping lists and meal plans, which can be shared with other apps through the charm bar.
Less useful, at least in my experience, was the "hands-free" mode that's supposed to let you swipe through recipes using your PC's webcam. Getting the app to respond to hand gestures was unreliable, so it might just be easier to swipe with your elbows.
Health and Fitness
Microsoft's new Health and Fitness app is a sprawling program, packed with features for staying healthy. The main page provides links to fitness exercises, news articles, nutricion tips and medical news. There's also a link to a human body tracker, similar to the one we've seen from Google.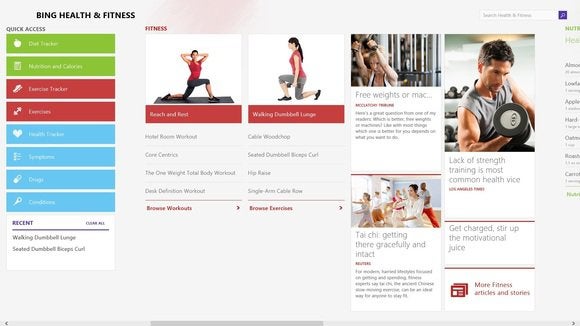 The real action begins with the app's built in diet, health and exercise trackers. These trackers have potential, but right now they're far too limited in what they can do. The diet tracker lets you record what you've eaten, but its database of items is lacking. (For instance, it has information on some Subway salads and sandwiches, but not others.) The exercise tracker isn't able to sync with popular fitness services like Fitbit and Runkeeper, and entering all that information manually seems like a hassle. The health tracker is fine if you have weight, cholesterol, blood pressure and vaccination details on hand, but it's basically just a record-keeping app. For now, the Health and Fitness app is best for providing general news and health tips, not for keeping data on your own health.
Reading List
While it's no replacement for true "read it later" apps like Pocket, Reading List at least offers a simple way to save articles for later. There's not much to do in the app itself, at least not until you've saved up some things to read by using the Share charm in other apps, such as Internet Explorer or News.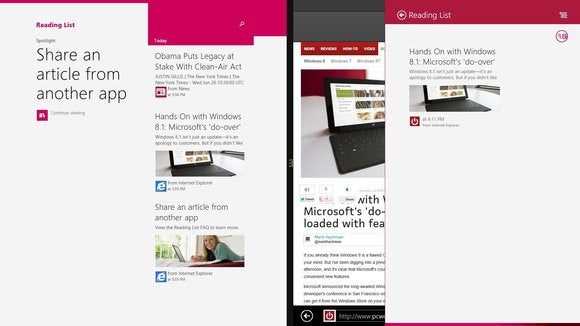 Keep in mind that this app behaves a bit differently from other readers. Instead of sucking up the text into the app itself, Reading List actually sends you back to the original source. The downside to this approach is that the app doesn't work as an offline reader. It's strictly a way to save articles for later.
Internet Explorer
Internet Explorer 11 brings some really useful changes to Windows 8.1. Most helpful is the ability to open up to three Web pages side-by-side in separate windows. To do this, you must long-press or right-click a link or an open tab, and select the option for "new window." Opening multiple windows creates several instances of IE 11 in the Windows multitasking menu, so you can get back to any open pages even if you drag them out of snap view.
Other tweaks include syncing between all Windows 8.1 devices, a "reopen closed tab" function, saved passwords, and a built-in download viewer. And for those who can't stand the way modern-style IE hides tabs and the address bar, IE 11 includes an option in the Settings menu to show them at all times in a collapsed view. Combined, these new features definitely help modern-style IE serve as a competent replacement to the desktop browser.
Photos
Microsoft has changed the interface for the Photos app in Windows 8.1, bringing it closer to the file picker that appears in other apps. Strangely, the ability to view online photo sources such as SkyDrive, Facebook, and Flickr was missing in our tests. But this may just be a bug, as online sources were available through the file picker in other apps. As for editing, the Photos app mirrors the Camera app, with an edit mode that includes lighting tweaks, red-eye reduction and other options.
SkyDrive
At last, SkyDrive's modern-style app functions more like its desktop counterpart in Windows 8.1. Users now have the ability to cut, copy, paste, and rename files—seriously, you couldn't do any of those things before—and make files available for offline access. There's also an option, in the Settings menu, to make all SkyDrive files available offline, which is helpful if you're using a laptop with plenty of storage space. Aside from those substantive changes, the SkyDrive app's interface has been tweaked, with smaller icons that allow for more items on the screen at once.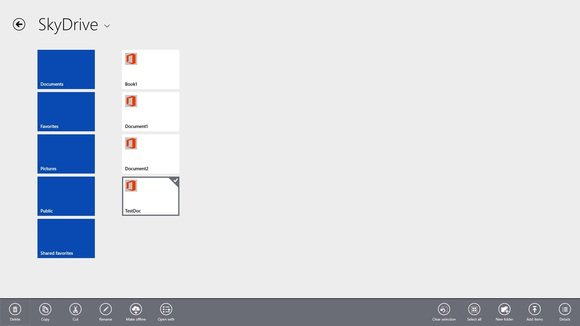 Music
Microsoft's Xbox Music app is getting a major visual overhaul in Windows 8.1. The new design is a departure from the horizontally-scrolling, modern-style apps we're used to, with a navigation column on the left side, and a vertically-scrolling list of artists on the right. It's definitely an improvement, more conducive to quickly getting to your music.
The app also does a better job of explaining itself. Small dialog boxes let you know when music's been stored locally or in the cloud, while buttons at the top of the screen offer clear options for sorting your collection. As before, Xbox Music lets users stream millions of free songs on demand—up to 10 hours per month—and listen to their local music collection all in a single app.
Maps, News, Sports, Weather, Finance and Travel
Most of these Bing-powered apps have already received major updates, and they are largely unchanged in Windows 8.1. Maps has some minor cosmetic changes to the app menu. Sports, News, and Finance now have a search bar that appears in the top-right corner of the window. These apps didn't need major changes, so it's okay that they're left alone for now.
The one exception is Travel, which has yet to receive the same visual upgrade. The app puts certain features up-front, including hotel search and flight tracking, and it fits more information on the screen. Actual features appear to be unchanged in the new app.
Mail, Messaging, People, and Calendar
Microsoft made some big changes to these apps in March. While the company has promised further improvements in Windows 8.1, they're not part of the preview.
Windows Store
When it's time to venture beyond Microsoft's own apps, the Windows Store is now much more inviting in Windows 8.1. The layout is completely different, with a single carousel of featured apps on the left side of the screen, followed by several rows of suggestions. These tiles are less crowded than they were in Windows, and they each include a short written description, so it's easier to browse without jumping back and forth between pages.
Microsoft has also tweaked the categorization on the main page. Scrolling through, you'll see personalized recommendations, trending apps, new releases, and top charts. Categories have been moved to the app menu, so you'll have to swipe up or right-click to see them.
Individual app pages are getting a makeover in Windows 8.1 as well. Instead of having to click multiple tabs for app details and user reviews, everything is laid out on a single, scrollable page. That includes a new section of related apps and other apps by the same developer. Overall, the Windows Store feels less sparse and easier to browse than it did in Windows 8.
A much better app experience
Going through all the new apps and updates, you gain an appreciation of just how broken the modern-style app situation was in Windows 8, and how much Microsoft had to do to fix it. Before, apps like Internet Explorer and SkyDrive were no match for their desktop counterparts, and key functions like a calculator and photo editor were missing entirely. Windows 8.1 has lots of other changes, especially for desktop diehards, but the improvements to the apps alone should help make Microsoft's platform a lot more hospitable for touchscreen PCs.
Updated 6/27/13 at 9:25 A.M. to include the Health and Fitness app.