The Acer Iconia W3 flips Windows computing on its head, rotating the screen into an 8.1-inch, easy-to-hold, portrait form factor. This may seem like a trivial improvement, but it's more significant than you might think.
Microsoft offered the Acer Iconia W3-810 to all attendees at its Build 2013 conference this week, following an early June unveiling of the small tablet at the Computex trade show. I played with the Iconia W3 for several hours, looking to determine whether the smaller size and screen improves the basic Windows tablet experience. It definitely does, especially if you frequently surf the Web with Internet Explorer. And with its included version of Office, plus a dedicated Bluetooth keyboard, content creation is possible on the Iconia W3, too.
Microsoft's Surface tablets (and similar Windows 8 devices with displays in the neighborhood of 10 inches) are all much larger than the Iconia W3—leaving the W3 to play the role of Google's Nexus 7 within the Windows ecosystem. If anything, Acer's Iconia W3 is a viable competitor to the Surface, which would normally deliver the "pure" Windows experience.
Hardware-wise, it's nothing special
The Iconia W3 ($429 direct from Acer) runs the full version of Windows 8. It's the OS that came on the hardware Microsoft provided, and we didn't update it to Windows 8.1 for expediency's sake. Inside the tablet is an Intel dual-core Atom Z2760 running at 1.5GHz—the same "Clover Trail" chip that powered many underpowered, first-generation Windows tablets. While the weak CPU may rule out a purchase for some, don't necessarily dismiss the Iconia W3 outright. It ran Pinball FX2 and other apps just fine.
Along with the CPU, there's just 2GB of memory and 64GB of flash storage that can, of course, be augmented by Microsoft's SkyDrive. There's a single USB port, but it's a microUSB connection. (The Iconia W3 is powered by a separate power cord.) Some may turn up their noses at the visible pixels on the 1280-by-800, 8.1-inch display, but that's not a dealbreaker in my book.
On the plus side, there's a mini HDMI connector and an SD card slot, both expansion options that the Surface tablets lacks. And Microsoft and Acer have included a click-to-run version of Office Home and Student 2013, which can be loaded onto the machine when the proper license key is entered.
The slow processor and dearth of memory seemed to cause the setup process to drag a bit longer than usual. Once completed, the tablet asks for your Microsoft ID, and populates the system with any shared settings, photos, and contacts.
Going vertical
For the last few years, computers have bowed to the tyranny of video, with displays slowly growing wider and wider to accommodate high-definition movies and games. But if you agree that portrait mode is superior for viewing ebooks and lengthy Web articles, then tablets like the Iconia W3 are a step forward. Windows tablets can reorient themselves into portrait mode, sure, but most are generally awkward to hold.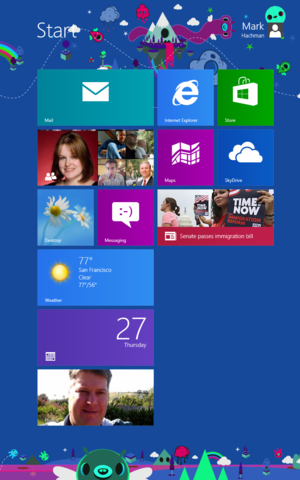 The Iconia W3 fits comfortably in my hand. At 5.3 inches wide, it's wider than the 4.7-inch Google Nexus 7, but not dramatically so. On the flipside, the W3 weighs 1.1 pounds. That may not seem like much, but it's noticeably heavier than the 12-ounce Nexus 7. As such, the W3 is a rest-it-on-an-armrest type device.
Reading apps like Kindle and Nook work best in portrait mode. As a train commuter, I notice many people using e-readers and tablets while seated, but fewer hold them while standing. I would think that the weight would grow fatiguing over time. The screen on the W3 is also too big for one-handed operation, although that seems to be the trade-off with tablets. You may be able to awkwardly cradle it with one hand while swiping from page to page, but I wouldn't recommend it.
Productivity built in
Whether it's possible to be "productive" with a tablet this small is a somewhat subjective proposition.
Acer supplies a Clavier Bluetooth keyboard designed specifically for the Iconia W3 that's actually pretty good. The keys are a bit narrower than those of the Surface keyboards, but they're spaced farther apart and offer good travel. The keyboard doesn't charge the tablet; it just grips it along its edge, allowing the W3 to lean backward. Both a Surface married to one of its keyboard covers and the W3 seated inside the Clavier have a tendancy to flop around if jostled. But the Acer combo is far, far more stable when placed on your lap, and, thanks to its small size, it should be a viable option for airplane travel.
In fact, because the Iconia W3 can be snapped directly into a form-hugging opening on the reverse side of the keyboard, Acer's hardware can be easily stowed in carry-on luggage. As long as you don't need a full-sized screen for your work, the W3 isn't a bad content-creation option. Just make sure that your documents are saved to SkyDrive to be accessed by your office PC.
There's potential here
The lack of a powerful CPU will certainly dissuade some potential Iconia W3 buyers, but Microsoft looks to be setting itself up for success: Next-gen "Bay Trail" Atom chips promise significantly improved performance at the same price, and Microsoft appears to be working out the kinks with Windows 8.1. Acer may be doing the same.
The Iconia W3 may not be the culmination of Windows tablet engineering, but it demonstrates the viability of what Microsoft has set out to accomplish, and is a convincing proof point to hold up to app developers. It's taking a while, but Microsoft is finally finding its stride. The next question worth asking is: Is a small-form-factor Surface tablet on the way?