NASA launched a solar telescope on Thursday that scientists hope will be able to unlock the secrets of how material gathers, moves and heats up as it travels through the Sun's lower atmosphere.
Scientists say that better understanding of this part of the solar atmosphere, which sits below the corona, could help explain and model phenomena like the ejection of solar material—something that can cause damage to electronic circuits, power distribution networks and communications systems on Earth when it gets large enough.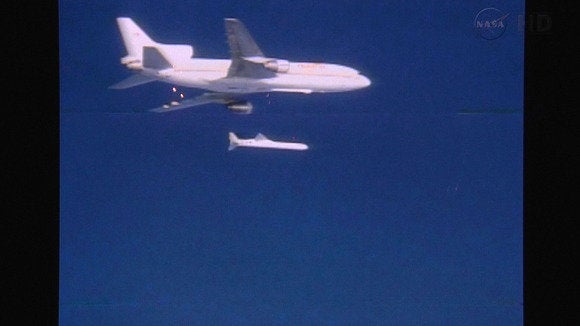 The Interface Region Imaging Spectrograph (IRIS) was launched from a Pegasus rocket that was dropped from the belly of an L-1011 TriStar aircraft flying above the Pacific Ocean, about 150 kilometers off the central coast of California.
The aircraft departed Vandenberg Airforce Base in southern California and dropped the rocket carrying the IRIS spacecraft at 7:27pm local time (2:36am GMT Friday). All systems appeared to be performing normally in the first few minutes after launch.
IRIS will focus on two parts of the lower solar atmosphere that exhibit an unusual effect: temperatures in the region are believed to be around 6,000 Kelvin near the Sun's surface and heat up to around a million Kelvin at the top of the region. That's different to our conventional experience with heat sources, where temperatures rise as the source is approached.
Tracking the movement of material into the upper atmosphere could help model solar eruptions and coronal mass ejections that can cause damage on Earth.
"What is this interface region? We don't know," said Alan Title, IRIS principal investigation at Lockheed Martin. "The instruments that looked at this region in the past have had about 20 times poorer resolution spatially and about 20 times poorer resolution spectrally. Basically, we've been looking at things that happened so fast, that data taken as slowly as previous instruments have done hasn't given us any information."
"But even more fundamentally, there's not been a push to look at this region because the atomic physics in this region is very, very, very complicated," he said. It's only been in the last decade that computer models scientists hope can accurately model the Sun's lower atmosphere have even become available, he said.
Those simulations have required NASA's Pleiades supercomputer at its Ames Research Center, in Mountain View. Pleiades, manufactured by SGI and based around Intel Xeon processors, was ranked as the 19th most powerful computer in the world on the June 2013 Top 500 list of supercomputers. When it debuted on the list in June 2011 it was the 7th most powerful computer globally.
As the world's climate changes and ever more sensitive electronics is deployed, study of the effects of the Sun on Earth are becoming more pressing.
A recent study by Lloyd's of London said between 20 million and 40 million people in the U.S. are at risk of being without power for between two weeks and two years should a violent solar storm hit. The country is particularly at risk because of its aging power grid.
Power outages were much on the mind of the NASA team this week. IRIS was originally meant to be launched on Wednesday evening, but was delayed by a day because of a significant power outage at Vandenberg Airforce Base earlier in the week.
The irony of the delay wasn't lost on Pete Worden, director of NASA's Ames Research Center in Mountain View, which will be controlling the satellite and crunching a lot of the data it produces.
"We believe that some, maybe a lot of power outages, actually have a lot to do with solar activity," he said. "So the better we can understand the physics going on, the better we can understand the activity, the better we can potentially predict and mitigate these problems."
Updated at 11:17 a.m. PT with a video report from IDG News Service.