PCWorld has already published a hands-on of Windows 8.1. We've examined what's inside the updated system, and we've explained what we still hope to see in future revisions. But we haven't yet presented a final verdict on the new OS, and what Microsoft really accomplished during its Build 2013 developer's conference.
Well, here it is: In a single word, Windows 8.1 can be summed up as a success. It's not a stunning success, granted, but the system update definitely can't be considered a disappointment like the original Windows 8. Windows 8.1 is a solid effort—and with the public-preview release of Windows 8.1, Microsoft has shored up the foundation of its entire ecosystem, allowing developers to build their apps on top of what was once shaky ground.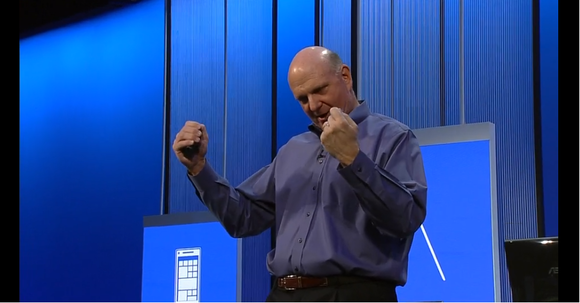 In the weeks leading up to Build 2013, the news was uniformly negative. PCs were dying. Tablets were on the upsurge. And Windows 8 was to blame. Those facts may not have changed, but at Build, Microsoft flipped the script. Prior to the conference, I was convinced that the U.S.S. Redmond had run aground, but now there's a palpable sense of positive momentum.
Here's where Microsoft succeeded.
Listening to its customers
I can't stress this point enough. Windows users skewered Windows 8 for various sins, and Microsoft took the high road by addressing a number of the problems in 8.1. Compare this reaction with the "antennagate" scandal, in which Apple said that iPhone users suffering connectivity problems were "holding it wrong." Steve Jobs eventually summoned the Silicon Valley press corps to Apple's headquarters, and grudgingly announced the free Bumper Case program—but only after chastising the press for, well, doing its job.
Jobs very well may have been correct in saying that other phones suffered from the same antenna problem, and that Apple had spent many man-hours ensuring that the issue wouldn't affect performance. And Microsoft very well may have been right to say that the design of Windows 8 might not have needed a redesign after all. Still, in a matter of weeks, Microsoft backed down on its DRM policies surrounding the Xbox One and dramatically redesigned Windows 8 to accomodate its customers' wishes.
This is exactly the kind of behavior that we hope for from Silicon Valley. Heck, this is precisely the kind of behavior that Congress should adopt. The people spoke, the company listened, changes were made. This is how the process should work.
More 'power user' features in Windows 8.1
Most Windows users should know that, within the desktop, pressing the Windows-X key combo opens the list of "power user" commands, from power options to disk management to the Device Manager. In a sense, it's a Start menu for power users, and it's one shortcut every Windows user should know.
Within Windows 8.1, clicking the desktop's taskbar, selecting Properties, and then choosing the Navigation tab opens an equally useful list of options: boot to desktop, default to Apps view in the Start screen, and list desktop apps first in the Apps view. These are all options that make Windows 8.1 your operating system, as opposed to a system that strictly conforms to Microsoft's design.
If Microsoft made any mistake here, it's that these new "power" features are what the average user wants, too. Microsoft missed an opportunity for a home run by not highlighting these options elsewhere, such as in the PC Settings menu. And, yes, burying them in their current menu can be seen as a bit passive-aggressive. Nevertheless, Microsoft's decision to do so allows sites like PCWorld to include them in a list of Windows 8.1's "hidden features."
Redefining a weakness as a strength
I have never liked how much space is wasted in Windows 8 modern apps. And I have always thought that the original "snap" feature in Windows 8 is poorly implemented. But now Microsoft scores points by allowing us to snap multiple Internet Explorer windows, side by side, all in the modern Windows 8.1 interface, as shown below.
While I suspect many users have been trained to Alt-Tab from one application to the next, quickly breaking context to move between programs, the ability to snap four apps next to one another should prove useful. I'm a committed desktop user, and I still believe that multitasking among various apps allows me to be most productive. Still, I can see that snapping a Twitter app next to Internet Explorer next to a future Major League Baseball app might be a fun way to watch the game.
App momentum
While it's fair to say that many Windows 8 apps still fall squarely in the junk category, Microsoft is nearing the 100,000-app mark, and more developers appear to be jumping back onto the Windows 8 bandwagon. Even Facebook and Twitter have climbed aboard, just in time for an announcement at Build 2013.
Microsoft has also committed itself to its own app development, basically rewriting most of its first-party apps within Windows 8.1. The company has added apps such as Reading List, which basically acts as Instapaper for Windows 8 and lets you send articles to yourself for later viewing, sans ads.
I'm also unreasonably excited about the upcoming Mail refresh, which segments social-networking updates and newsletters into their own folders. (Gmail does the same thing via tabs, but the capability is easy to forget about; click the Settings tab and select Configure inbox to do it within Gmail.) Jared Newman, one of PCWorld's contributors, notes that what Windows 8.1 really does is underscore just how dysfunctional various apps were in Windows 8.
Microsoft needed to remind developers that millions of PCs run Windows and Windows 8. It did so. Attracting two big social platforms—Facebook and Twitter—to Windows 8 is significant.
Hardware flexibility
People may look at a Windows 8 desktop and ask, "What do I need that for?" People may look at a convertible Windows 8 tablet and ask, "What do I need that for?" And people may look at an 8-inch Windows tablet and, well, you get the idea.
Apple's iOS has the iPhone and the iPad. Google's Android has seemingly zillions of possible hardware combinations. You can't argue that Android's success has been predicated on its diversity of platforms—the fact that it's free, that Google has a permissive app policy, and that Android is closely tied to Google's services hegemony is a better foundation for Android's success.
But Microsoft's partners offer Windows on everything from large, tabletop all-in-ones to the new Acer 8-inch Windows tablet. Some people may see this as flailing—throwing a bunch of different form factors at the wall, and hoping one of them will work. But there's no denying that Windows 8 is flexible, and Microsoft has created a platform that allows partners to imagine Windows 8 for themselves. The bottom line is that some consumers may find that ginormous all-in-one to be exactly what they need, and only Microsoft has created an ecosystem that supports this degree of experimentation.
On the other hand…
That's not to say that Microsoft's Build message couldn't have been better. Microsoft whiffed on numerous aspects of Windows 8.1; Brad Chacos has listed a dozen right here.
But for me, it boils down to two:
Windows Phone? Hello? Steve Ballmer noted that Build would be dedicated to Windows 8, and that Microsoft wouldn't be showcasing the Windows Phone or Xbox platforms there.
But I think that for Ballmer and other executives to capitalize on the premise of a unified Windows ecosystem, they should have designated more time to Windows Phone, perhaps in a "mini-Build" of sorts. I found it really interesting that Microsoft plans to support the Unity platform, extending its "common core" concept across the Xbox, Windows, and Windows Phone platforms. Delving into this concept would have reinforced the message that Microsoft is committed to a multidevice universe, with all components aligned to a single sign-on and cloud service. This is the kind of story that gets developers (if not consumers) more interested.
A tighter unification between the Start screen and desktop: Maintaining the two different contexts makes sense when I switch between my desktop workspace, with a keyboard, and on-the-go computing in tablet mode. (I'd like the option of a cellular connection here, too.)
However, I hate it when I'm happily working within a desktop application, and then Microsoft rudely hauls me away into the modern environment, simply because I want to launch a related app. Likewise, if I'm in tablet mode, I hate trying to navigate a desktop file structure with my finger. Why does Reading List operate with the modern version of Internet Explorer, whereas I can't share anything at all from the desktop? Apple's iOS and MacOS can interact with each other, but many elements distinguish and separate the two. You can say the same for the modern and desktop elements within Windows 8, and they're the same dang operating system.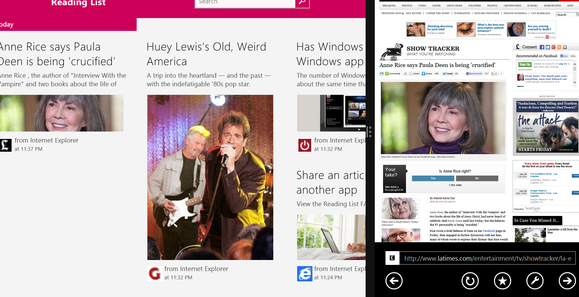 The message: Let's Start again
Here's the message I heard from Microsoft at Build: We've listened. We've incorporated your feedback, bridged what we wanted to accomplish in Windows 8 with what you expected, and tried to bake both elements into a cohesive whole. We've sprinkled in a generous helping of new features, and we're joining the once-a-year upgrade timeline that our competitors have adopted. We're nervous, but we didn't panic. We have a vision. Trust us.
Did Microsoft deliver? Basically, yes. Microsoft is miles behind other platforms in terms of apps, both on Windows and on Windows Phone. But it still has the Web, and a compelling client with Internet Explorer and its new Visual Studio tools.
Combine that with the upcoming energy-efficient Atom platform from Intel and more small Windows tablets, and Microsoft's future looks much brighter than it looked a few months ago. Microsoft did what it had to do. Now it can only watch and wait.