At a Glance
Expert's Rating
Pros
Extremely easy set-up and usage
Can store passwords locally or sync them to the cloud
Seamless browser integration for passwords and forms
Cons
Import from other managers doesn't always work
Features are dispersed between program and browser add-on
Premium version is a bit pricey
Our Verdict
With its simple interface and myriad of features, Dashlane is a powerful password manager anyone should consider.
A password manager is a must. Unless you're using the same password for everything (not recommended) or have a truly phenomenal memory, your productivity can benefit from a place to store all your passwords and easily use them whenever necessary. There are several strong players in this field, such as LastPass and KeePass. Dashlane (free for basic version, $20/year for Premium) aims to take on both.
Dashlane is a robust password manager with additional room for your various IDs, credit cards and other payment methods, receipts, and notes. It comes with an auto-fill feature for online forms to which you can add different addresses, phone numbers, and other personal information you're tired of typing repeatedly. There are two features that make Dashlane stand out when compared to both LastPass and KeePass: Its beautiful and easy-to-use interface, and its optional cloud syncing.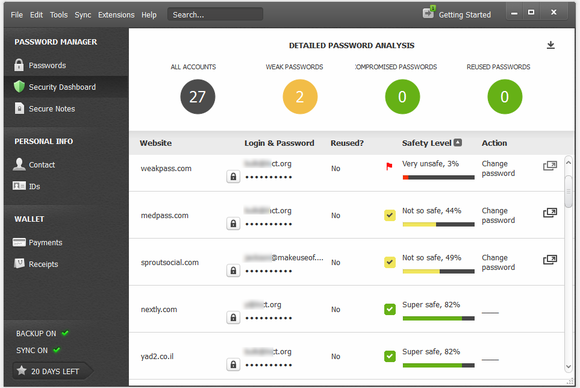 Setting up Dashlane is exceptionally easy. LastPass and KeePass are both fairly easy to use, but they have nothing on Dashlane. The installation process takes you step by step through setting up the program, with clear instructions and smooth guidance. After choosing your master password for Dashlane–unlike LastPass, there's no "password reminder" here, so you must remember it or lose access to your database–Dashlane will install itself on your browsers (Firefox, Chrome and Internet Explorer are supported), and will lead you through trying out its different features and interface elements.
If you're already using a different password manager, you can import your database into Dashlane pretty easily. The import tool supports databases from Firefox, Chrome, Internet Explorer, LastPass, 1Password, RoboForm, PasswordWallet, KeePess, and custom CSV files, but the tool is a little finicky. For example, my KeePass CSV did not contain a filled-in URL field, as this is not mandatory in KeePass. Dashlane ignored every password that did not come with a URL, leaving me with no way to import my large password database into Dashlane. Fortunately, Dashlane can automatically add new credentials upon logging in to websites, so after using it for several days, most of my oft-used passwords were transferred to Dashlane without much effort on my part.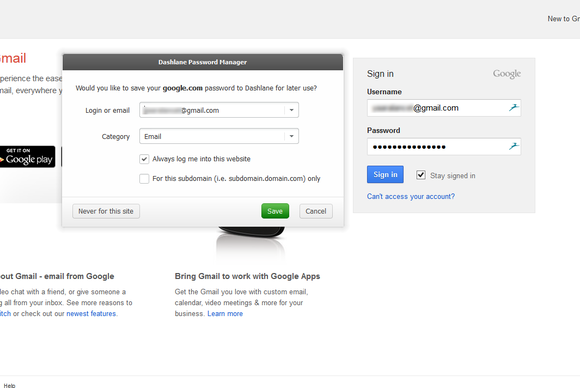 Dashlane's strong yet subtle browser integration makes logging in to websites a seamless operation, but doesn't add unnecessary clutter to your browsing experience. Once a password is stored in Dashlane, it can log you in automatically every time the website is loaded, or auto-fill the credentials without logging you in. If you're opening an account on a new website, Dashlane can generate a strong password for you right from your browser, and store it in your database in one fell swoop.
You can categorize passwords and other information for easy access, and a small blue impala icon in a browser text field will alert you to the fact that Dashlane can auto-fill this for you. If you have more than one account with a website, more than one email address you like to use, etc., clicking the blue impala will open a dropdown menu where you can choose the desired information.
One of the most important aspects of a password manager is security, and with Dashlane, you can select your level of paranoia. Your database is encrypted with AES-256 encryption, only you know the master password to decrypt it, and you can enable Google Authenticator for extra security. Unlike LastPass, where everything is in the cloud, automatic cloud syncing and backup is a Premium feature in Dashlane, so free users don't have to worry about it.
Even if you're a paid customer, however, you can easily opt out of cloud syncs, meaning your password database is only stored locally, just like with KeePass. Unlike KeePass, though, Dashlane's free mobile apps can be managed as separate databases, so you can access your passwords on the go without worrying about constant cloud syncs. When enabled, Dashlane syncs happen every 5 minutes, and there's no way to control or reduce this frequency.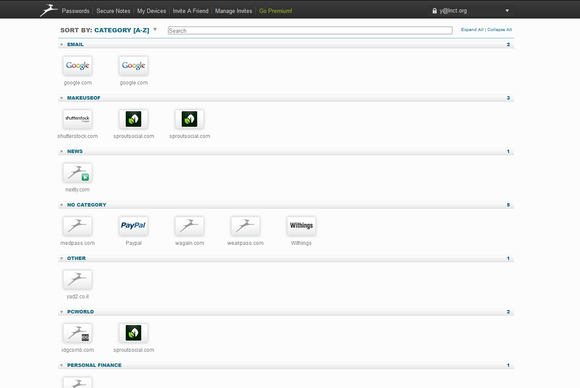 Dashlane is an impressive password manager with some excellent features and a beautiful interface. It does require a certain amount of trust in the company, especially when using its syncing options, and for $20/year, its Premium version is expensive when compared to the alternatives. Nevertheless, it is the perfect password manager for the less tech-savvy, and even the experienced are sure to enjoy it, if only for the merits of its interface. It's available in Android, iOS, and Mac editions, in addition to the PC edition I reviewed.