At a Glance
Expert's Rating
Pros
Wireless media streaming
Apps for Android and iOS
USB 3.0 interface
Cons
No onboard DLNA server
Battery lasts only 3 hours
Our Verdict
The Patriot Aero creates a Wi-Fi hotspot for multimedia streaming, and it works well. In battery life and performance, however, it's a step behind the competition.
Like its Seagate Wireless Plus and Corsair Voyager Air competition, the Patriot Aero is by all appearances a simple, if somewhat large, 2.5-inch external USB 3.0 hard drive. The only clue that it's also a wireless multimedia streamer is the Wi-Fi indicator light. With apps for Android and iOS, you can easily access the Aero's content from the majority of portable devices, but it has no DLNA server on board to ease access for those people who are using other platforms.
Hardware and features
When you plug the Aero into a USB port, its Wi-Fi shuts off so that the unit can charge and serve as direct-attached storage (in other words, like a normal USB hard drive). When you remove it from the USB port, Wi-Fi automatically turns on. The Aero also has an AC jack and a mini power-to-USB cable, which you'll need to use to keep the unit streaming and charging from a USB port. A battery meter on the Aero's side lights up when you press the accompanying button.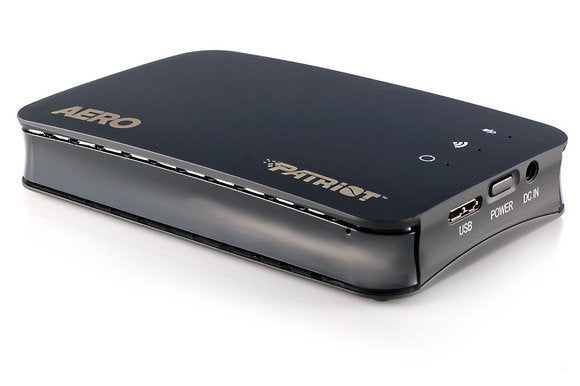 The Aero creates its own network (10.10.10.x), and also connects to another wireless network to provide Internet pass-through. Sweet. But in my tests it took its time configuring this arrangement. Patriot says that everything should show up within 30 seconds. For me, the device took nearly 5 minutes before it was ready to access again.
Patriot supplies client apps for both Android and iOS, but not Windows Phone. And it has no DLNA server to feed Windows Media Player, iTunes, XBMC, or the like. Instead you're forced to use Explorer to reach the drive at 10.10.10.254 and treat it as direct-attached storage.
Performance
Patriot claims that the Aero is capable of streaming 720p video to up to five devices. I say go 4-MBps 1080p, or go home. But you'd better be home, because no Wi-Fi streamer I've used will manage 4 MBps. You must plug into USB for that kind of performance. The Aero easily streamed video to the three devices in my test setup at rates up to about 2 MBps.
The Aero performed well In PCWorld's official 10GB file-transfer tests—for the most part. It read our file and folder mix at 217.4 MBps, and it wrote and read our single large file at 109.7 MBps and 247.9 MBps respectively. When it came to writing our mixed batch of files, however, it operated at about half the USB 3.0 norm (only 41.9 MBps).
The reason for this is evidently due to Patriot's decision to format the drive as an exFAT file system, in order to provide cross-compatibility between Macs and PCs. To test this theory, we reformatted the drive using the NTFS file system, and then retested: Write speed with the 10GB collection of files and folders jumped to 102.4 MBps.
To test our theory even further, we then reformatted as exFAT two other drives that came from the factory formatted as NTFS. As you can see from the charts below, their write performance with the 10GB collection of files and folders dropped significantly when formatted exFAT.(The numbers in the charts are from our retest, so they aren't identical to the original results we reported.)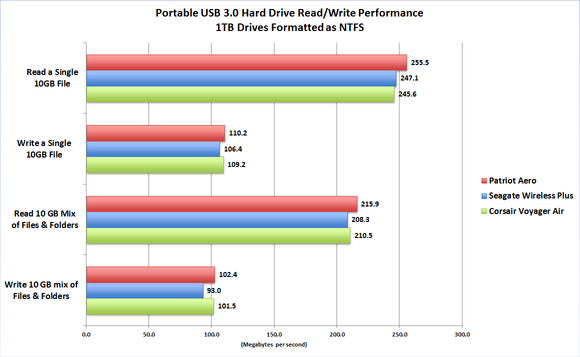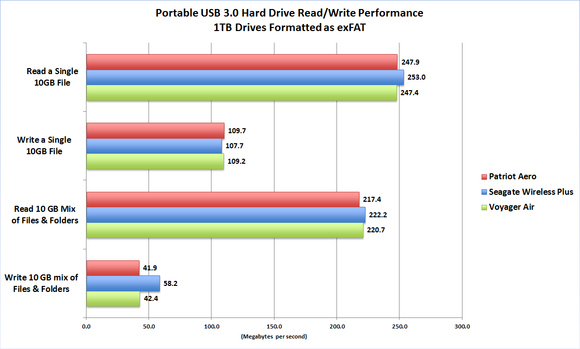 Of course, anyone who purchases an Aero, is concerned about its write performance, and doesn't anticipate using the drive with Macs as well as PCs can easily reformat the drive as NTFS. By the same token, anyone who buys the Seagate or Corsair drives can reformat them as exFAT to gain Mac compatibility.
At just a little under 3 hours, the Aero's battery life was about an hour shy of the competition's, though that's still long enough for enjoying a single movie around the campfire (where you really should be telling stories and absorbing nature anyway).
Bottom line
Priced at $200, the 1TB version of the Aero (500GB and driveless versions are also available) is less expensive than the Corsair Voyager Air, and about the same price as the Seagate Wireless Plus. The Aero is a good product. It just happens to be up against stiff competition.
Editor's note, July 17, 2013: Patriot contacted us after this review to contend they believe the long wait for the device to connect to our wireless network could be related to the other hardware used in the evaluation. We also corrected the list price of the 1TB model tested, and we added our theory as to why exFAT drives are slower than NTFS drives when writing our single 10GB test file.