Microsoft's new "smart search" technology will come with a price: ads, a consequence of the search function's expansion to add the Web to its results.
Now, users who search for "AAA," for example, will see a list of sponsored search results when they look for the automobile services company within Windows 8.1. Users will see the same results if they search for "AAA" at Bing.com or Yahoo, Microsoft said in a blog post.
It's important to note that the ads are not a future capability that Microsoft will add to the OS; they're already there. A search for "State Farm," for example, showed the ad as the first result, followed by a Bing Maps link to nearby offices, and then the homepage of State Farm Insurance. The third result, possibly the most relevant, was viewable without sliding or scrolling the screen horizontally.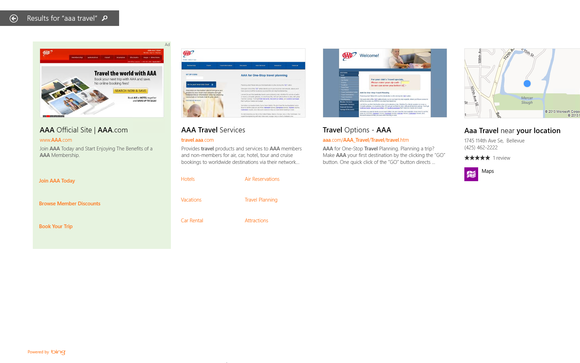 Microsoft rolled out Smart Search as part of the Windows 8.1 preview last week, touting it as the new "command line" for the Windows 8 environment. Under Windows 8, searching using the Search Charm within the Start page (or just by typing) produces a list of apps, settings and files. Under Windows 8.1, search is expanded to include results from the Web as well as the Xbox Music app, producing some expansive "hero" pages that made our list of the top reasons to upgrade to Windows 8.1.
Microsoft has lagged well behind Google in search, however, and the company's online business has consistently lost money. Placing ads within millions of PCs would help offset that. The ads display within the Bing search app, not Internet Explorer, tying them closer to the operating system.
"A key part of this journey is our pursuit of making search ever more relevant and engaging for consumers as their experiences evolve across new devices and platforms," said David Pann, the general manager of the Microsoft Advertising Search Group, in a statement. Bing Ads within Windows 8.1 Smart Search allows advertiser campaigns that are already participating on the Yahoo Bing Network to automatically be eligible to be shown without any additional setup, Pann said.
Traditionally, ads that appear outside of the context of the browser are a good sign that malware is present. But these will appear within the context of an app, so it should be clear that the PC isn't infected. Nevertheless, it also appears that users will be unable to block the ads through traditional ad blockers—just like traditional browser-based search results.
At this point, it appears that the future will be advertised. Compliments of Bing.