Psst, want to get 1000 followers on Twitter, quick? It'll cost you: Eleven dollars.
While honest folk grind out blog posts and thoughtful tweets in an attempt to grow their credibility on the popular social network, a shortcut is readily available to anyone with enough money to buy a good burger. As Marketing Land reports, the market for fake followers is flourishing while the prices for these phony fans are coming down, making it easier than ever to boost your tweet cred.
In its latest report on the practice, BarracudaLabs analyzed more than 1000 accounts that have invested in fake followers ("abusers" in its parlance). The company found that the average abuser has more than 50,000 followers on Twitter. Sixteen of those accounts had boosted their way to more than a million followers.
The fake follower game has become remarkably sophisticated. It's easy to think of these phony followers as fly-by-night accounts that pop up one day and are deleted the next, but that's no longer the case. In analyzing nearly 100,000 fake accounts, Barracuda found that less than one in a thousand were less than three months old, with the average age of an account being about seven months. Fake accounts even send their own tweets (average: 77 times) and have their own followers (average: 32). In order to ensure an account looks legit, the secret seems to be taking a real user account, adding an underscore or another character to the end of it, and copying everything else from the account. You just can't get more real than using someone else's actual bio and picture.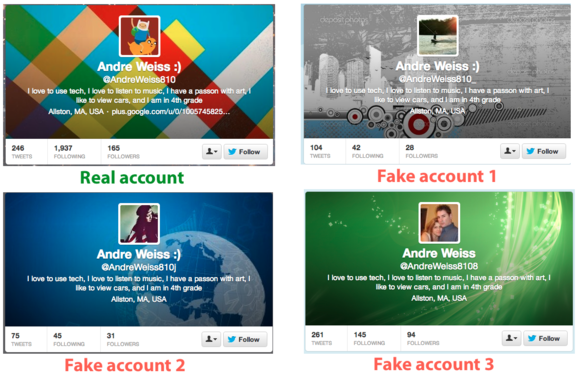 Phony accounts undergo a sophisticated routine of tweeting every few days to make the accounts appear as authentic as possible. The ruse falls apart under close human scrutiny,but machines haven't caught on. Twitter clearly has lots of trouble detecting these fake accounts through automated means. Third-party tools designed to verify whether accounts are legitimate, according to Barracuda, are now largely unable to ferret out accounts that are stuffed with fake followers.
Why bother?
All of which begs the question: Why do all this? It's clear why dealers in fake followers do what they do; it's a multi-million dollar business that, once automated, requires minimal overhead to keep running. But what about those that buy the followers? Why stuff your account with phony hangers-on?
The answer is equally simple and just as financially motivated. In today's social media world, followers equal power. Or at the very least, they imply importance. If you're going to follow a user who blogs about widgets, will you follow the one with a dozen followers, or the one with half a million? Which one seems more credible and more important?
In many cases, having a large number of followers seems to breed even more of them, so "priming the pump" with a healthy follower base may be an easy way to get a new Twitter account some visibility—and eventually one of those legitimate followers might result in a sale. (On the other hand, this could all be wishful thinking: An internal study undertaken by Coca-Cola found that social media buzz had "no quantifiable impact on short-term sales.")
You don't have to be an unscrupulous scammer to play the game. The New York Times recently reported that accounts belonging to Pepsi, Newt Gingrich, and 50 Cent were all stuffed with fake followers, identified as such because they had acquired or lost a large number of followers in one day. Whether the follower boosting was due to business competitiveness, an attempt to manipulate political polling numbers, or simple vanity doesn't really matter. It's cheap, and there are no real penalties if you get caught.
The unlikely solution
The fix for this problem is incredibly easy, if wholly unlikely. All Twitter has to do to make boosting go away is to stop publishing the number of followers a Twitter account has. If third parties can't tell how many followers an account has, the impetus to boost that number largely vanishes.
Then again, maybe that wouldn't matter, either. LinkedIn caps its public display of the number of connections an account has at 500, but the market for fake LinkedIn connections is just as vibrant. Buying a connection to 100 people you didn't work with will currently cost you about $15.