Reports of an imminent and broad Microsoft business reorganization keep mounting, including an anonymously sourced article from The Wall Street Journal's AllThingsD blog that says CEO Steve Ballmer will unveil the plan on Thursday.
Microsoft critics have pointed out for years that the company has a product lineup that is too big and too varied, and that it could make sense to split up the house that Bill Gates built into more independent subsidiaries or even spin off some units entirely.
This, observers have said, could bring more agility and innovation to the different teams by streamlining the decision-making process both at the product development and business strategy levels.
Currently, Microsoft has products as disparate as the Xbox gaming console, the Bing search engine, and the SQL Server enterprise database.
Far from consolidating and paring down its product roster, Microsoft has ventured into new areas, like its surprising decision last year to build its own tablet device—the Surface—while risking alienating its hardware partners.
There has been dissatisfaction among investors about stagnant growth in the stock price, and the company has been criticized for adapting too slowly to key trends, including cloud computing and consumerization of IT.
Glaring examples of missed opportunities by Microsoft are the minor presence of its Windows OS in tablets and smartphones. While Microsoft is trying to remedy that with Windows 8 and Windows Phone 8, the OS is very far behind iOS and Android, and Microsoft has missed three years of blazing hot sales for these devices, which many people now use both at home and at work.
On the enterprise software side of things, Microsoft has also scrambled to respond to fast-moving trends. For example, it spent $1.2 billion a year ago to buy Yammer in order to boost the weak enterprise social networking capabilities of its SharePoint collaboration server and of other business software like Office, Exchange, Lync and Dynamics.
In addition, rivals have been sniping at the Office franchise for several years, offering up less expensive, cloud-only options like Google's Apps suite that have found success in a market Office has historically dominated.
'Drastic' reorg?
According to AllThingsD's report on Monday, the reorganization will be drastic and has many company leaders on pins and needles because Ballmer has apparently kept the details confidential, sharing them with only a select few. According to a Fast Company article, the restructuring intrigue and uncertainty played a part in Don Mattrick's decision to leave his job as president of the company's Interactive Entertainment unit and join Zynga as CEO.
But the overall goal, according to AllThingsD, is to bring "functional coherence" to the company and group some products under different leaders, including the creation of a new unit for cloud computing and business products led by Satya Nadella, who is now in charge of the Servers and Tools division.
Qi Lu, now head of Online Services, which includes Bing, would also oversee Office and other apps. A Bloomberg article last week also included details on a number of such moves that are reportedly part of the plan.
Of course, major restructurings and reorganizations are common among large IT vendors, and often the plans end up being so convoluted and hard to implement that they do more damage than good. Sometimes the plans slow down the company or simply prove outright unwise, leading down a path of failure.
An unwanted byproduct can always be that enterprise customers and employees interpret these shakeups as signs that the vendor is in crisis and rudderless, leading them to lose confidence in the companies. Customers then begin to second-guess their decisions to invest in the vendor's products, while employee morale dips and staff turnover increases.
Predictions
David Johnson, a Forrester Research analyst, said that Microsoft's internal divisions are getting in the way of its progress. The division leaders are judged on the financial performance of their business unit, but also on potentially conflicting goals including product integration, quality and shared financial results.
"It can be extremely complex to track progress and success and failure across a confusing organizational structure and set of priorities, and divisional revenue will always trump other goals, so when the pressure is on for revenue or profits in one division, it can be difficult or impossible to get collaborative, cross-silo work done," Johnson said via email.
The potential upside is that, given the company's enormous capabilities and resources, Microsoft could speed by competitors and blaze a trail of innovation if its inner workings were properly coordinated, he said.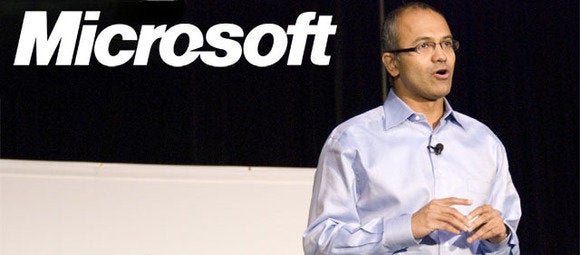 The best purpose of a large company is the ability to coordinate resources and talents across a large number of things, to get a few very important things done," Johnson said.
"But the way they're structured now, they can innovate but only in silos or pockets, and so they're not bringing the full potential of a well-coordinated, large organization to get that handful of really important, high-value things done," he added.
Johnson expects a more prominent role will be given to Nadella and to the software-development-tools line of products.
"Microsoft's best work is when they give people development tools that are so easy to use for incredibly powerful things, that they will commit themselves and careers to mastery of them," he said.
That was the case with Visual Studio early on, and with Visual Basic for Applications with Excel, according to Johnson.
"Microsoft democratizes software development by lowering the barriers to entry like no other company. This is a part of their DNA and culture I'd like to see come back. The shift to cloud gives them the change to do it again, and I was blown away by the improvements I saw with Visual Studio 2013 at Build 2013 in San Francisco," he said, referring to the recently concluded Microsoft conference for developers.
Johnson is also betting on the consolidation in a single Windows division for PCs, tablets, smartphones, and even wearable devices.
"Microsoft needs to unify the experience across all devices, and stop treating them as separate businesses with separate priorities and revenue goals," he said.
This reorganization would also give Ballmer a good chance to tear down the notorious stack ranking system that Vanity Fair magazine detailed in a devastating article a year ago.
That story, titled "Microsoft's Downfall: Inside the Executive E-mails and Cannibalistic Culture That Felled a Tech Giant," described this annual review system, which forces team leaders to give glowing, fair, and bad reviews to a pre-determined percentage of their employees, even if it just so happens that on a given team everybody delivered good and excellent performances.
"Such a system has benefits, but the negative consequences can be severe. When employees know that someone on their team is going to take a bullet every year, competition and not cooperation between people is the natural result, along with all of the negative behaviors that go with it," Johnson said.
Instead of promoting collaboration, communication and sharing of information and resources, which are the things Microsoft needs to survive and thrive, this system leads employees to engage in information hoarding, noxious corporate politics and blame games, he said.
Lack of cooperation
Michael Silver, a Gartner analyst, said there have always been reports of lack of cooperation and in-fighting among Microsoft units, a situation that has likely prevented the company from maximizing the potential synergies among products, which would yield a competitive advantage.
"At this point, Windows and Windows Phone should offer a much better combined experience, but the two are very separate," Silver said via email.
Microsoft also needs a better effort in marketing, which Silver said has been "subpar to say the least."
In addition, the company needs a more coherent design and user experience across its products. "They need someone to deal with this across the whole product line to ensure consistency and improve the user experience on every product individually and together," Silver said.
Rumors about the restructuring plan began floating around weeks ago. Microsoft will report its fourth-quarter earnings on Thursday of next week.