At a Glance
Expert's Rating
Pros
Outstanding backlit keyboard
Fingerprint reader
Lots of ports
Cons
Dull, uninspired design
Fairly heavy and bulky
No touchscreen
Our Verdict
Lenovo's pricey new entry into the Ultrabook market caters deftly to business users, but it fails to deliver most of what's good about Ultrabooks: speed, portability, and convenience.
Lenovo's long-standing tradition of producing black, boxy, boring laptops continues with the ThinkPad T431s, and it's a testament to their underlying quality that businesses and business users continue to embrace them. But the company might want to rethink the "Ultrabook" suffix tacked onto this one's name, which conjures images of sleek, sexy, and speedy machines. The T431s is none of those things.
Rather, it has the heft and bulk of a more traditional laptop, weighing 3.6 pounds and measuring 0.8 inch thick. One suspects Lenovo could have squeezed in an optical drive, though at least the system leverages its large chassis to pack in plenty of expansion options: ethernet and VGA ports, a Mini DisplayPort, a 4-in-1 memory card reader, and a Smart Card reader for organizations that still rely on them. It also has a fingerprint reader, another nice security-minded perk. The system has only two USB 3.0 ports (three would be better), but one of them is powered so you can charge a mobile device even when the ThinkPad is off.
Like a growing number of laptops, the T431s lacks a drive-activity indicator. And although Lenovo included an LED for the Fn-key lock, the Caps Lock key didn't get the same simple amenity. That's inexcusable from a company known for great keyboards.
Indeed, this ThinkPad's comfortable, backlit, perfectly spaced keys make typing a pleasure. It also has dedicated Home, End, Page Up, and Page Down keys, though they're not grouped together. That's a mild annoyance; a bigger one is the bottom-left corner placement of the Fn key. Most touch-typists' fingers are accustomed to finding a Ctrl key there.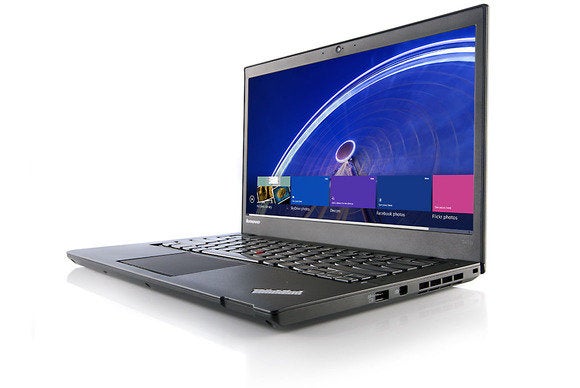 Lenovo has redesigned its touchpad. This one is appreciably spacious and smooth to the touch, with buttons in all four corners. The top two are intended for use with Lenovo's trademark pointing stick, which seems downright quaint today, but its presence will undoubtedly please longtime ThinkPad users. The entire touchpad is also a button, and that "give" can be awkward at times, especially if you land a little harder than you anticipated with your finger. To avoid accidental cursor clicks, you'll need to develop a light touch.
With its Worldbench score of 121, the ThinkPad ranks among the slower Core i5-equipped Ultrabooks we've tested. The Sony VAIO Fit 15 posted a higher score, and the 128GB SSD in the Dell Latitude 6430u helped it earn a significantly higher result. The ThinkPad has a quick 7200-rpm, 500GB hard drive augmented by a 24GB SSD cache.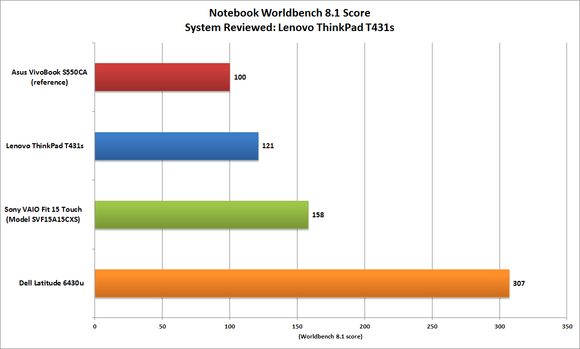 Despite having only a three-cell battery, our review unit managed to last 4 hours, 45 minutes in our rundown test, which is about average for systems in this class. Like other Ultrabooks, the T431s has a nonremovable battery—a potential problem for business travelers who must swap in a spare power pack when the first one runs dry.
The ThinkPad's 14-inch screen has native resolution of 1600 by 900 pixels. That's sufficient for enjoying HD movies and other video, but it's shy of the 1920-by-1080 displays offered by other Ultrabooks (such as the Samsung Series 9). What's more, we expected a laptop in this price class to include a touchscreen, but the T431s lacks one. On the plus side, the screen exhibits very little glare, and Intel's integrated HD Graphics 4000 supplies enough horsepower for stutter-free full-screen video (at least based on what we streamed from Hulu and YouTube).
As Ultrabooks go, the ThinkPad T431s is far from the skinniest, lightest, fastest, or longest-lasting model you can buy. And without perks like a touchscreen and solid-state storage (the latter is available on other configurations), it's hard to justify Lenovo's higher-than-average price. Business users might continue to appreciate the ThinkPad's sturdy design, security features, and comfy keyboard, but others will find more features and better performance for less money.