The organizers of the Defcon hacking convention have publicly asked U.S. federal government workers not to attend the event this year due to tension in the hacker community caused by the recent revelations about the U.S. government's electronic surveillance efforts.
The historically antagonistic relationship between hackers and the government seemed to have eased up in recent years, with three-letter government agencies increasingly looking to recruit cybersecurity talent at high-profile hacker conferences such as Defcon and Black Hat.
One of the recurring contests at Defcon is Spot the Fed, which consists of attendees attempting to out government agents present at the show for fun and T-shirts.
However, it's not clear if the contest will run this year, as Defcon founder Jeff Moss asked the "feds" to sit out this year's event. Moss is known as The Dark Tangent in the hacker community, and is also the chief security officer of the Internet Corporation for Assigned Names and Numbers (ICANN).
"When it comes to sharing and socializing with feds, recent revelations have made many in the community uncomfortable about this relationship," Moss wrote in a blog post titled "Feds, we need some time apart."
"I think it would be best for everyone involved if the feds call a 'time-out' and not attend DEF CON this year," he said. "This will give everybody time to think about how we got here, and what comes next."
The request came as a surprise to some people, especially since General Keith B. Alexander, the director of the U.S. National Security Agency and head of the U.S. Cyber Command spoke at Defcon last year. Moss said at the time that he had been trying for the past 20 years to get a high-ranking NSA official to speak at the conference.
The new decision by Defcon organizers is indicative of tensions that have been building within the information security community for some time, said Kyle Maxwell, a senior network security specialist at Verizon, in a post on his personal blog. "While not new, I feel a mood in the hacker community that has resurged to levels I've not seen in years. The Snowden affair really only brought to the fore problems that seemed to worsen during the Bush administration, then got quiet with many people feeling that perhaps things will change under President Obama."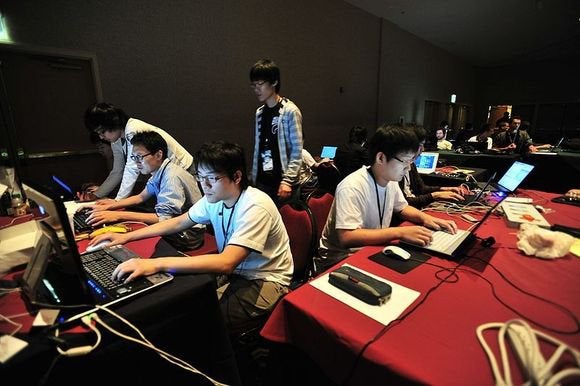 While Moss' request to federal agents can be viewed as a political statement, some people believe that it actually stems from a desire to avoid conflicts during the event.
"People who run things, from corporate CEOs to conference organizers, learn to keep themselves above the fray," said Robert Graham, the CEO of security firm Errata Security in a blog post commenting on the decision. "They spend a lot of effort heading off conflict before it has a chance to start. They don't take sides."
A highly visible presence from the government at Defcon is likely to generate conflict from people upset over the Snowden revelations, Graham said. "From shouting matches, to physical violence, to 'hack the fed,' something bad might occur. Or, simply attendees will choose to stay away. Any reasonable conference organizer, be they pro-fed or anti-fed, would want to reduce the likelihood of this conflict."
Updated at 12:30 p.m. to clarify that Kyle Maxwell's comment came from a personal blog.