Microsoft chief executive Steve Ballmer reorganized Microsoft, as expected, eliminating the "silos" of product groups and giving responsibility to key executives in charge of key technologies.
The goal, Ballmer said, was to eliminate goals by division and share technology and responsibilities across the company. While Microsoft's moves are a business decision with the goal of making the company more responsive and decisive, the end goal of the company hasn't changed, Ballmer said:
"Going forward, our strategy will focus on creating a family of devices and services for individuals and businesses that empower people around the globe at home, at work and on the go, for the activities they value most," Ballmer said in a memo that was made public.
In the past, Microsoft organized its business around product groups, meaning that its mobile business, for example, was ultimately responsible for developing and fine-tuning the Windows Mobile and Windows Phone operating systems that powered third-party smartphones, while the Windows group oversaw the OS and apps for desktop and mobile PCs.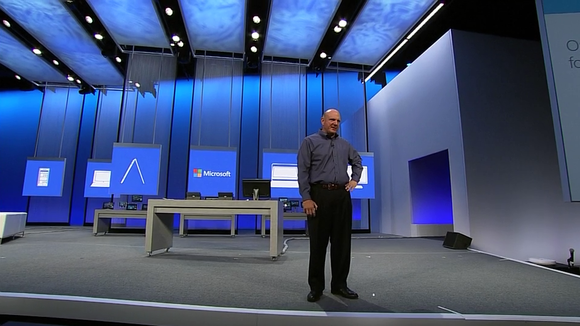 Now, under the new strategy, Terry Myerson will lead the Operating Systems Engineering Group, responsible for not only for all the OS work, from consoles to mobile devices to PCs to back-end systems, but also the cloud services specifically used by the operating system.
"Although we will deliver multiple devices and services to execute and monetize the strategy, the single core strategy will drive us to set shared goals for everything we do," Ballmer wrote. "We will see our product line holistically, not as a set of islands. We will allocate resources and build devices and services that provide compelling, integrated experiences across the many screens in our lives, with maximum return to shareholders. All parts of the company will share and contribute to the success of core offerings, like Windows, Windows Phone, Xbox, Surface, Office 365 and our EA offer, Bing, Skype, Dynamics, Azure and our servers. All parts of the company will contribute to activating high-value experiences for our customers."
Ensuring that a company the size of Microsoft remains responsive to the demands of customers and the market is something that major corporations wrestle with daily. For Microsoft, which has already performed a do-over with Windows 8 and with its Xbox One DRM strategy, the challenge will be to see these obstacles in its path and nimbly dodge them.
"Microsoft's reorg will help the company to maximize their assets by having new business units focus on common story, delivering one experience, Carolina Milanesi, an analyst with Gartner, said via Twitter. "Working as one company is a huge culture change for Microsoft and to do it in a timely manner for every decision is going to be its biggest challenge."
The end goal appears to be good news for consumers.
"We will strive for a single experience for everything in a person's life that matters," Ballmer wrote. "One experience, one company, one set of learnings, one set of apps, and one personal library of entertainment, photos and information everywhere. One store for everything. Microsoft has the clear opportunity to offer consumers a unified experience across all aspects of their life, whether the screen is a small wearable, a phone, a tablet, an 85-inch display or other screens and devices we have not yet even imagined."
Here are the key power players in the new Microsoft structure:
Terry Myerson. As the head of the OS Engineering Group, Myerson will be the cook responsible for ensuring that Microsoft's OS products are cohesive and work together. This likely means that Windows Phone and Windows will move closer together over time.
Rick Rashid, the formerhead of Microsoft Research, will be responsible for "OS innovation" research.
Julie Larson-Green will run the Devices and Studios Engineering Group, responsible for all hardware development (Surface, Xbox) as well as "studios," meaning first-party games, as well.
Qi Lu will lead the Applications and Services Engineering Group, making him responsible for apps in productivity, search, communication, and more. He'll be the face of Office, Skype, and other key Microsoft software.
Tony Bates will lead th Business Development and Evangelism Group, responsible for communicating the changes to Microsoft's partners, and to continue encouraging them tokeep developing for the Windows platform.
Other key players will include Eric Rudder, who will lead Microsoft's Advanced Strategy and Reseach Group, Tami Reller, who will be responsible for all of Microsoft's marketing, and Satya Nadella, who will run the Cloud and Enterprise Engineering Group. Craig Mundie will be running a "special project" for Ballmer.