According to Microsoft's Steve Ballmer, the future of Microsoft involves such things as "living" documents, the Microsoft equivalent of "Google Now," a blurring of email and chat, and the ability to add a gaming layer to everyday activities.
It's an ambitious vision, and Microsoft chief executive Steve Ballmer laid it all out in a strategy document that accompanied his "One Microsoft" memo outlining an ambitious company reorganization. While most of the early attention paid to Microsoft's strategy correctly focused on what the reorganization means for the short term, it's worth focusing on what the company has in store for the longer-term future of its product groups, too.
Ballmer made much of the fact that Microsoft is reorganizing around devices and services and moving away from being a purely software-driven business. But Microsoft was founded on identifying and meeting key needs that it can address, such as productivity, collaboration, and fun. What Ballmer's document appears to do is essentially remix those concepts, combining them in much the same way painters mix primary colors together, to develop new and profitable combinations of technologies.
Ballmer addresses five key areas: the future of documents, anticipatory data, the future of social, gaming, and the "shell" of the Windows interface.
1.) The future of Office documents

"Documents are going from being printed to being experienced," Ballmer writes. "There are many high-value needs for personal creative expression — some just for fun, others at work or at school. We will reinvent the tools and form of expressing oneself (and expressing things as a group) from paper and slides to online. We will ensure that the tools handle multimedia (photos, videos, text, charts and slides) in an integrated way and natively online."
That's exactly the conclusion we reached on Wednesday, a day before Ballmer released his reorgnization memo. By injecting data into documents via Bing and the cloud, users are encouraged both to use Microsoft Office and to let documents "live," connected to the cloud. These "living documents" can't be easily reproduced by reader technology from Google and others, making Office that much more valuable.
2.) Look out, here comes "Bing Now"
"Our machine learning infrastructure will understand people's needs and what is available in the world, and will provide information and assistance," Ballmer writes. "We will be great at anticipating needs in people's daily routines and providing insight and assistance when they need it. When it comes to life's most important tasks and events, we will pay extra attention. The research done, the data collected and analyzed, the meetings and discussions had, and the money spent are all amplified for people during life's big moments. We will provide the tools people need to capture their own data and organize and analyze it in conjunction with the massive amount of data available over the Web."
If this doesn't sound eerily similar to what Google already does with Google Now, then you haven't been paying attention. Google Now works by sniffing your email, calendar, and location, among other things, and reminds you of what time your flight leaves and how long it will take to get there. Frankly, Google Now is one of those "Wow!" technologies that adds real value to Android — and Google is busy adding them to Chrome, too. Microsoft offers very little that's comparable, and it seems intent upon changing that.
Using Bing as an "intelligence engine," Microsoft could begin collating information from Mail/Outlook/Outlook.com, the calendaring applications of both, location from Windows Phone, and traffic. Google's foundation is its massive wealth of data, and its ability to understand how that data interrelates to each other and to its users. But Microsoft needs to offer at least an outwardly competitive solution. It appears that the company intends to do so.
3.) Social communications: combining Skype, Outlook, Yammer
"Social communications are time-intensive, high-value scenarios that are ripe for digital re-imagination," Ballmer writes. "Such innovation will include new ways to participate in work meetings, PTA and nonprofit activities, family and social gatherings, and more. We can reimagine email and other communication vehicles as the lines between these vehicles grow fuzzy, and the amount of people's digital or digitally assisted interaction continues to grow. We can create new ways to interact through hardware, software and new services. Next-gen documents and expression are an important part of online social communications. We will not focus on becoming another social network for people to participate in casually, though some may use these products and services that way."
In the beginning, there was email, and Outlook. Over the years, Microsoft has added calendaring (including the ability to share calendars); SharePoint; its enterprise videoconferencing and instant messaging client, Lync; Yammer; and Skype. All of these are different approaches to the same problem: how to easily communicate, collaborate, and share content both between consumers and business colleagues.
What Ballmer appears to be saying is that we should expect these products to coalesce into one another, although what the final form will be isn't clear. Microsoft already began integrating Lync and Skype in June, has previewed Skype for Outlook.com, and announced plans to integrate Yammer and SharePoint functionality, as well as Yammer and email. A planned Lync Room System will provide a simplified videoconferencing system, Microsoft executives have said, while Skype will be part of the Xbox One game console.
For now all of these products should remain separate applications, but look for these to blend together over time. Within the enterprise, the focus appears to be on "collaboration"; within the consumer space, Ballmer implies that "connection" appears to be the emphasis. But both include elements of the other.
"The experience we will deliver across all our devices centers on the idea of better connecting people with the things they care about most," Ballmer writes. "This includes their files, documents, photos, videos, notes, websites, snippets, digital history, schedules, tasks, and mail and other messages, combined with real-time information from our devices and services. It is more than what we think of as the shell today, and no current label really fits where we are headed. Neither the desktop nor the social graph describes this new experience, and neither does the search box, the pin board or the file system."
Ballmer's statement that "we will not focus upon another social network for people to participate in casually" also implies that its social network, So.cl, will remain a technology play, rather than a distinct product.
4.) Serious fun: the future of Xbox One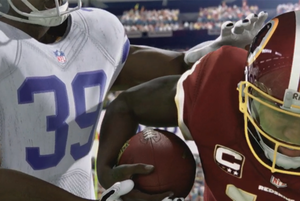 Microsoft raised eyebrows when its first introduction of the Xbox One console focused less on its capabilities as a game console and more as a TV set-top box. But Microsoft's announcement that it would combine live streams of NFL football games with fantasy-football updates in real time is an example of Microsoft's plans for gaming, which include using the Xbox One to provide what it calls "interactive participation".
"Although we will enable these activities effectively, our biggest opportunity is in creating the fun people feel most intensely, such as playing a game that lasts hours and takes real concentration, or immersing them in live events and entertainment (including sports, concerts, education and fitness) while allowing interactive participation," Ballmer writes. "Interactivity takes engagement and makes things serious; it really requires differentiated hardware, apps and services. People want to participate at home and on the go, and in gatherings with others."
Ballmer also writes that Microsoft also sees "opportunity in fitness and health," which probably implies, at the least, a pedometer app for Windows Phone as well as more opportunities for Microsoft's Kinect peripheral. One of the opportunities for Kinect for Windows, Microsoft executives have said, is assisting physical therapy by guiding patients through the proper movements.
5.) Windows 8's 'Modern' look isn't going away
Finally, there's Windows 8, which Ballmer has called the "most remarkable replatforming from Windows," based not in small part on its revolutionary UI. And that, apparently, will not go away.
"We will continue to reinvent the core 'shell' of our family of devices and build upon what we have started with Windows 8," Ballmer writes. "We will keep evolving our new modern look, expanding the shell so that it allows people and their devices to capture, store and organize their 'stuff' in new ways. Our UI will be deeply personalized, based on the advanced, almost magical, intelligence in our cloud that learns more and more over time about people and the world. Our shell will natively support all of our essential services, and will be great at responding seamlessly to what people ask for, and even anticipating what they need before they ask for it."
We've already seen some examples of this: The Live Tiles in the People app within Windows Phone and Windows 8, for example, already display the images of a user's contacts. Meanwhile, Microsoft "evolved" the Start page in Windows 8.1, sharing background images with the desktop and reworking the Apps screen.
What's clear is that Ballmer has a goal in mind for Microsoft, and this week's reorganization was simply the latest milestone on its journey. It's a rare thing for a company to outline its plans for the future, even conceptually. Time will tell, however, if it's headed in the right direction.