Restaurants are getting better about splitting checks between parties—typically nowadays you can just throw down a pile of credit cards, request an even split, and most servers won't bat an eye. Now try doing that in a typical taxi cab and see how the driver reacts. Uber, the app that lets you summon a ride from your smartphone, has you covered.
Uber's latest update brings the ability to split fares with friends—because what better way to improve on a service that makes it easy to pay for something, than by getting your friends to chip in too?
Released Monday, the lastest version of the Uber app (that's 2.8.6 on iOS and 2.6.9 on Android) lets you split the fare with other Uber users with just a few taps.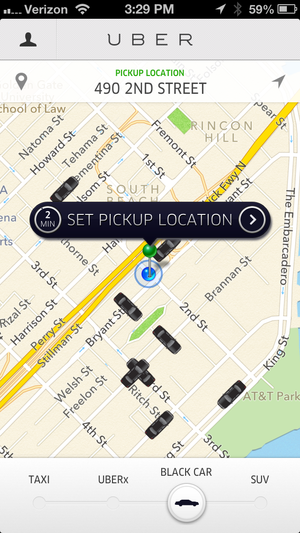 After you request a ride, tap the little arrow by the driver's name to find a Split Fare button, then add your fellow riders from your contacts list. They get a text message with a link that opens the Uber app if they have it installed on their phone. If they don't already have Uber, they're directed to get the app, sign up, and link their credit card to their account—luckily you're right there in the car to cajole them along. According to an Uber moderator, the splitting must be done before the ride is complete, giving the whole opt-in dance a little Cash Cab-esque urgency, too.
At the end of the ride, Uber bills all the passengers equally (excepting any cheapskates who had the audacity to decline your invitation to chip in), and each gets an emailed receipt, as normal.
Uber already offers multiple tiers of service in many of its cities—in the San Francisco Bay Area, for example, I can use Uber to summon a "midrange" UberX car, a black town car, an SUV if I have a big group, or even a real taxi. With the ability to split the any of those fares between up to 4 or 6 riders total, suddenly each person's cost plunges toward "take the bus" levels.