At a Glance
Expert's Rating
Pros
Excellent performance.
Plenty of connectivity options.
Very good keyboard.
Cons
Worst. Speakers. Ever.
No touchscreen.
Our Verdict
Micro Express's NB5720 gaming notebook is short on looks, but long on performance.
The thin-and-light Ultrabook trend has even clunky laptops looking relatively sleek these days. Micro Express' NB5720 is far from a sexy, stylish Ultrabook, but it looks pretty good for a boxy, half-plastic laptop.
If you're looking for style, look elsewhere. But if you place power, performance, and price over prettiness, the $1599 NB5720 is definitely worth a look. It's not a total eyesore—it boasts a smooth, slate-gray, brushed-aluminum cover with tapered edges and a minimalist keyboard deck. But it's nearly as thick as a brick—1.68 inches—and it weighs more than several: 5.75 pounds. That's a lot of bulk paired with a 15.6-inch screen.
But when you're looking for a no-excuses laptop, what's under the hood is what really matters, and the NB5720 doesn't disappoint on that score. You'll find one of Intel's best fourth-generation Core processors onboard, for starters (the 2.8GHz, Hyper-Threading–enabled Core i7-4900MQ). That's supplemented by 16GB of DDR3/1600 memory and a discrete Nvidia GeForce GTX 765M graphics card. Storage comes in the form of a 256GB SSD, plus a 750GB hard drive that spins its platters at 7200 rpm.
As you might expect, this notebook burrowed through the bulk of our benchmark suite like a woodchuck preparing for a honeymoon, producing a Notebook WorldBench 8.1 score of 483. That renders it nearly five times faster than our reference notebook, the Asus VivoBook S550CA, which has a more humble dual-core, hyper-threaded, 1.7GHz Intel Core i5-3317U processor (from Intel's Ivy Bridge family).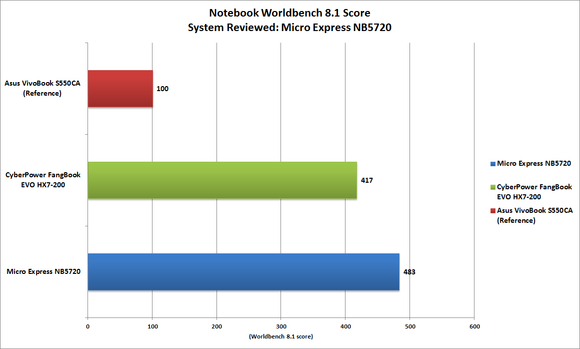 It's also slightly faster than the CyberPower FangBook EVO HX7-200 we reviewed in June—at least when it comes to all-around productivity apps. That rig had a larger screen, but a smaller SSD (60GB) and a slower mechanical hard drive (a 5400-rpm, 1TB model). CyberPower's system had a faster discrete video card—an Nvidia GeForce GTX 780M—which contributed to higher performance in games. The FangBook also delivered better battery life: 4 hours, 17 minutes to the NB5720's 3 hours, 37 minutes.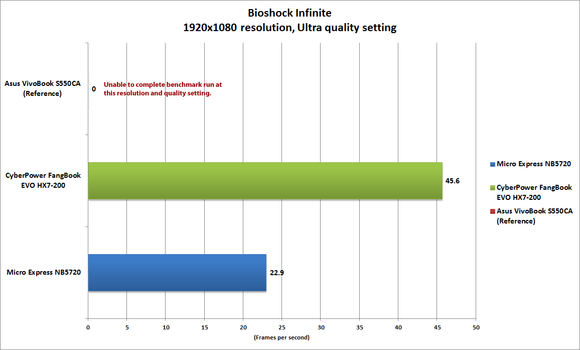 Power and performance aside, the NB5720 has its pros and cons. The system's 15.6-inch, nonglare screen has native resolution of 1920 by 1080 pixels, and it looks great: it's very bright, with accurate colors and skin tones and sharply rendered text. Unfortunately, it's not a touchscreen, which is kind of a big deal if you're using Windows 8. (You can order your unit with whichever OS you like.)
Great keyboard
Micro Express manages to make the NB5720's keyboard deck look simple and uncluttered while packing in tons of functionality. The deck includes, besides a full-size keyboard, a ten-key numeric pad, a trackpad with discrete mouse buttons, a fingerprint reader, and two convenience buttons: "Airplane Mode" toggles your Wi-Fi on and off, and "VGA" toggles between the discrete graphics card (when you need performance) and the integrated GPU (when battery life is your priority).
The keyboard, which has matte-black island-style keys, is comfortable and easy to type on. In my tests, I managed 99 words per minute (I typically average around 115 wpm), which is good for a laptop keyboard. The medium-size trackpad is responsive, if a bit choppy. The discrete mouse buttons are widely spaced and easy to press, but give little feedback. So the keyboard is much better than the other input devices.
Terrible speakers
I've reviewed Micro Express laptops before, and they always have one major, glaring problem: the speakers. I'd love to tell you that the NB5720 is totally different, and that its speakers are excellent—but they're not. They're awful. They are the worst speakers that I've ever heard on a laptop, on a desktop, in a car, from a cell phone—anywhere. As I've said before, if you enjoy hearing sounds, please do yourself a favor and do not listen to these speakers. The speakers are located above the keyboard, and they sound brassy, tinny, and shrill—and the sound only gets worse at higher volumes.
Here's the bottom line: This is a great laptop, if you can overlook a few issues. It's by far the fastest laptop we've tested, which is great news if you're looking for a powerful model to do your bidding (and you don't particularly care about looks). It's a bit clunky and heavy, but less so than a desktop replacement—and it outperforms most desktop replacements.
But I'm not exaggerating when I say that the speakers are the worst I've ever heard, and the lack of a touchscreen is a bit disappointing. Still, if you don't care about having a touchscreen, can tolerate the short battery life, and have some great headphones (the headphone jack is clean and delivers excellent sound, I'm happy to say), $1599 isn't much to pay for awesome performance.