At a Glance
Expert's Rating
Pros
High-quality touchscreen
2560 by 1440 resolution
mSATA SSD cache
Great overall performance
Thunderbolt/Mini DisplayPort
Cons
No Blu-ray drive
Skin tones look oversaturated
Unlabeled front-panel buttons
Our Verdict
While we have a few minor quibbles with the Dell XPS 27 Touch's design, we think this is the best all-in-one on the market today.
When it comes to its high-end all-in-one PC lineup, Dell seems to be operating on the "if it ain't broke, don't fix it" principle. The XPS 27 Touch packs a speedy new Haswell CPU under its hood, but that's the only significant departure from earlier models.
Our review unit, which costs $2100 as of July 17, 2013, sports a quad-core Intel Core i7-4770S processor; 8GB of DDR3/1600 memory; a discrete video card (Nvidia's GeForce GT 750M); and a roomy 2TB, 7200 rpm hard drive augmented by a 32GB mSATA SSD cache. That's impressive for any all-in-one, and it helped the XPS 27 Touch deliver a Desktop Worldbench 8.1 score of 262, which means it's more than two and a half times faster than our reference PC, Acer's Aspire U. It's also significantly faster than Vizio's CA27T-B1. The displays on both of those models are limited to 1920 by 1080 pixels, but they're also considerably less expensive (selling for $1000 and $1550 respectively).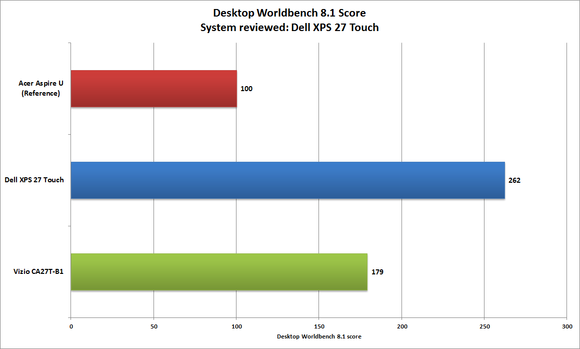 Nevertheless, the Dell's score places the XPS 27 Touch solidly in the upper half of all the desktop systems we've tested so far, although it's nowhere near the custom-built gaming rigs we've evaluated (Primordial Computer's over-the-top, quad-Titan Medusa hit 385, while Micro Express's single-GPU MicroFlex 47B scored 421). Unlike most all-in-ones, however, the XPS 27 will satisfy the gamers in your family—as long as their expectations aren't too hardcore. In our Dirt Showdown, with the game's resolution at 1024 by 768 pixels and image quality set to low, the XPS 27 delivered a strong 125.7 frames per second. Compare that to our reference PC, which relies on the integrated GPU in its Intel Core i5 3230M processor: It delivered Dirt Showdown at just 47.5 fps.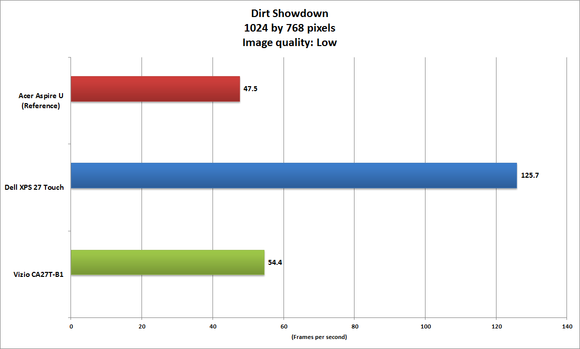 As befits a new AIO of the Windows 8 era, the XPS 27 is outfitted with a 10-point touchscreen display (this was an optional feature on previous models). Dell boasts that it's the company's "brightest and most versatile touch display" to date. I agree, it's the best touchscreen I've seen from Dell. It's extremely bright, and images and text look fantastically crisp and clear thanks to its 2560-by-1440 resolution. Multitouch gestures are smooth and easy to perform, and the bezel-less design makes using Windows 8 a breeze. But the display is not perfect. I have the same minor complaint about this screen as I had about Dell's earlier XPS One 2710: Colors, especially skin tones, have a tendency to look oversaturated.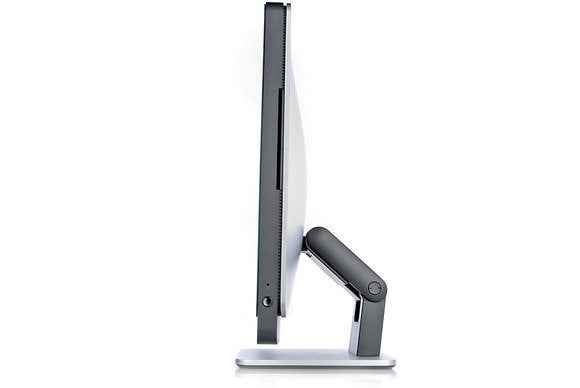 Dell's XPS 27 Touch is a nice, attractive system, but I do wish the company had paid a little less attention to looks and a little more to usability. This AIO is super pretty, and the changes I want would probably make it a little less so. While the media card reader and two USB 3.0 ports are conveniently located on the left side of the bezel, the HDMI ports (in and out), Thunderbolt/Mini DisplayPort, gigabit ethernet, and four additional USB 3.0 ports on the back of the display are obscured by the stand and are difficult to reach.
I'm also not a fan of the four touch-sensitive buttons on the lower left corner on the front of the display. A proximity sensor causes these unlabeled buttons to light up when you hover your finger over them, although the only one you might use on a regular basis is the Eject button for the DVD burner. And speaking of optical drives, if you want a Blu-ray/DVD combo, you'll need to move up to the $2600 model, which also comes with 16GB of memory and Windows 8 Pro. But if you get your movie fix via Internet streaming, you won't care.
Aside from those quibbles, the Dell XPS 27 Touch is an exquisite all-in-one.