Facebook has acquired certain assets of U.K.-based startup Monoidics, in a move aimed at bolstering the social network's increasingly important array of mobile applications and software.
Monoidics, which is based in London, offers code verification software and quality assurance tools to analyze other companies' code and enhance it, partly by removing bugs or other defects. One tool, for instance, is Monoidics' Infer Static Analyzer, which the company refers to as the first advanced static code analyzer to focus directly on memory safety and security.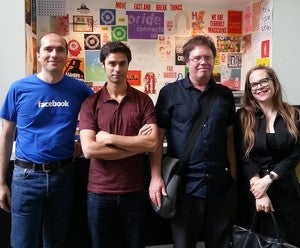 Monoidics' engineering staff will be joining Facebook's growing engineering team at its London office once the deal closes, both companies announced Thursday.
"This asset acquisition represents our investment in the quality of our mobile applications platform and also our people," said Philip Su, site lead at Facebook London, in a blog post.
"They produce some of the best automatic formal verification and analysis software—code that checks other code for bugs—in the industry, which we will apply to our mobile app development," a Facebook spokesman, speaking of the Monoidics team, said in an email.
Terms of the deal, which is subject to certain closing conditions, were not announced. Facebook declined to comment further on the acquisition.
"Joining the Facebook team opens up a world of new opportunity for our technology," Monoidics said in a statement posted on its website. The company was founded in 2009.
Building out its products on mobile is critical to Facebook's larger efforts to maintain its 1 billion-plus user base as more people migrate away from desktop PCs in favor of smartphones and tablets.
In 2007 the company launched Facebook Platform, a suite of tools designed for third-party application developers who wish to create their own applications and products that access Facebook's data. Through Facebook Platform, developers can integrate Facebook into their native apps for iOS- or Android-based devices, or host their apps on Facebook.com.
Currently, 80 percent of the top-grossing iOS apps are integrated with Facebook using the system; 70 percent of the top-grossing Android-based apps use the service too, Facebook reported in May during a briefing on Platform with members of the press.
Facebook Platform was expanded significantly in April, when the social network acquired Parse, a cloud service company that provides back-end infrastructure services for mobile app developers.
"By making Parse a part of Facebook Platform, we want to enable developers to rapidly build apps that span mobile platforms and devices," Douglas Purdy, Facebook's director of product management, said at the time.
Parse is looking to expand too—in September the company is hosting its first-ever conference for developers, in San Francisco.
On mobile, Facebook's monthly active users increased by 54 percent to 751 million, the company reported in May during its first-quarter earnings call.