At a Glance
Expert's Rating
Pros
Highly customizable with SteelSeries Engine
Comfortable to type on with large keys
Designed with gaming in mind
Cons
Angle doesn't significantly change
The palm rest is not removable
Our Verdict
The SteelSeries Apex has enough flash and features to appease any gamer while keeping your budget intact.
Like a juggernaut on your desk, the SteelSeries Apex will command attention with its large size, multicolored lighted zones, and vast array of macro keys. You'll feel like a starship captain with an advanced console at your fingertips—if you can fit it on your desk, that is.
Size and speed matter
You'll notice right away just how large the Apex is. The palm rest isn't an optional accessory as it is with many other keyboards, so it comes out of the box in one large unit. The length is also exaggerated by the many macro and media keys on either side.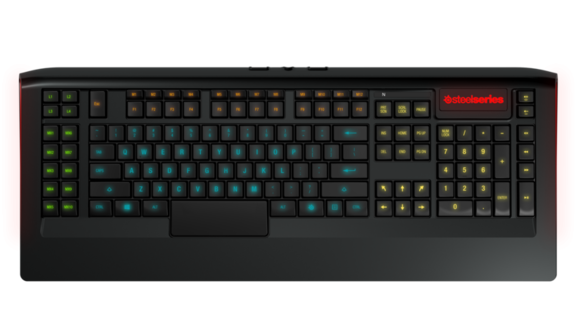 Following the oversizing theme, the keys are large and easy to find with your fingers. SteelSeries boasts that the Apex is one of the fastest keyboards around thanks to a key layout that is low and flat, and to a spacebar the size of a candy bar. Not one of those fun-size candy bars either: This baby is king-size. No matter where your hands are flying to, your thumbs will be in proximity to it.
Unfortunately, the Apex strays away from the popular choice of mechanical keys, going with rubber-dome switches. SteelSeries defends the decision by claiming that the rubber-dome technology offers little resistance, making your keystrokes faster. Also, the Apex is really quiet to type on, so if you prefer the tactile feedback and clicks of a mechanical keyboard, you'll want to think twice.
Colors, customizations, and macros, oh my!
After you plug it in and fire it up, you're going to notice colors—so many colors. Colors everywhere. The Apex has five color zones that are customizable through the SteelSeries Engine software, which you'll want to install to get the most out of the keyboard. According to SteelSeries, each of the zones draws from a palate of 16.8 million colors—it'll be tough to choose your favorite one.
The Engine isn't just for making pretty colors on your keyboard, it's also the gamer's best friend with enough key customizations to make your head spin. You can change any key to be a different keystroke, macro, or shortcut to launch programs. And you can save unlimited profiles that you can set to switch to automatically if a program becomes active. Do you have, say, a whole separate keyboard layout for Web surfing? Have it switch automatically when you launch the browser.
On top of all that customization, every profile can have four different layers. With a simple keystroke you have an entirely new keyboard layout—perfect for those who go from work to gaming to surfing lightning-fast.
Bells and whistles
The Apex takes up two USB spots, but don't fret—you get them right back on the top of the keyboard itself. The USB 2.0 ports can be used for anything USB-related such as your mouse, headset, or easy access for a flash drive.
As comfortably large as the keyboard is, I was disappointed that it didn't have adjustable feet on the back. It does come with two sets of rubberized feet to tilt the keyboard at different angles (7 degrees or 10 degrees). Pop out the old ones (and find somewhere safe to put them, or you'll misplace the little rubber devils); pop in the new ones. Unfortunately, the elevation change is tough to notice—the keyboard is designed to lie flat.
A gamer's best friend
The SteelSeries Apex was made with gaming enthusiasts in mind, from the flashy customizable colors and macro keys to the addition of diagonal directional keys to minimize key presses. Once you've got your fancy new gaming rig, you'll want a keyboard to match. At just $100, the Apex is a quality keyboard with flashy features to keep gamers new and old happy for years to come while not beating up your wallet.