At a Glance
Expert's Rating
Pros
Attractive interface
Accurate at identifying Twitter fakes
Cons
Paid subscription is expensive
Our Verdict
The Fakers App is an easy-to-use—and accurate—way to identify fake twitter users, but it can get expensive.
In the world of social media, there's a constant battle between quality and quantity. Many people want as many friends and followers as they can find, while others strive for friends and followers of a higher quality. StatusPeople's Fakers App helps you find a happy medium on Twitter, by offering you insight to the quality and quantity of your followers.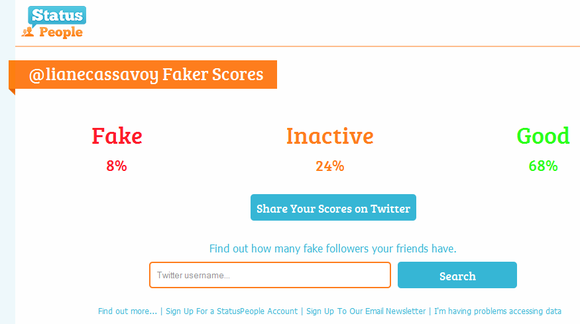 The Fakers App is free to try, but without paying you're allowed to see only a limited bit of information about your Twitter account. It will tell you the percentage of your followers that it believes are fake, inactive, and "good." Using the free version, you can see the same information about five of your Twitter friends or rivals.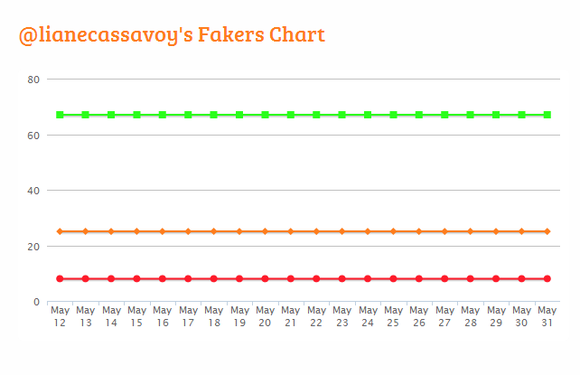 If you pay for a Dashboard Subscription (3.49GBP, or $5.29 as of 5/31, per month), you can get details about the followers identified as fake. The Fakers App shows you their name, number of tweets, followers, friends, days active, and their Kred score. You also can view their followers and their timeline.
StatusPeople, the company behind the Fakers App, doesn't reveal the exact details of the algorithm it uses to identify fake Twitter users, but says it looks at things like the follower-to-friend ration, as fake users tend to follow more people than follow them back. They also look at how their bios are filled out, what they tweet about, and how often they tweet.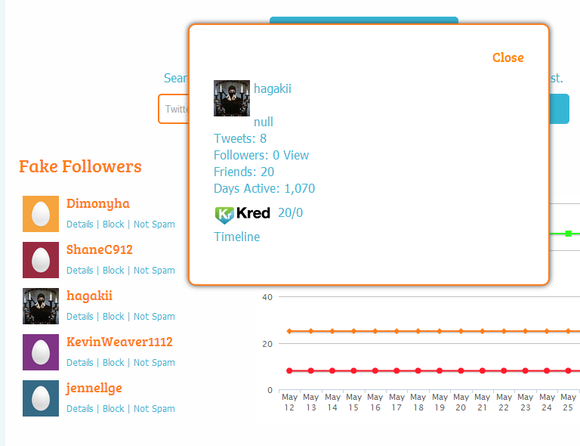 In my tests, the Fakers App seemed accurate at labeling my fake followers. The five accounts it identified as fake did not look authentic when I checked them out. Once the fakers are identified, it's up to you what to do, whether to block them from your account or remove the fake label. Uou can do both from your Dashboard.
At a little over $5 per month, the Fakers App is a bit expensive for personal or casual Twitter users. But business users and Twitter fanatics will appreciate how easy it is to use, and how accurate it is at finding the fakers.
Note: The Download button takes you to the vendor's site, where you can use the latest version of this Web-based software.