Not unexpectedly, Microsoft announced the developer version of Internet Explorer 11 for Windows 7 on Thursday, bringing Microsoft's last-generation OS onto its latest browser platform.
The announcement naturally implies that Microsoft will eventually release a version of IE11 on Windows 7 for consumers as well, although Roger Capriotti, director of marketing for Internet Explorer, declined to provide a timeframe. Microsoft executives suggested as much during their Build conference last month, when Microsoft unveiled IE11 as part of Windows 8.1.
Naturally, Microsoft is encouraging developers to ensure that their Web sites perform optimally on IE, incluiding the touch-friendly confines of Windows 8. To push developers in that direction, Microsoft added several incentives to its modern.ie developer site: a limited offer of 25 percent off Parallels Desktop 8 virtualization for the Mac, new virtual machines to test IE11 under Windows 8.1 and Windows 7, as well as a new free screenshot tool to display rendered JPG images of what a developer's site might look like under various browsers and images. Additionally, the modern.IE scanner is now available as open source (under Apache 2.0 license), via a download from GitHub.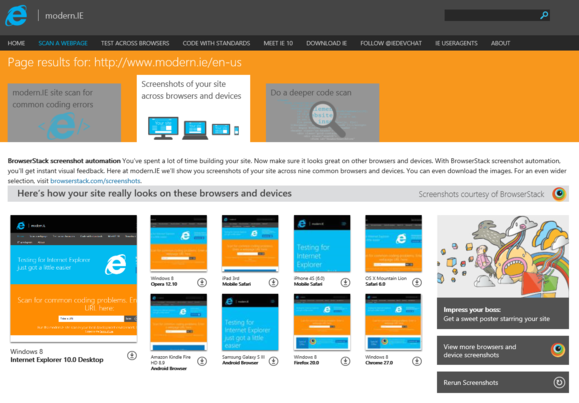 Microsoft has also provided a new set of F12 tools to analyze the performance of Web sites. The tools track the CPU and memory usage as a user moves around a Web site, with graphs and metrics to identify memory leaks and sections of the site that may consume more resources than expected.
Here's why consumers will keep an eye out for IE11, however: the browser is Microsoft's first to support the W3C Resource Priorities standard, enabling Web sites to dictate which portion of the page is loaded first. In addition, IE11 supports prefetching and prerendering, so that IE11 can make intelligent guesses as to which link you'll click next, and begin loading and rendering the page. The browser also supports the SPDY network protocol, enabling some sites to load even faster. And when it does so, it taps into the GPU hardware within the PC to render the page, freeing up the CPU for other tasks. Finally, IE11 includes support for WebGL, enabling graphical trickery like the virtual representation of Mt. Everest (seen at the top of this post), by Glacierworks.
All told, on Windows 7, Microsoft claims that IE11 is 4% faster than IE10, and nearly 30% faster than the nearest competitive browser while running the SunSpider benchmark that measures WebKit performance, according to Microsoft's own tests. Microsoft also claims that its Chakra Java engine within IE11 is 20 times faster than IE10, and 15 times faster than the latest versions of Chrome and Firefox.
Users can try out IE11 within the preview of Windows 8.1. If you choose to, check out PCWorld's guide to installing Windows 8.1, including our guided tour of the new OS.