At a Glance
Expert's Rating
Pros
Attractive price tag
Solid educational content
Cons
You don't get to drive the rover
No animations other than opening sequence
Our Verdict
Mars Rover: Curiosity is nice educational app that you'll probably uninstall after a few sessions.
As I write these lines, a car-sized robot powered by 32 cubes of plutonium is roaming the surface of Mars, taking photos using no less than 17 cameras, vaporizing stuff with infrared laser beams, drilling into rocks, and generally having a good time. NASA's Curiosity rover is one of the space agency's most ambitious, important, and exciting scientific missions.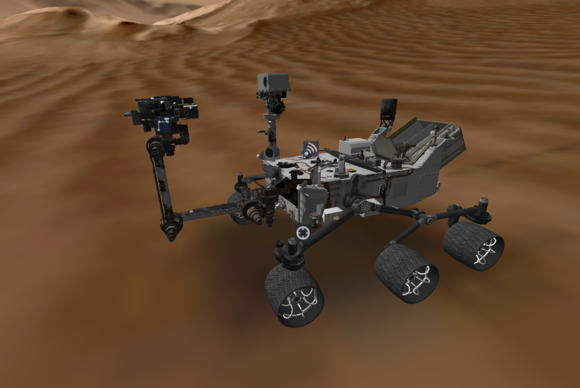 As you may expect from a machine that had to be flown for over 350 million miles just to begin its work, Curiosity is an incredibly complex beast. Weighing in at 1980 pounds, the rover carries 180 pounds of scientific instruments. One nice way to gain a better understanding of those instruments and the rover's mission is using NASA and JPL's free Windows 8 app, Mars Rover: Curiosity.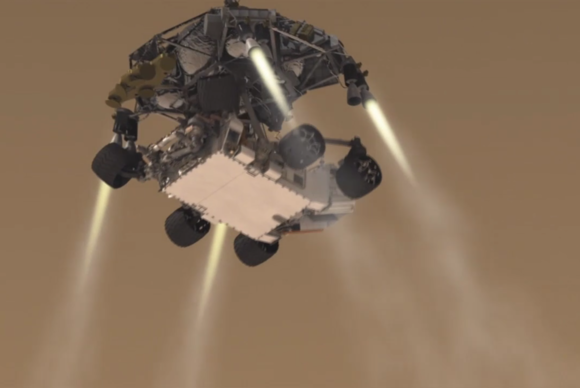 The app launches with a beautiful animation of the rover's dramatic descent to the surface of Mars. Once the animation plays out, you're left with a 3D model of the rover parked on the surface of Mars. You can use your mouse or touch screen to shift your viewpoint around the model and zoom in or out, though unfortunately, you don't get to drive: The entire demo is static, with no animation at all.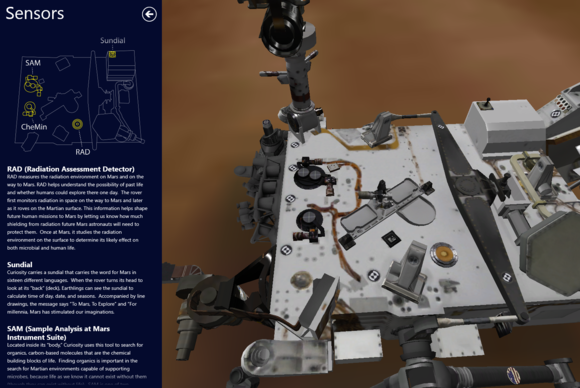 As you rotate around the rover, icons pop up over its various parts. Click an icon, and a sidebar pops open on the left side of the screen with a comprehensive explanation about the part in question. Most sidebars contain an image or two, and are quite text-heavy.
There's no video content: Just lots to read. The prose is simple and relatively free of acronyms. You can access explanations about the rover's power plant, the Mars Descent Imager, the arm and hand, and just about any other major system. The experience is nice, but not mind-blowing.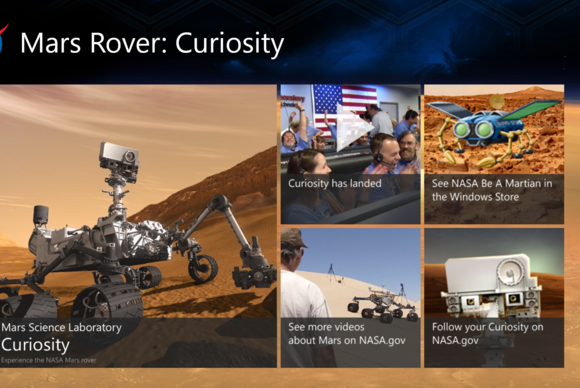 Once you're done exploring the rover, you can hit Back and switch to a full-screen menu with five tiles: The rover exploration screen, a beautiful video of the landing which combines footage from mission control and animations of the process, a link to NASA's Be a Martian app, and a link to NASA's Curiosity website.
Given the rover's exciting mission and the app's attractive price tag (free), Mars Rover: Curiosity is worth taking for a spin. This is an app you'll likely only use once or twice, but it offers an interesting way to find out more about one of humanity's most advanced forays into outer space yet.