Microsoft will be forced to rename its SkyDrive cloud storage service after failing to defend its trademark against U.K. broadcaster British Sky Broadcasting.
BSkyB, as the service is more commonly called, filed suit against Microsoft in 2011 in the English High Court, successfully arguing that the "Sky" portion of its name could be confused with Microsoft's own SkyDrive, and that Microsoft's use of the name SkyDrive infringed Sky's rights in the 'Sky' mark.
In June, Microsoft lost the case in England and Wales, and failed on appeal as well.
For Microsoft, losing the case will have financial consequences, as the company will be forced to rewrite promotional materials, which have increasingly focused upon SkyDrive as the glue that holds its various software services together. Microsoft hasn't said how much it will all cost, but will probably provide an accounting in subsequent earnings reports, if the amount is materially significant.
BSkyB said that the settlement included "financial and other terms," which suggests a financial settlement as well.. However, Microsoft will be allowed to use the SkyDrive name for a "reasonable amount of time," the company said in a statement.
For its part, Microsoft was apparently happy to put the matter behind it.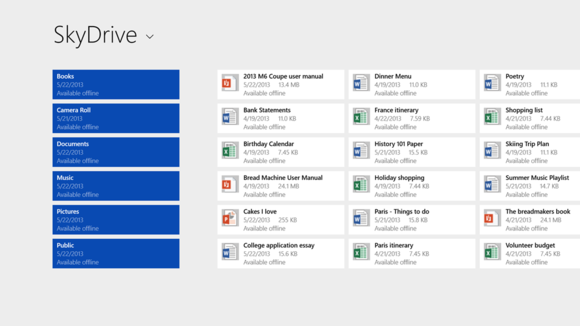 "We're glad to have resolution of this naming dispute, and will continue to deliver the great service our hundreds of millions of customers expect, providing the best way to always have your files with you," Microsoft said in a statement. Company representatives declined to comment further.
Not the first time
Unfortunately for Microsoft, this is the second high-profile branding effort that's been marred by a trademark dispute. After promoting the "Metro" design schema within Windows 8, Microsoft was then sued by a German company, Metro AG, also for trademark infringement.
Microsoft quietly began moving away from using the "Metro" description soon thereafter, replacing it with either "Modern" or just "Windows 8" to describe the look and feel of apps within its Start page interface.
The rebranding also takes place after Microsoft beefed up SkyDrive's photo capabilities. New users who sign up for Microsoft's services via a Hotmail or Outlook.com email address receive 7GB of SkyDrive storage for free, for storing photos, documents, and other files, with paid options to add more.
What effect will the rebranding have on you? Probably nothing, in the long run. Over time, Microsoft will most likely roll out point updates for the services and apps affected by the ruling, simply replacing the name with an updated moniker.
Yes, this will cost Microsoft development resources, and will probably cause some consumer confusion, as well. But the court ruling ties Microsoft's hands.