The decades-old legacy of Motorola as a semiconductor innovator remains alive, with Google providing its Motorola Mobility unit a fresh start in chip design with the X8 chip systemwhich will be used in the upcoming Droid and Moto X smartphones.
The X8 (shown above), which is a package of processors in a chipset, is the first in the line of chip designs that Google's mobile hardware unit hopes will make Android smartphones more power-efficient and interactive, company officials said. Some of the new chip features bring voice interaction, a better camera, and new display features to the Droid and Moto X.
Working with Google, Motorola spent a lot of time developing the X8, and the goal was to develop a chip system that could extend battery life while being small and inexpensive, said Peter Prunuske, product manager for Moto X, during an event on Thursday at which the smartphone was launched.
"We stepped back and we looked at pain points we wanted to solve for people. Touchless control, for example, and the ability for the phone to respond to you without having a button," Prunuske said.
The goal of future chip designs beyond X8 is to seek out and address such challenges and make it easier to use phones, Prunuske said.
"We expect to move that forward and do other great things" with X8 successors, Prunuske said. He could not talk about future chip plans in detail.
The world has changed a lot since Motorola was last involved in chip design, but Google's deep pockets and influence bring flexibility to designing mobile chips, analysts said.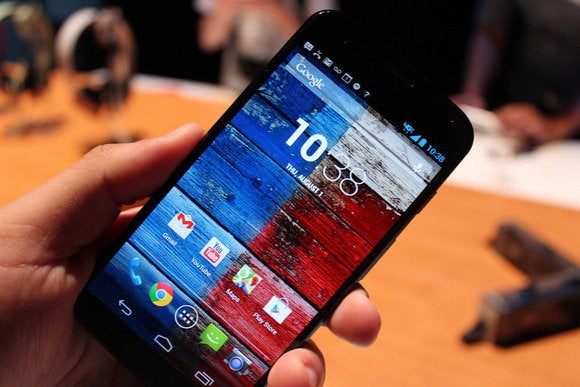 Having made servers, Google's no stranger to developing hardware in house, and the X8 allows it to tune hardware to Android and other mobile applications, said Dean McCarron, principal analyst at Mercury Research.
Motorola's X8 is a fairly experimental design, but Google's backing allows the unit to think outside the box, McCarron said.
"When you have safe harbor, you are free to take on more risk," McCarron said.
Competitive advantage?
Motorola could have a competitive advantage with its own chips, much like Apple, which has designed mobile processors in-house, said Nathan Brookwood, principal analyst at Insight 64.
But Brookwood pointed out that the X8 design could have been more efficient. He said Google would have been better off buying chips for the Droid and Moto X off the shelf.
The X8 chipset has four separate processors doing different things, but integrating those units inside a single chip could have provided power and performance advantages, Brookwood said.
Such highly integrated chips usually take up less space and are faster because they have higher bandwidth and electrons have shorter distances to travel within them. Qualcomm already offers such integrated processors, such as its latest Snapdragon 400, 600 and 800 chips, which include communications radios, graphics processors and digital signal processors.
"[The X8] may be different, but I'm not sure it is better," Brookwood
The X8 includes two of Qualcomm's older Snapdragon S4 Pro CPUs running at 1.7GHz, four graphics processor cores and two Motorola proprietary co-processors, which analysts said were DSPs. One proprietary core, called the "natural language processor," covers voice interaction, while the "contextual computing" processor has sensors and display improvement features.
The contextual computing processor includes an accelerometer and ambient light and proximity sensors to take better photos, as well as a custom screen buffer so email, text messages, social network notifications and calendar information can be seen without putting the phone in active mode.
History
Motorola was born as a company in 1928, and some of its past chip contributions include the 68000 processor, which was used in many computers in the 1970s and 1980s. But the semiconductor division was spun off, first to On Semiconductor in 1999 and then to Freescale Semiconductor in 2004. Motorola Mobility, which was spun off from the original Motorola, ultimately was sold to Google last year for $12.5 billion.
Motorola may have split many years ago, but Mobility still has a lot of semiconductor expertise and is in a good position to design new chips, McCarron said.
The company already has plenty of DSP expertise, and the next logical step would be to design its own CPU, McCarron said.
"Designing your own CPU is in vogue right now. That is what Apple does, that is what Samsung does," McCarron said.
But there are also challenges if Motorola decides to go deeper into chip design, Insight 64's Brookwood said. Motorola and Google will need to sell plenty of smartphones to recover the heavy cost of chip development.
"If you want to do your own custom chips these days at 28-nanometer, the cost of designing and putting that chip into products is huge compared to what it was four to five years ago," Brookwood said.