Ken Brill, founder of the Uptime Institute and a forward thinker in data center design and operations, died this week at the age of 68, the Institute said on Thursday. The cause was cancer, a spokesman said.
Brill was known for his work creating the Uptime Institute's data center tiering system, which provides a way to rate and compare the reliability of computing facilities. It's used by many large companies for their data center planning and selection.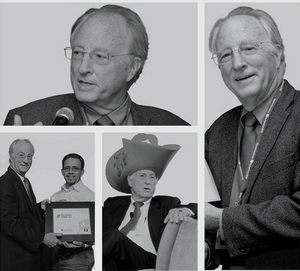 He was also a big proponent of data center energy efficiency, which has become a vital concern as computing services become more powerful and widespread. In particular, Brill pushed for better communication between IT staff and the engineering teams that run data centers, which he believed was the only way to get the most from operations.
"I think that will be a big part of his legacy: bringing together different disciplines to speak a common language for the betterment of the enterprise and its use of IT resources," said Julian Kudritzki, the Uptime Institute's chief operating officer, who worked with Brill for almost a decade.
Brill is also credited with technical innovations, including the introduction of dual power supplies for servers, which ensures a server keeps running if one power supply fails. He was awarded a patent for the invention in 2000 but never sought to profit from it, according to Kudritzki.
"He was motivated by the desire for constant improvement," he said. "That's what drove him."
That passion could make him combative at times, and Brill wasn't known for pulling his punches at the data center conferences where he spoke. In its statement, the Uptime Institute called him "a brilliant and bristly individual."
"He could be cantankerous, that wasn't a secret," Kudritzki said. "If you've ever been on a panel with Ken, you'll know it's rather a sporting adventure. It was all in pursuit of his principles; he believed the industry could do better."
Brill began his data center career as a manufacturer of power supply equipment in the 1970s. "By the mid-eighties I had made and lost a million dollars and nearly went bankrupt," he said in accepting an award from DataCenter Dynamics in 2009, according to a transcript.
"While I was licking my wounds and deciding what to do next, I realized my career needed to have a higher purpose beyond me and just making money. I settled on ensuring uninterruptible uptime."
Brill also founded the Uninterruptible Uptime Users Group, now known as 7X24 Exchange International, which gave him a lifetime achievement award. In 2009, Network World named him in a list of "10 people you should know in tech."
He earned an undergraduate degree in electrical engineering from the University of Redlands in California, and an MBA from Harvard Business School.
Kudritzki said he visited Brill at his home in Maine last week, and although he was ill, they still discussed improvements that the data center industry needs to make. "Part of the pleasure of seeing him, even in that state, is that the light was still shining," he said.
Brill stopped managing the Uptime Institute in 2009, when it was bought by research firm The 451 Group. Since then, he had been focused on expanding the Institute's operations in Asia and setting its general vision.
"Of course it's a great loss; in many people's minds there's an equals sign between Ken Brill and the Uptime Institute, and vice-versa, but we'll continue to drive on," Kudritzki said.