Windows 8 socialites rejoice! Twitter recently beefed up its Windows 8 app, extending functionality for power users and adding the ability to follow specific people or lists from the Start Screen.
Available now in the Windows Store, the biggest addition to Twitter for Windows 8 is the ability to add multiple accounts. Most Twitter fans won't have any use for the feature, but power users will welcome the upgrade, as will anyone who needs to maintain separate personal and professional accounts.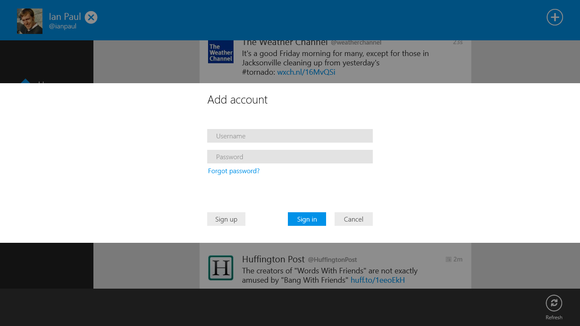 To sign-in with multiple accounts, you just swipe down from the top or bottom of your tablet, or right-click on a PC. In the drop-down bar that appears, tap the user icon in the top right corner. This will switch the icon to a plus sign and a second tap brings up an account credentials entry window, allowing you to add another account. You can also sign-up for a new account from this page, but in my tests, adding a new account hung every time I tried to choose a Twitter username.
Switching between accounts is as simple as swiping down or right-clicking again, and then tapping on the account you want to use.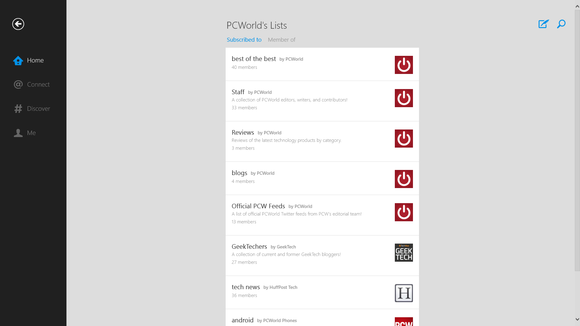 The latest Twitter update also brings Twitter lists to the Windows 8 app, and the ability to pin user profiles or Twitter lists to the Start Screen. Pinning is a great addition if you don't want to miss any updates from a specific users or set of users. Twitter lists aren't confined to your own lists either; you can pin any Twitter list you can find to your start screen.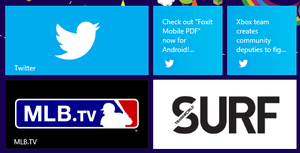 Say, for example, you wanted to pin blogger Robert Scoble's Tech Pundits list. You'd navigate to Scoble's list inside the Twitter app, swipe down or right-click, and then select the option to "Pin to Start" in the lower left corner. Pinned profiles and lists appear as small tiles with live updates. The only downside is you don't have the option to upgrade your pinned tiles to a more reading-conducive larger-sized tile.
Twitter's new update for Windows 8 also addresses some bugs and overall performance issues, such as faster response times. Many users posting comments on the Windows Blog say the new update has fixed their stability issues that were causing numerous crashes with the previous version of Twitter. Users have also noticed several unannounced features such as user tagging when composing tweets, improve responsiveness to touch, and more frequent feed updates.
It's good to see Twitter continuing to update its Windows 8 app as it is one of the few truly useful social networking apps available right now in the Windows Store.