It began with the best of intentions.
When you sat down to work, you thought maybe you'd quickly check your email first. Then you remembered you needed to wish someone a happy birthday on Facebook. Then you figured you might as well log on to Twitter—just for 5 minutes. Now you suddenly realize that an hour has gone by and you're lost in a wormhole of Buzzfeed articles about the 50 Cutest Hedgehogs Wearing Hats.
While the Web can be an amazing resource for work, it's also a great source of entertainment—which can make it a serious hazard when you need to buckle down and be productive. Most people can turn off landlines, mute smartphones, and hush push notifications easily enough, but getting the World Wide Web to quiet down is a little harder.
Perhaps unsurprisingly, this has led to a whole movement focused on unplugging. The Undo List, for example, can provide you with a tip sheet for taking a 24-hour tech break. An annual National Day of Unplugging occurs every March. And the clever phone-stacking game encourages diners to set their cells aside for the duration of a meal and enjoy one another's company—and whoever picks up their phone first also picks up the tab for the whole table.
Of course, the very tech that creates trouble in the first place can also help you create your own cone of sweet, productive silence. Many modern software offerings are available to help you find a Zen-like focus, instead of pushing you further into distraction.
One of my favorites is iA Writer, a full-fledged word processor that strips all distractions away from the writing process. Forget Helvetica and Arial: The text here is in plain type, a clean screen keeps your focus on your text, and you use shorthand to mark formatting such as underlining or bold.
iA Writer removes Microsoft Word's feature creep from your work equation, but it includes some practical options that the classic word processor lacks. The trippy Focus Mode highlights the current line you're typing, turning it black while the other words on the page recede into the background. It also automatically saves your documents to iCloud or Dropbox. The Mac version normally costs $10 and the iPad/iPhone version $5, but at the moment iA has them on sale for $5 and $1, respectively. Take advantage.
Windows users can check out FocusWriter, a free app that lets work with a distraction-free full-screen interface as you pound out TXT and basic RTF and ODT files. Everything remains hidden when you're not using it, including such optional features as live statistics and the ability to set daily goals, either in minutes or in words. Meanwhile, WriteMonkey, another free Windows app, offers full-screen writing, keyboard shortcuts for everything, and even an optional typewriter sound. An optional donation will unlock additional WriteMonkey features.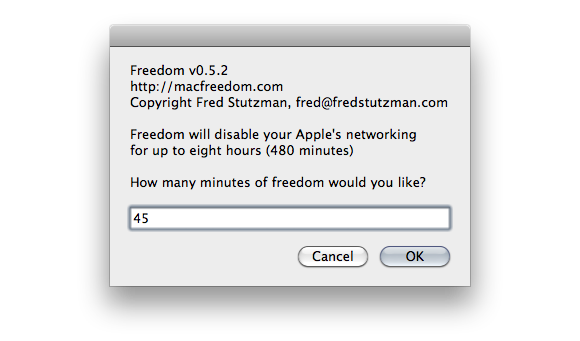 Can't stop checking status updates? The software formerly known as MacFreedom, and now shortened to Freedom ($10 for Mac and Windows) shuts down your Internet access for a set amount of time. It's serious: The only way to renege on the set time is to turn off your computer. This app is a good choice if you need to work on a non-Internet-based project, such as word processing or visual design, or if you're trying to rein in some easily distracted kids who need to focus.
The rub is that many workers need to use the Internet to get things done, whether the resource in question be Wikipedia or Google, and those pesky social networks are always just a tab away. If you need a little hole in your cone of silence, but worry about refreshing Twitter every 10 seconds, check out Freedom's sister product, Anti-Social ($15, Mac). This accurately titled software allows you to venture onto the Internet, but it locks out Facebook, Reddit, Tumblr, Twitter, and other distracting time-sucks. Paying someone to keep you off the Internet may sound crazy, but it's not as crazy (or as expensive) as frittering away your productivity on the new MySpace.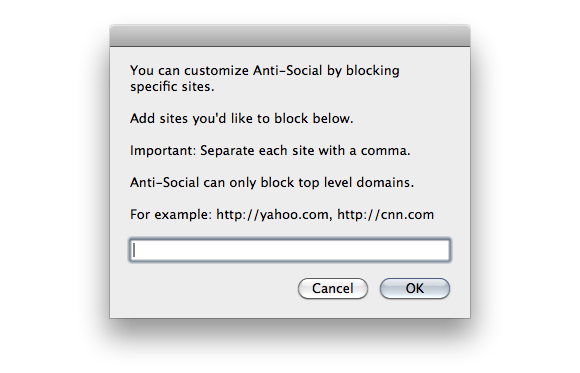 Freedom and Anti-Social can't curtail every distraction, but they can give you plenty of flexibility with settings ranging from 15 minutes to 8 hours. Each offers a trial option, and they're certainly worth a spin. For now Anti-Social is strictly Mac-compatible, but a Windows version is reportedly in the works. Until then, browser extensions can do the trick for PC users. Check out LeechBlock for Firefox and Nanny for Google Chrome. Just don't sabotage yourself by blocking social sites from one browser and then launching another browser to get your Facebook fix.
It doesn't matter how much you avoid the Internet, though, if you don't schedule work time at the computer. Binary Hammer's free 30/30 (iOS) is a gorgeously designed time management app that divides your tasks into 30-minute segments, though you can quickly adjust the task's time and type.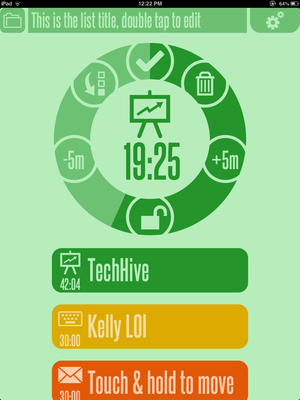 All of 30/30's functions are icon based: Tap the minute icons to increase or decrease the time slated for each task, push the trash can to remove a task, push the pause button to stop the timer, and so on. Binary Hammer loads the app with generic text, but you can replace that with your own specific tasks. 30/30 even provides icons—like a keyboard and an envelope—that you can use to represent your tasks. Each task is color coded, too, so you can quickly see what you're focusing on at the moment.
Available on all iOS devices, 30/30 can sync tasks across multiple devices.
Some unplugging options, including the appropriately titled app Unplug and Reconnect (free), are available for users of Android OS devices.
Like 30/30, Unplug and Reconnect makes you conscious of how and where you spend your time. It takes things to the next level, though, by providing tools to make you focus on the one thing you have to get done. For instance, you can schedule a disconnecting time in advance—so, from 3 p.m. to 4 p.m., say, you can have your phone automatically go into Do Not Disturb mode. The app can also send texts to would-be callers to let them know that you're currently unplugged, kind of like an away message for your smartphone.
You don't have to worry about getting too focused on your task at hand, either. Once your scheduled work period ends, Unplug and Reconnect automatically takes you out of Do Not Disturb mode, stops sending "away" texts, removes you from any other designated modes you've set. Which means it must be time to get back to all those cute animal articles.