As the back-to-school season starts in earnest, Microsoft is hoping to stoke desires for its Surface tablets with yet another discount, mere weeks after steeply slashing the price of the Surface RT tablet. This time around, however, the company is offering a $100 price slash on the Intel-powered Surface Pro tablets featuring the full version of Windows 8.
Separately, Acer has instituted its own price cut, lowering the price of the 8-inch Acer Iconia W3 Windows tablet by $80.
Microsoft's offer is available directly from the Microsoft Store and covers only the 64GB and 128GB versions of the touch tablet. A 256GB variant is available online from a number of Microsoft resellers.
With the discount, you can now get a 64GB Surface Pro for $800 or a 128GB version for $900. The offer does not toss in the vital Touch or Type cover for free, and unlike its ARM-based cousin, the Surface RT tablet, the Pro does not come with a free copy of Microsoft Office. The Surface Pro offer expires on Thursday, August 29.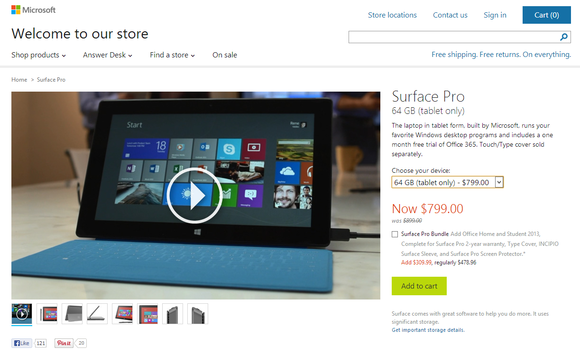 Microsoft's Pro price slash comes less than a week after the company revealed earnings from Surface tablets accounted for $863 million during fiscal 2013. Although nearly one billion dollars in revenue sounds like a good number for a first-year product, it falls just short of the $900 million accounting hit the company recently had to take from its Surface RT discount.
In short, as many analysts have been saying for months, the Surface is not selling well, especially when compared to Android slates and the iPad.
The dilemma surfaces
Two reasons stand out when considering why people should not buy the ARM-based Surface RT. It can't run the wide array of third-party traditional desktop programs for Windows, and the Windows Store still doesn't have enough useful apps yet—despite having more than 100,000 apps on hand.
But the Surface Pro has no problem running traditional desktop apps; it's virtually an Ultrabook in tablet form factor. Add a Type cover and a wireless mouse and you've got a great portable PC that can run anything you need for work or play.
The Surface Pro's software compatibility no doubt contributes to its outselling the Surface RT. During the three months of 2013, Microsoft shipped 900,000 Surface tablets total, at least 700,000 of which were the Surface Pro, according to a report in May by market research firm IDC. (IDC and PCWorld are both owned by International Data Group.)
But Microsoft still has a long way to go if it wants the Surface to become a blockbuster on par with other tablets. Apple, by comparison, sold nearly 20 million iPads during the same time that Microsoft was moving its 900,000 Surface tablets.
A good time for a discount
As the back-to-school season kicks off, Microsoft's Surface price cut comes at an opportune moment to convince more people to shell out at least $800 for the Surface Pro.
However, propping up sales with the back-to-school season may not be the only reason Microsoft is choosing a month-long sale for August. Microsoft is also expected to introduce new Surface models this fall that may coincide with the release of Windows 8.1.
A refreshed Surface RT, despite its struggles, is expected to show up with a Qualcomm Snapdragon 800 chip, while the Surface Pro should swap out its Ivy Bridge Core chips for the newer and more energy efficient Haswell Core processors. Most notably, upgrading to Haswell would improve the Surface Pro's mediocre 5 hour battery life.
Improved endurance would be a major improvement to the tablet-esque Surface Pro, as the vast majority of tablets utilize ARM or Intel Atom processors that enable eight to 10 hours of battery life. Those competing slates can't come close to matching the sheer oomph of the Surface Pro's Intel Core i5 CPU, however.
But the Pro is still a pricey proposition, especially if you're looking for portability over desktop program compatibility. Even with the price cut, the Surface Pro is still $100 more expensive than a Wi-Fi-only iPad with the same amount of storage.
"We're stoked to get them in the hands of as many people as possible," Dan Laycock, a senior manager for the Surface team, said when asked about the price cut. That's the same argument Microsoft used for the price cut for the Surface RT—and apparently the same argument that Acer used as well.
Neowin.net noticed that the price of the 32-Gbyte version of the Acer Iconia W3 tablet has been cut $80 from $379 to $299, and that the 64-Gbyte model has been reduced by the same amount to $349, on online stores from Amazon and Microsoft. Microsoft handed out the tablet at its Build 2013 conference this June, where the hardware received mixed reviews, but the form factor was seen as a plus.
Editor's Note: Updated at 11:46 a.m. PT to include a price cut for the Acer Iconia W3. Additional reporting by Mark Hachman
Note: When you purchase something after clicking links in our articles, we may earn a small commission. Read our affiliate link policy for more details.
Ian is an independent writer based in Israel who has never met a tech subject he didn't like. He primarily covers Windows, PC and gaming hardware, video and music streaming services, social networks, and browsers. When he's not covering the news he's working on how-to tips for PC users, or tuning his eGPU setup.