At a Glance
Expert's Rating
Pros
Excellent all-around design and ergonomics
Vivid IPS display
Full version of Windows 8
Cons
Mediocre battery life
Meh performance
Bulkier than a standard tablet
Our Verdict
A major improvement over the original ARM-powered Windows RT device, but still short of being the ultimate hybrid.
Best Prices Today: IdeaPad Yoga 11S
Few Windows hybrids highlighted the compromises inherent in straddling device genres as thoroughly as the original Lenovo IdeaPad Yoga 11. Physically designed as a "notebook first" hybrid, yet sporting a tablet-oriented ARM processor and the neutered Windows RT operating system, it was nothing short of an elegant piece of convertible hardware crippled by its slate-friendly software.
Someone at Lenovo must have been listening to our complaints, because just a few months later we're reviewing the IdeaPad Yoga 11S, a follow-up that ditches its predecessor's mobile processor in favor of a full-blown Intel Core i5 chip. More important, this Yoga runs the full-blown version of Windows 8.
So does this dreamed-of refresh cure what ailed the original IdeaPad Yoga 11? Largely, though the $999 Yoga 11S introduces a few new compromises of its own.
More laptop than tablet
Considering its Intel Core i5-3339Y processor and 8GB of RAM, no one will confuse the Yoga 11S with a slate; of course, no one will mistake it for a graphics powerhouse, either. Its reliance on the integrated Intel HD Graphics 4000 hardware caused the laptop to chug through our graphics-focused tests, while the merely passable 1.5GHz clock on the Ultrabook-class processor kept the Yoga 11S firmly in the middle of the pack (at best) in the rest of PCWorld's battery of benchmarks. On the plus side, the Yoga 11S's solid-state drive delivers lickety-split boot and wake times.
But don't let the blah benchmark scores fool you: The Yoga 11S offered enough oomph to get me through my average workday, which is filled with documents, spreadsheets, Spotify, the occasional video, and scads of open browser tabs.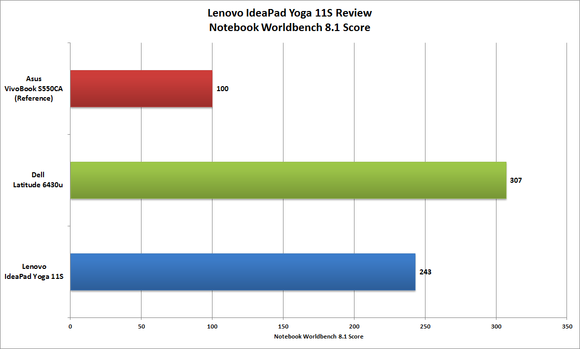 The processor choice does create a few worrisome issues unrelated to performance, though. The Core i5-3339Y is an older Ivy Bridge processor rather than a newer, power-efficient Haswell chip, and Ivy Bridge wasn't designed with superthin hybrid systems in mind. The underside of the Yoga 11S becomes noticeably warm when you're doing anything but basic Web browsing—not enough to make you scream in pain, but enough to make you notice and to ponder the wisdom of leaving it on your lap. The machine is remarkably whisper-silent; a heftier fan may have been a smart compromise.
Also, like virtually all Ivy Bridge laptops with touchscreens, the Yoga 11S struggles to stay alive for an extended period, giving up the ghost after 4 hours, 33 minutes in our battery test. Everyday use at full brightness drained the battery even faster than that. Say what you will about the original ARM-powered Yoga 11, at least it lasted around 9 hours.
Silver, sleek, and still the same
The Yoga 11S is definitely a winner in the design department. If you've never encountered a Yoga laptop before, rest assured that the series lives up to its name, with each machine sporting a flexible hinge that allows you to flip the display back a full 360 degrees so that the screen rests against the bottom of the keyboard deck when you're using the device in tablet mode. Aside from the tablet and traditional-laptop configurations, Lenovo actively promotes using Yoga laptops in tent mode (basically an upside-down V) and in stand mode (in which you flip the screen around so that the form resembles the typical 90-degree clamshell, but with the keys facing down). Both tent mode and stand mode are great for watching movies, and despite the Yoga 11S's bendable nature, you won't find any flex in its lid or keyboard.
The 11.6-inch IPS display impresses with its vivid colors, and dark scenes greatly benefit from the Yoga 11S's deep blacks. The 1366 by 768 resolution is a bit of a bummer in tablet mode, but it holds up well during laptop usage on account of the system's small screen. An overactive ambient-light sensor proved annoying, though easy to disable.
The audio lacks bass and pure punch-you-in-the-ear volume levels, even with its Dolby Home Theater v4 certification, but it's decent enough for such a diminutive machine.
The connectivity situation flat-out disappoints, however. Although Ultrabooks and tablets alike regularly skimp on the ports, the Yoga 11S takes matters to the extreme, limiting users to an HDMI-out, an SD Card reader, one USB 2.0 port, and one USB 3.0 port. You'll find no ethernet connection (you'll need to buy a USB ethernet adapter if you want the security of hardwired networking).
How does it feel?
Look beyond the ports, and you'll discover that handling the Yoga 11S is a delight. The sleek, silvery gray finish has a rubbery feel that makes the hybrid comfortable to hold and hard to drop. It's attractive in a way that doesn't call attention to itself. At 2.7 pounds and 0.67 inch at its thickest, this hybrid still falls firmly in the "notebook first" class of convertibles. But unlike the convertible competition, the diminutive Yoga 11S (not to mention its 11.6-inch screen) is small enough that using it as a slate doesn't feel awkward—except when your fingers bump against the keyboard, which is left bare at the bottom of the device when you're using the machine in tablet mode. (You quickly become accustomed to the feeling.)
Speaking of the island-style keyboard, the Yoga 11S's is largely successful, with good spacing, a solid tactile feel, and a decent amount of key travel. The "leather touch" coating on the keyboard deck makes extended typing sessions blissfully chafe-free. It has no backlighting—a surprise in a laptop in this price range—but my only real qualm is that the keys themselves sit just a wee bit too shallow and close to the deck. Again, you quickly become accustomed to it. One other gripe: Placing the power button along the front lip was a questionable design decision. It's hard to find out of the box, and an annoyance to reach in everyday use.
Both the buttonless clickpad and the ten-point touchscreen display support Windows 8's gesture controls and are wonderfully responsive. Lenovo also includes motion-control software with the laptop, but it feels gimmicky, especially when the touchscreen and touchpad shine so brightly. Most of the preinstalled software is of dubious value, actually—and with more than a dozen apps and programs included on the Yoga 11S, "bloatware" is definitely an appropriate term.
So close, and yet so far
The Lenovo Yoga 11S is a massive improvement over the original Yoga 11, but it still falls short of hybrid heaven. No hybrid has ever come so close to marrying a notebook's ergonomics and performance with a reasonably portable 11-inch design. Discounting hobbled Windows RT slates entirely, the competition consists primarily of tablet-first designs that make extreme compromises on the typing experience, such as the Sony Duo 11 and Microsoft's own Surface Pro.
Lenovo's Yoga 11S is an absolute joy to use. With a $999 price tag, however, it's hard to overlook the laptop's ho-hum performance and medicore battery life. If Lenovo ever decides to update the Yoga 11S with one of Intel's power-sipping fourth-generation Core processors, the result could be convertible perfection.
Best Prices Today: IdeaPad Yoga 11S