At a Glance
Expert's Rating
Pros
Can operate as a touchscreen notebook or a Windows 8 tablet
Solid-state drive speeds up frequently performed operations
Dual-battery arrangement delivers up to 6.5 hours of battery life
Cons
Subpar audio
High-res screen can make small type difficult to read
Pricey considering its 11.6-inch display
Our Verdict
Able to serve as a laptop or a Windows 8 touchscreen tablet, the ThinkPad Helix is pleasingly versatile—but it's also very expensive.
Lenovo's ThinkPad Helix is nothing if not versatile. This 11.6-inch Windows 8 Pro touchscreen tablet can operate as such, dock to a razor-thin keyboard to become a dual-battery notebook PC, and then flip with acrobatic ease to become a desktop presenter.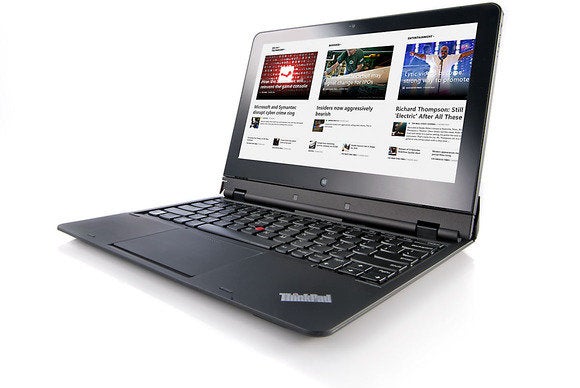 The Helix also boasts a 128GB solid-state drive, which boosts its performance on tasks involving data transfers between storage and memory (boot, return from sleep, and application launches, for example). The presence of the SSD played no small part in the Helix's respectable Notebook WorldBench 8.1 score of 285, which was nearly three times better than that of our reference system (an Asus VivoBook S550CA, which augments its mechanical hard drive with a 24GB SSD cache). The Helix also earned an outstanding PCMark 7 storage test score of 5308, one of the best results we've seen. (WorldBench 8.1 consists of a suite of synthetic and real-world benchmarks, of which PCMark 7 is one element.)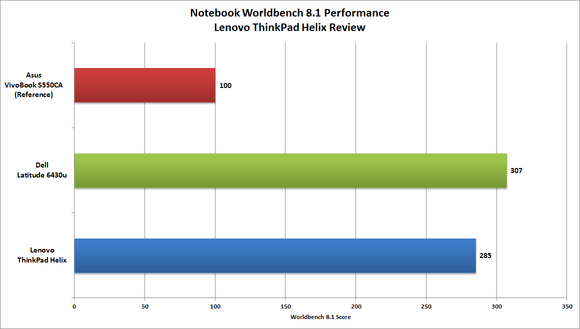 In configurations that use both the tablet and the keyboard, we saw impressive battery life of 6.5 hours thanks to the presence of a battery in each component. The Helix's longevity dropped to just 2 hours when operating as a tablet with a single battery.
In most tasks less dependent on hard-disk access, the Helix still performed solidly, if not as brilliantly. Outfitted with an Intel Core i5-3337U mobile CPU (based on 2012's Ivy Bridge architecture) and 4GB of DDR3/1333 memory that it must share with the Intel HD 4000 integrated graphics hardware, our review unit suffered most in gaming tests.
All this power and versatility doesn't come cheap. Our review unit, the least expensive of the available configurations on Lenovo's website, carried a $1679 price tag ($1427 after an instant rebate) as of August 5, 2013. Conventional touchscreen Windows 8 laptops are widely available for less than $1000.
High-res display makes for tiny type
In usability, the Helix generally lives up to Lenovo's reputation for well-built portables. The black soft-touch case feels good when you're handling the tablet, and the keyboard boasts Lenovo's signature, pleasing contours and snappy action. For pointing, you get to choose among a responsive touchpad with multitouch support, a red eraserhead joystick button, and of course the digitizing touchscreen. Separating the keyboard takes only a second or two and doesn't require a reboot. In our tests the touchscreen responded well to swipes.
The integrated high-def webcam produced smooth-looking video on Skype calls, and its low-light technology worked well. The integrated microphone picked up my voice well, but the Helix's audio is very disappointing. Even when I turned it all the way up, I could barely hear the voice of Skype callers, and music on YouTube videos was positively faint. This problem could be a deal-breaker for someone who needs to make presentations on the road.
I have a few other quibbles as well: Although the Helix maintains the sub-0.75-inch thickness appropriate for an ultraportable, the machine is heavy for its display size, weighing a full 3.6 pounds with the keyboard and 1.8 pounds without it.
Lenovo provides a plastic stylus that slides into a slot on the tablet, but I didn't enjoy using it because it was imprecise—a real issue on the 1920-by-1080-pixel widescreen IPS display. That resolution on an 11.6-inch display made for good-looking videos on YouTube and Skype, but it also resulted in very tiny type on many websites, including a few that use Flash or other technologies that don't support pinch and zoom. I sometimes found myself squinting, and using the stylus to select radio buttons (fingertips being too blunt an instrument) was generally a hit-or-miss affair.
In tablet mode, you get one Mini DisplayPort connection, one USB 2.0 port, a SIM-card slot for optional mobile broadband, and a combo headphone/microphone jack. The keyboard dock adds a pair of USB 3.0 ports and a Mini DisplayPort connection. But I missed having an SD Card reader, and depending on a USB dongle for ethernet connections is a bit of drag (the Helix does support both 2.4GHz and 5GHz 802.11n Wi-Fi).
Bottom line
The ThinkPad Helix deserves kudos for its innovative design, and a business user in search of a laptop-tablet convertible with good performance might find the high price tag palatable. (And if money is no object, you can upgrade to a faster processor, add more solid-state storage capacity, and tack on on the aforementioned mobile-broadband feature.)
If a high-performance tablet is all you need, note that Microsoft recently slashed the price of its 128GB Surface Pro to $899. But that tablet's screen is an inch smaller, and you'll need to add $130 to get the Type Cover keyboard (which, in addition to being inferior to the Helix's, lacks a trackpad).