At a Glance
Expert's Rating
Pros
Easily imports your existing PDF library
Includes built-in search and download
Includes built-in PDF reader with editing options
Cons
Couldn't find or recognize every article
Connection to Google Scholar is unstable
Our Verdict
ReadCube is an excellent all-in-one tool for organizing, finding, reading and annotating PDF articles.
Another summer has gone by, and students are setting off to college. When faced with the abundance of awesome tools available for students today, part of me wishes I were staking out a library carrel along with them.
If you're lucky enough to be a student in this golden age of tech, don't miss these great finds. Most of them are free, and all of them are bound to make the start of the new school year smoother than the last.
LibreOffice
For college students, the old "reading, writing, and 'rithmetic" morphs into writing papers, doing basic stats, and creating presentations (and yes, still lots of reading). No matter what you're studying or where, you're going to have to perform these tasks from time to time. Even with student discounts, Microsoft Office Suite can cost anywhere between $80 and $140. But if you think there's no alternative, you have a little research to do.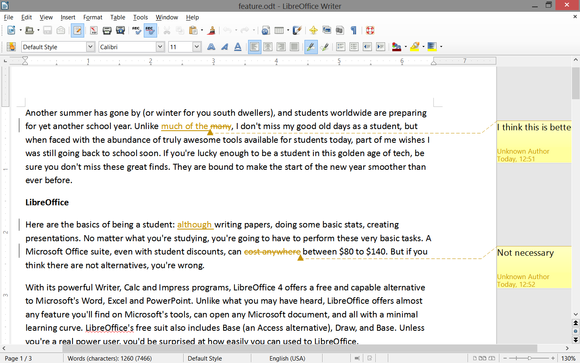 With its powerful Writer, Calc, and Impress programs, LibreOffice 4 offers a free and capable alternative to Microsoft's Word, Excel, and PowerPoint. LibreOffice covers almost every feature you'll find in Microsoft's tools, and it can open and save as any Microsoft document with a minimal learning curve. LibreOffice's free suite also includes Base (an Access alternative), Draw, and Math.
Unless you're a real Microsoft addict, you'll be surprised at how easily you can get used to LibreOffice. It's available in Linux, Mac, and PC editions.
Zotero
Every student knows the pain of collecting articles, managing a library, and, worst of all, creating citations. Zotero is a veteran (and free) tool that solves all these problems. Originally a Firefox add-on, Zotero has recently become available for Chrome and Safari as well as via its standalone desktop version. It works on Linux, Mac, and PC.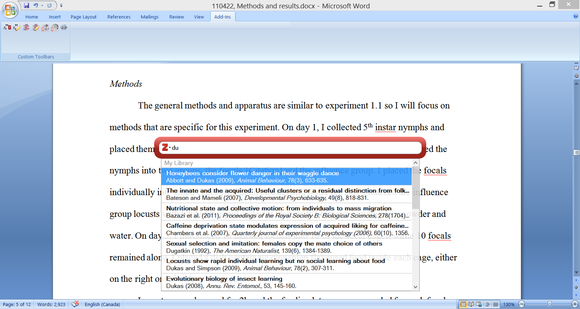 Zotero makes it easy to collect research papers off the Web, attach PDFs, find relevant articles in your library, and sync it across PCs. With the help of a Microsoft Word or LibreOffice plug-in, Zotero takes the pain out of citations and bibliography, doing all the heavy lifting for you, using any of the major citation styles. Zotero helped me complete my graduate degree, and it's a must-have tool for any higher-education student.
ReadCube
There's more to your PDF library than organization and citations, though. Students and scholars alike have to skim through dozens of articles, examining figures, highlighting important parts, and adding notes of their own. Ideally, you should also be able to quickly refer back to these articles and notes.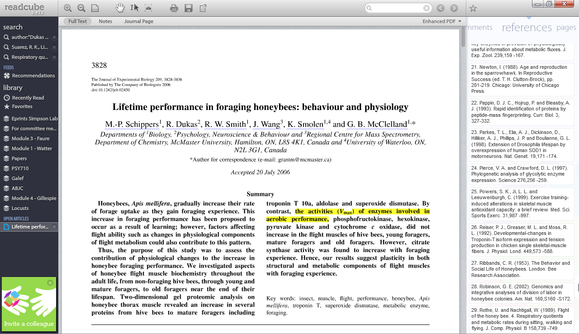 ReadCube is a PDF manager with a built-in PDF reader. It makes the job of finding, reading, and collecting articles a breeze. ReadCube identifies your articles, turning them into a searchable database that also includes your notes and highlights. We reviewed the PC edition, but it's also available for Mac.
Discovering new articles is ReadCube's forte, with powerful features such as turning all citations into links, getting quick lists of every article that cites the one you're reading, and presenting a list of related articles you might be interested in. Google Scholar and PubMed searches are also built-in, and are better than ever before. And if you regularly need articles from Nature, ReadCube lets you buy or rent them for very affordable prices.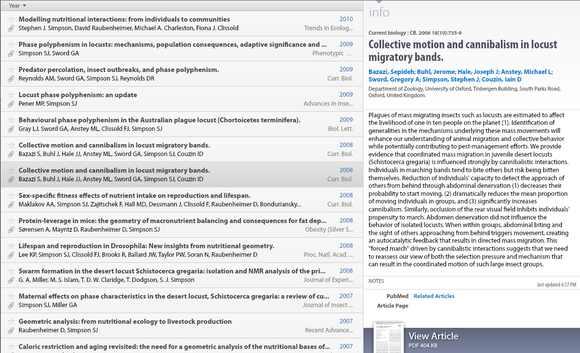 This fall, ReadCube promises a new and simple citation tool, cloud sync capabilities, and a tablet app. We'll have to wait and see how these new features perform and how they enhance the ReadCube experience.
DeepDyve
Renting articles from one publisher is nice, but it's not enough. If you're not affiliated with a university or don't have access to its proxy, getting full-text versions of articles is either expensive or impossible. DeepDyve is an innovative service targeted at individuals and companies alike. It makes the process much more affordable by letting you rent articles from an ever-expanding list of thousands of journals from Auto/Biography Studies to Zoomorphology.
An abstract is not enough to judge an entire paper. A free account with DeepDyve gets you access to full-text articles for five minutes a day. If you deem an article interesting, you can pay $20 for five 30-day rentals, or $40/month for 40 monthly rentals.
DeepDyve's interface is friendly and easy to use, and a browser plug-in for Google Scholar tells you which articles in the results list are available for rent. Your DeepDyve personal homepage is an RSS reader of sorts, so you can use it to follow your favorite journals. Even if you are affiliated with a university, DeepDyve is a great way to preview full-text articles when you don't have access to the proxy.
Audio Notetaker
An even bigger part of every student's life is attending lectures and taking notes. Every student knows the ever-present dilemma: listen to the lecture, or try to take notes? Sonocent Audio Notetaker ($150 for a perpetual license for Mac or PC, 30-day free trial) is an ambitious product that brings an end to this plight.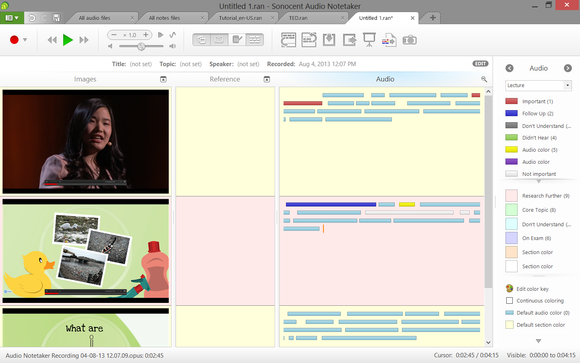 Audio Notetaker analyzes recorded audio to create speech bars that are easy to navigate. You can enhance these bars with colors, text, images, screenshots, slides, and PDF documents, and add text and references to boot. Audio Notetaker can record live lectures, interviews, Skype calls, and even online talks. It makes it possible to concentrate on listening while taking minimal notes, and easily go over the recorded material later.
Audio Notetaker is an innovative way to handle recordings, but the current price is a serious hit to a student's budget. The PC edition I tried also crashed multiple times, causing me to lose my work. It's a great tool, but not yet one on which to rely completely.
Notable.ac
Some note-taking techniques are kludgey: printing out slide decks and writing on them, for instance, or copying and pasting images into a word processor. Notable.ac is another attempt to take on the note-taking problem—in the form of a free-to-use Web app.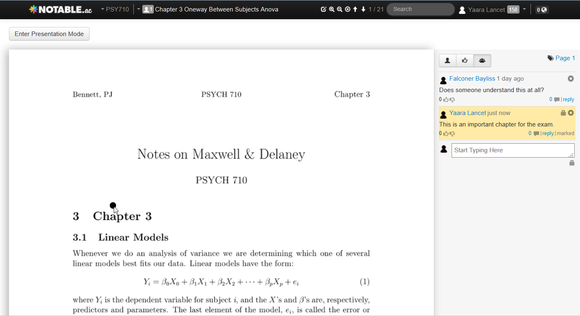 Notable.ac is more than just a note-taking app. It's a complete course platform for both students and lecturers. Once a course is created in the system, anyone can upload the course's PDFs, Powerpoint slides, or Microsoft Word docs. The entire class can join in and either collaborate on notes or write their own private ones.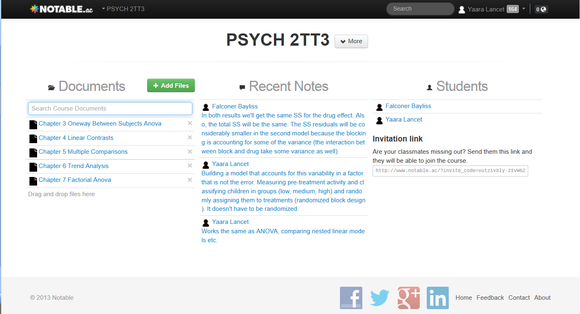 Notable.ac doesn't currently support highlighting, but you can tie slide notes to certain points on the slide for easier reference. The lecturer panel, currently available only by request, also provides some trends and insights into the class's behavior. Notable.ac is a great alternative to university-provided platforms, and its features can give classes a boost.
Zygote Body
Students of human anatomy know how dizzying it gets with all those different blood vessels, bones, muscles, and nerves…and that's without getting into the different parts of the brain, heart, and other internal organs. Zygote Body is an amazing 3D simulation of the human body, complete with every layer, organ, and vessel.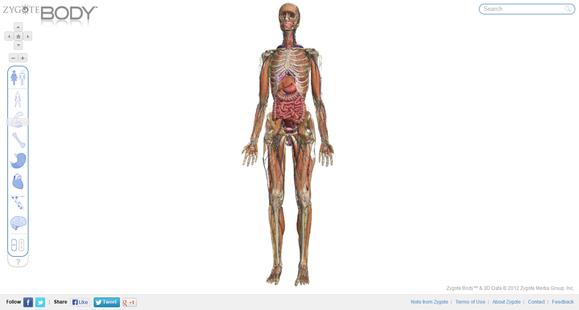 Using your keyboard or mouse, you can slowly peel away or add the different parts of the human body, and learn more about them by searching for an organ or clicking the one you're interested in. Even if you don't study science, Zygote Body is an excellent way to get the bigger picture of the human body.
Make learning fun
The growing abundance of original and useful studying tools makes being a student increasingly enjoyable. Don't cheat yourself: Check out these tools and make the most of your college days.