At a Glance
Expert's Rating
Pros
Very good benchmark performance
High-res touchscreen
Great battery life
Cons
Horrid keyboard
Annoying delays while on Wi-Fi
Our Verdict
The Samsung Ativ Book 7 has a high-resolution touchscreen display and fabulous battery life, but its wonky Wi-Fi performance is a problem and its keyboard will drive touch typists bonkers.
Benchmarks are the best way to gauge a notebook's prowess with applications such as office suites, photo and video editors, video players, games, and the like. Aesthetics are another important consideration, because you'll likely be staring at the thing for the next several years.
By those measures, Samsung's $1060 Ativ Book 7 Ultrabook (model NP740U3E-K01UB) is a fine machine. But a notebook must also feel good in your hands—unless you rely on dictation software, you have no other way to use it. And on that score, I found this laptop a major disappointment.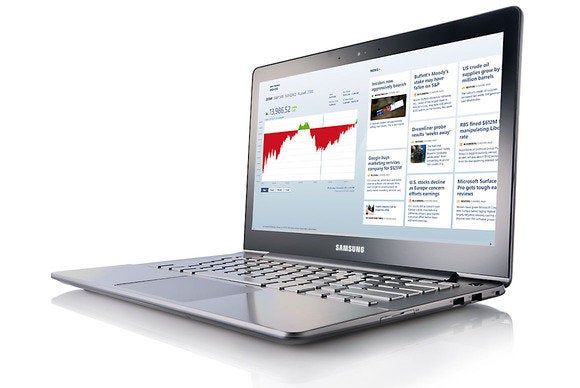 The Ativ Book 7 has a gorgeous brushed-aluminum finish. But if you wear a watch with a metal wristband, take it off before you lay hands on this computer's keyboard. The noise produced as one metal scrapes the other is enough to curdle a glass of milk into cottage cheese.
After my ears recovered from the horror, I once again laid my hands on the home row of the Chiclet-style keyboard. Such shallow-travel keyboards are common among Ultrabooks—they're practically a necessity to achieve the required thinness—and I've touch-typed on more than my fair share of them. But the keys on the Ativ Book 7 travel such a short distance and deliver so little tactile feedback that I found myself constantly making typos.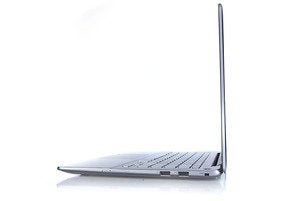 The miniscule cursor-control keys are in the familiar inverted-T arrangement, but these same keys also host the Page-up, Page-down, Home, and End functions when you hold down the Function key.
I tried hard to use the Ativ Book 7 to write my review of it (my usual practice—writing a review on the PC I'm reviewing). But after all the typos and after repeatedly activating Windows 8's Ease of Access aids (Sticky Keys and such), I simply had to give up.
Looking for some touch
The high-resolution display (1920 by 1080 pixels)—with its ten touch points—is just the ticket for using Windows 8. But packing that many pixels into a 13.3-inch display can render text difficult to read without tweaking font sizes. I took advantage of the laptop's HDMI-out port to connect it to an HDTV, and the results were spectacular in both games and movies. Even The Dark Knight, with literal darkness permeating its almost exclusively nighttime settings, looked brilliant.
The Ativ Book 7's 4.5-inch touchpad (it's actually a clickpad, meaning that it doesn't have discrete mouse buttons) consumes a lot of space on the computer's wrist rest, but it's very responsive. It's also very smooth, lacking any texture at all.
The balance of the Ativ Book 7's features are what you'd expect from an Ultrabook in this price range, for the most part: It has a third-generation Intel Core i5-3337U CPU, 4GB of memory, a 128GB solid-state drive, and a 720p webcam. On the other hand, Samsung provides just one USB 3.0 port (the other two are USB 2.0), and its 3.5-pound weight is decidedly average.
Benchmark performance
The Ativ Book 7 delivered a Notebook WorldBench 8.1 score of 298. That's nearly three times better than the PCWorld reference notebook, an Asus VivoBook S550CA (see chart, below). The Samsung also scored very high in the PC Mark Productivity (4112) and Storage (4727) tests, kicking its competition to the curb. Its reliance on integrated graphics doomed its gaming performance, but this machine is by no means designed for gaming. Battery life, though, was an exceptional 6 hours, 3 minutes.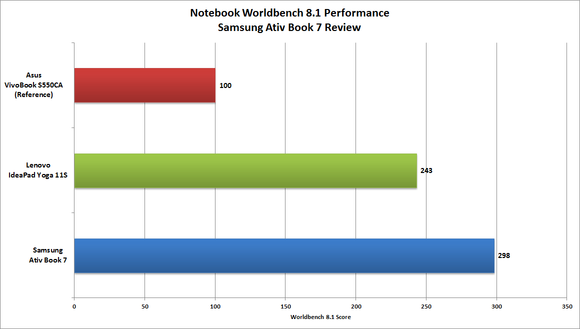 The Samsung Ativ Book 7 is a beautiful Ultrabook, but if you can't type accurately because of its ultra-shallow keyboard, you're not going to be very productive—or happy—with it.
Update: Samsung suggested that the Wi-Fi adapter in the evaluation unit they provided might be defective and responsible for the wireless networking problems the author experienced. The company send the author a second unit, and he found that its Wi-Fi adapter performed as expected. As a result, we removed the criticism of the Ativ Book 7's Wi-Fi performance and changed its review score from 3.0 to 3.5 stars.