Most businesses are still making the transition to Windows 7, and many are happy to stick with Windows XP. However, businesses are also struggling to cope with a more mobile workforce and looking for ways to enable employees to use their own devices without compromising security.
The solution may lie in jumping to Windows 8 Enterprise. Windows To Go, a feature of Windows 8 Enterprise, places a complete, fully manageable Windows 8 image on a bootable USB thumb drive, easily turning any compatible PC into a secure, managed, business computer.
BYOD
The "bring your own device" (BYOD) trend is most often associated with smartphones and tablets, but many businesses also allow—even require—employees to supply their own laptop. The arrangement offers benefits for both the company and the employee, but it brings with it software and security concerns.
Windows To Go is well suited for a BYOD environment because it lets the employee use any Windows 7 or Windows 8 PC and simply boot into the Windows To Go image from the USB drive. It's easy to set up and lets the business cut hardware costs without sacrificing policy enforcement, data protection, or compliance. For users, Windows To Go ensures the applications and data they need are available without requiring them to install anything or reconfigure their PC.
A flexible solution
Windows To Go has applications beyond BYOD. Its ability to run on any Windows 7 or 8 PC means employees can easily work from home without lugging a computer back and forth from the office. They can boot up using the thumb drive and instantly turn their home computer into a work PC, complete with the associated applications, data, and policies.
Windows To Go can also be used in place of VPN or cloud-based virtualization for mobile users. In situations where there's no reliable network connectivity, Windows To Go can still boot into the Windows 8 image and enable the user to get things done.
Finally, Windows To Go can be an effective disaster recovery solution. In the event of a PC crash, malware compromise, or natural disaster like a fire or flood, users may be unable to use their primary computer. Windows To Go allows them to continue working from any compatible PC.
Setting up Windows To Go
You need three things to set up Windows To Go: Windows 8 Enterprise, a 32GB or larger USB thumb drive (preferably a USB 3.0 thumb drive certified as compatible with Windows To Go) and a Windows 8 Enterprise image file, created using sysprep.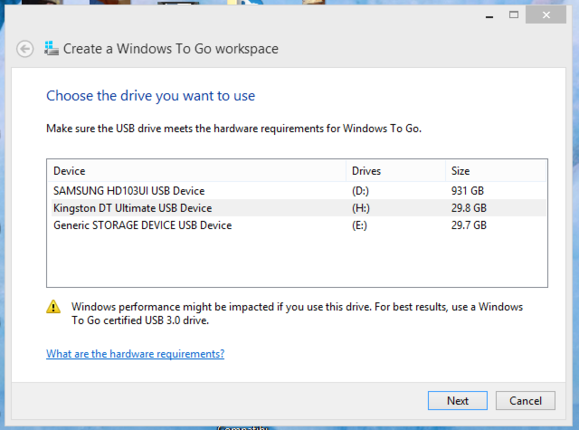 To begin, open up the Windows To Go Creator Wizard. Select the drive you plan to use, and choose a suitable Windows 8 image. The drive will be formatted as a function of the Windows To Go setup process, so make sure you've backed up any data you don't want to lose.
As a part of the Windows To Go setup, you can also encrypt the thumb drive using BitLocker. Remember, this is a thumb-sized device with a complete, managed PC environment and access to your company data, so this step is strongly recommended. If you choose to do so, you will need to create a BitLocker password, which will be required every time you boot the device.
It takes approximately 20 to 30 minutes to complete the process once you initiate it. The Windows To Go Wizard will format and repartition the USB thumb drive, then transfer the Windows 8 image. The final step is to choose whether to configure the host PC to automatically boot from USB when it's restarted.
Windows To Go is an ideal solution for managing BYOD because it offers the best of both worlds. The employer retains control over the tools and data used for business purposes, and the employee maintains a sense of privacy and freedom by not having business tools or software installed on their personal PC.