The military judge overseeing the U.S. government's prosecution of Army Pfc. Bradley Manning has reduced the maximum sentence he faces by a third, but even so it still could mean life in prison.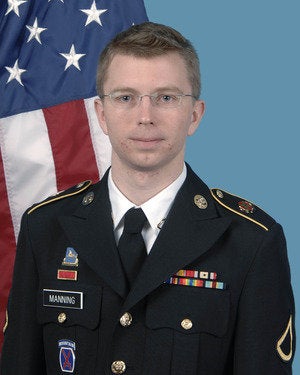 U.S. Army Col. Denise Lind found that several parts of the prosecution's case could be merged for the purposes of sentencing, so the maximum term Manning faces is now 90 years behind bars. He had been facing up to 136 years.
Manning still faces the prospect of rank reduction to private, dishonorable discharge, and forfeiture of all pay and allowances.
The prosecution will resume its arguments in the sentencing part of Manning's trial at 10 a.m. EST Wednesday.
Last month a military court acquitted Manning of the most serious charge against him, that of aiding U.S. enemies, but found him guilty of most lesser charges. The case against him was brought in relation to his leaking of thousands of classified documents to the Wikileaks website.
Manning, a 25-year-old Army intelligence specialist, was arrested in mid-2010 after he transferred thousands of documents to Wikileaks in late 2009 and early 2010.
Publishing the documents drew global media attention to the conduct of the U.S. military in Iraq and Afghanistan, and in particular to complaints about detainee abuses in Iraq, and to a Baghdad airstrike that killed civilians and journalists.