At a Glance
Expert's Rating
Pros
Supports thousands of different journals
Lets you preview entire articles for free
Very easy to use; start renting in minutes
Cons
Misleading wording in professional account
Our Verdict
DeepDyve brings true change to scholarly and professional research with its affordable rentals and free full-text previews.
If you're not affiliated with a university or don't have access to its proxy, getting full-text versions of articles is either expensive or impossible. DeepDyve is an innovative service targeted at individuals and companies alike, which makes the game much more affordable by letting you rent articles from thousands of journals.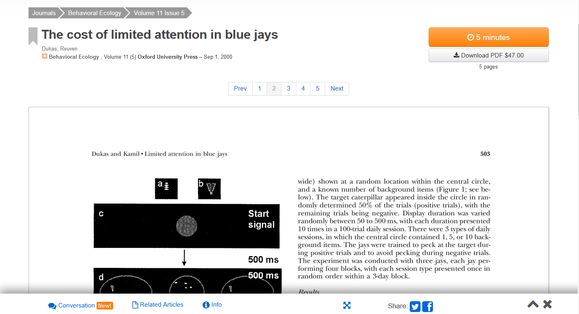 An abstract is not enough to judge an entire paper. A free account with DeepDyve gets you free access to full-text articles for five minutes a day. If you deem an article interesting, you can pay $20 for five 30-day rentals, or $40/month for 40 monthly rentals (or by DeepDyve's odd definition, "virtually unlimited").
DeepDyve's interface is friendly and easy to use, and a browser plugin for Google Scholar tells you which articles in the results list are available for rent. Your DeepDyve personal homepage is an RSS reader of sorts, and can be used to follow your favorite journals . Even if you are affiliated with a university, DeepDyve is a great way to preview full-text articles when you don't have access to the proxy.
Note: The Download button takes you to to the vendor's website.