Windows 8 comes preloaded with plenty of apps for basic productivity and entertainment, but they're not necessarily the best you can do. We've already mentioned the apps you should download first, but now we want to share some third-party apps that you might like more than what Microsoft includes in its basic Windows 8 installation.
None of the following apps is perfect, but the same holds true for the apps built directly into Windows 8—hence the point of this article in the first place.
People
Part contacts list, part social media hub, Microsoft's People app is a central bucket for all the personal associations you make via email, Facebook, LinkedIn, and Twitter. Although this built-in app shares Facebook and Twitter updates, it's confusing in the way it jumbles together all your services.
Likewise, People is definitely not a worthy Twitter client. And no worthy Twitter clients are available in the Windows Store yet. An official Twitter app is in the works; but until it arrives, we'll all have to make do with third-party alternatives.
Luckily, we have FlipToast, an app that commingles Facebook, Instagram, LinkedIn, and Twitter in a relatively easy-to-use interface. Among other features, FlipToast allows you to like, tweet, retweet, share, favorite, and post to the four services it supports. Its interface isn't immediately intuitive; but once you start using it, you'll probably find it more hospitable than the People app. And just to make sure you stay a good friend, FlipToast even has a birthday-reminder tool. You can find FlipToast on the Windows Store for free.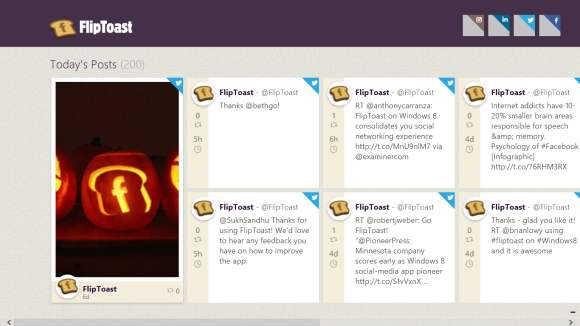 Video
Microsoft's Video app has a split personality. It's a storefront for purchasing the latest movies and TV episodes, as well a video player for your own personal content. Unfortunately, when we tried it, shilling commercial content seemed to take precedence, leaving many PCWorld editors wishing for a deeper, more robust video-player app.
PressPlay is an excellent alternative for viewing your local files. It supports great touch controls that allow you to adjust the volume, change the video's position, and browse videos with the flick of a finger. It doesn't offer any videos for sale, but that's a good thing—and a thing best left to the app built into Windows 8. PressPlay is free in the Windows Store.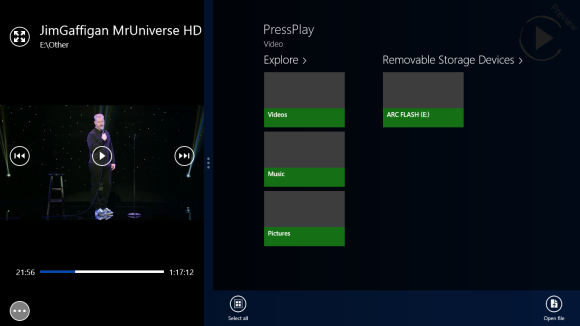 Messaging
Microsoft's Messaging app lets you quickly chat with anyone in your contacts or Facebook list, and it even supports video chat. That's great for communicating with the friends you have on those networks, but you'll probably want to chat with people on myriad other services too.
IM+ facilitates messaging through nearly every imaginable service, from Facebook to ICQ. It supports photo sharing, text messaging, and multiple accounts per service, making for the most comprehensive messaging app we could find on the Windows Store, all for free.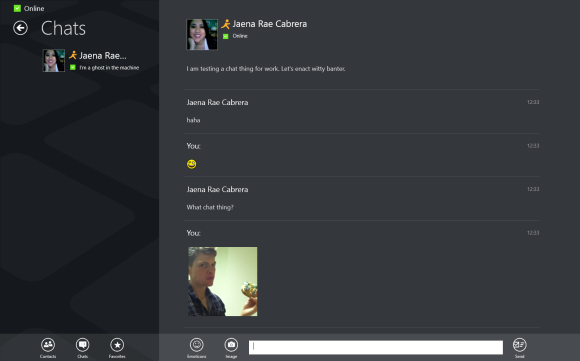 Calendar
The built-in Calendar app does exactly what you'd think it would, but not much more. You can check the day's events, add an event with reminder options, and…that's about it. You can use Microsoft's app to sync up your own personal Google calendar, but you're out of luck if you need to sync Google calendars that have been shared with you.
That's why, as with the Mail app (see below), we recommend using the tried-and-true Google calendar as the alternative. You have to access it via your browser, of course, but you'll be able to see all your schedules at once without worrying about hacking the app. And yes, you can put Google Calendar on your Start screen: Just pin it to Start as you would any other URL, and pretend that it's an app.
SkyDrive
Microsoft's cloud-storage service boasts hooks into nearly every device within the new Windows ecosystem and beyond. You can access SkyDrive file storage on a Windows desktop, a Mac, a Windows 8 tablet, a Windows Phone, and even iOS and Android devices. SkyDrive is also integrated into various Windows 8 and Windows Phone 8 apps, granting you quick cloud access and sharing when you need it the most. In fact, the new Web-app version of Microsoft Office is reason alone to love SkyDrive.
Yes, SkyDrive is fantastic—but it doesn't sync with Dropbox, the once de facto leader in cloud storage.
Enter All My Storage, a comprehensive app that brings together all the big cloud-storage systems, including SkyDrive, Dropbox, and Box. After you link your accounts, you can easily search through all of them in one place. The app even comes with a built-in media player to play local content or stream Dropbox media. It's free in the Windows Store if you're willing to tolerate some advertisements, but you'll also find a paid version for $3 that comes with cloud statistics and more themes, and does away with the advertising.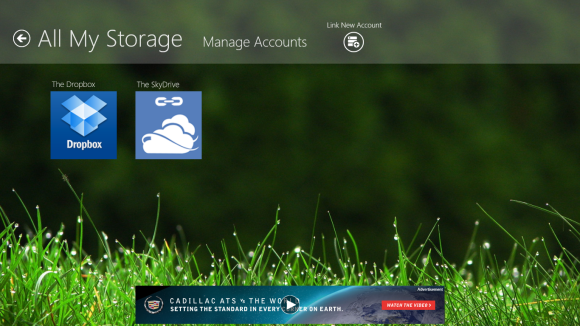 Photos
Photos is the central depository for all your photos and videos, whether you keep them on SkyDrive, local drives, Facebook, or Flickr. It's actually not a bad app, but exploring one's options is always nice, right?
Albums HD offers a great way to "save your memories in one place." The app allows you to store your photos in customizable albums and then share them via slideshows that sport different transition effects. It even supports a Live Tile option so that you can view your photos from the Start screen. Albums HD is $1.49 on the Windows Store.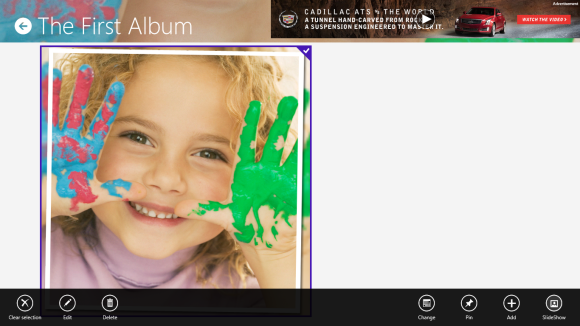 Music
Like the Video app, the Music app allows you to enjoy your music, as well as to preview and purchase all the newest and best music that Xbox Music features.
But if you're looking for an inclusive music player that doesn't try to sell you music (and if you're not a fan of iTunes), check out MusicBee, a powerful, free program for any music lover. Unfortunately, no new Windows Store app is available for it yet, but you can install the program just as you would any other Windows program (assuming that you don't have a Windows RT device, of course). MusicBee sports nifty tools for song tagging, as well as for finding local shows and upcoming music releases. You'll also find a minimized music player, and various themes and skins.
If you are a fan of streaming music, try Spotify (for those who know what they want to listen to), Pandora (for those who want to discover new music), and TuneIn Radio (for those who love listening to live radio).
Weather
If you have to ask yourself, "Sunglasses or an umbrella?" before you leave the house in the morning, Microsoft's Weather app is a great way to find the answer quickly and accurately—well, at least as accurately as weather prediction can get.
However, if you want even more in-depth information about the weather, look no further than AccuWeather's free weather app. It supports streaming data via Live Tile updates; shows predicted weather patterns for time periods ranging from 24 hours to 15 days; and provides weather timelines at your saved locations. It updates every 15 minutes to display the most accurate weather data, and it also provides full-screen Bing maps with radar information overlaid. But probably the coolest feature is the Lifestyle Forecasts, which provide star ratings for every hour of the day based on how the weather will affect certain outdoor activities and health risks.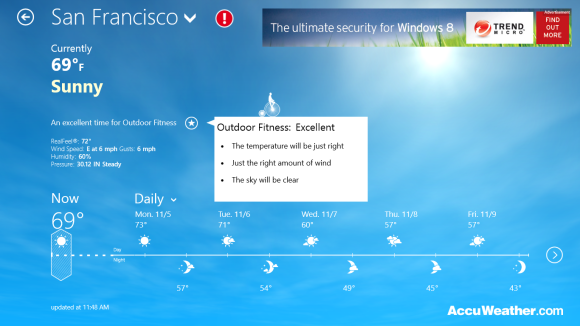 News
The News app provides all the top stories straight from Bing for different categories such as U.S. news, world news, business, entertainment, sports, technology, and politics. It provides a decent overview of the most popular stories of the day, but it isn't especially comprehensive.
If you're looking for a worthy alternative, consider the USA Today app, which just received a major visual overhaul that's well organized and pleasing to the eye. It breaks down categories for news, sports, life, money, tech, and travel, and it has options for each section that let you browse pictures, videos, and other content. It's easy to navigate, thanks to Windows-esque tiling, and every story comes with a captivating picture. It even uses your location to update you on your current local weather conditions.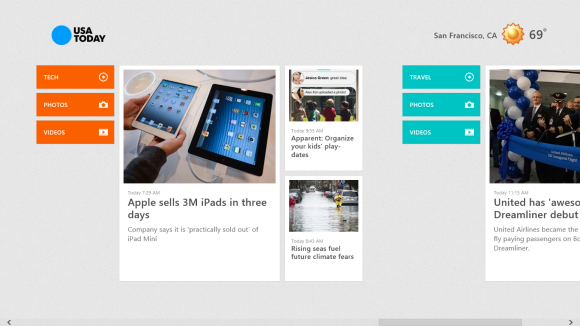 Travel
The Travel app highlights premier destinations across the globe through pictures, panoramic views, magazine articles, and location information. You can read up on your favorite vacation destinations, or even use the in-app Flights feature to look for plane tickets. It's full of recommendations for attractions, restaurants, and hotels, as well as guides on what to do once you've reached a new destination.
But you do have options. For some great, free travel journalism, look no further than Marco Polo Travelmagazine in the Windows Store. The app itself allows you to download the monthly issue (for free), and stores it locally for future use. The issues take a while to download; but once they're done, you can enjoy a plethora of stories, pictures, and video about exotic places all around the world. Unfortunately, though, the magazine won't help you book your next flight.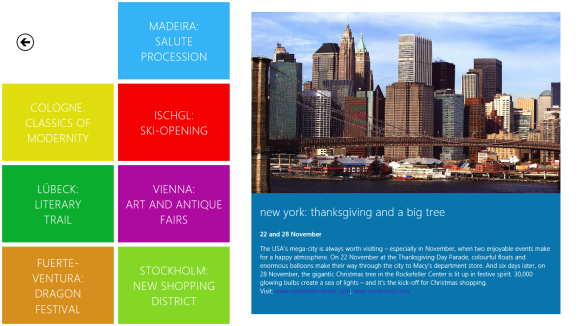 Mail
Microsoft's Mail app is intended to be a central funnel for all your email accounts, be they Gmail, Outlook, Yahoo, or any combination. Unfortunately, as with many of Windows 8's built-in apps, Mail lacks flexibility and features. It looks nice, but it isn't the most useful tool in the tool chest.
And so the juggernaut that is Gmail remains the go-to choice for mail. Apps are great, but some things still work best in the browser. Our best advice is to pin your bookmark of Gmail to your Start screen so that it has its own tile and can act as an app with quick and easy access.