Given Android's ubiquity today, it's almost hard to believe that it has only been around a few years.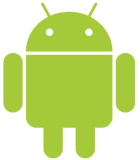 Sure enough, though, it was exactly five years ago Monday that the newly formed Open Handset Alliance announced the Linux-based mobile platform, and it's been nothing short of a wild ride ever since.
"This partnership will help unleash the potential of mobile technology for billions of users around the world," said Google Chairman and CEO Eric Schmidt at the time. "Our vision is that the powerful platform we're unveiling will power thousands of different phone models."
136 million devices in Q3
Indeed, fast forward to today, and Android continues to blow away expectations.
To wit: Android was found on three out of every four smartphones shipped during the third quarter of this year, according to market research firm IDC's Worldwide Quarterly Mobile Phone Tracker. (PCWorld/TechHive and IDC are both owned by International Data Group.)
Specifically, of the 181.1 million smartphones shipped worldwide in the third quarter of 2012, 136 million units, or 75 percent, were Android devices, IDC reported on Thursday.
'One of the primary growth engines'
Whereas the overall market's year-over-year growth rate is 46.4 percent, Android's is nearly double that, at a full 91.5 percent, IDC said.
"Android has been one of the primary growth engines of the smartphone market since it was launched in 2008," said Ramon Llamas, research manager for mobile phones at IDC, referring to the debut of the first Android phone that year.
"In every year since then, Android has effectively outpaced the market and taken market share from the competition," Llamas added. "In addition, the combination of smartphone vendors, mobile operators, and end-users who have embraced Android has driven shipment volumes higher."
A distant second
While Apple's iOS was the only other mobile operating system to amass double-digit market share for the quarter, it still held a distant second place, IDC said, as shown in the chart above. Microsoft's Windows Phone, meanwhile, marked its second anniversary with a total of just 3.6 million units shipped worldwide.
Android 4.2 "Jelly Bean," which was announced late last month, recently debuted on the new Nexus 4 phone as well as the Nexus 7 and Nexus 10 tablets.